Found May 31, 2012 on Fox Sports Houston:
By JOSEPH WHITE AP Sports Writer WASHINGTON (AP) -- Phil Garner told one great Roger Clemens story after another. Clemens working out in a flak jacket with 60 pounds of weights. Clemens yelling at himself. Clemens yelling at others. Clemens noticing that home plate was a little bit out of line. Garner was sitting on a witness stand, but he sounded at times as if he were again a major league manager, spinning yarns in a casual pregame dugout chat. None of those stories involved Clemens using performance-enhancing drugs. "Scrap Iron," the nickname Garner earned as a player, gave "The Rocket" a boost Thursday as he testified for the defense in the perjury trial of the seven-time Cy Young Award winner. Garner, the longtime infielder and Clemens' manager for 2 years with the Houston Astros, became the latest in a string of witnesses to speak glowingly of Clemens' leadership and work ethic. The testimony is part of an effort to portray the former pitching...
Original Story:
http://www.foxsportshouston.com/05/31...
THE BACKYARD
BEST OF MAXIM
RELATED ARTICLES
Roger Clemens' former catcher with the Toronto Blue Jays testified Wednesday that he had seen vitamin B12 ''shots lined up ready to go'' for players, a claim also made by Clemens and for which he was charged with obstructing Congress. Clemens is charged with obstruction of Congress, perjury and making false statements for denying to Congress in 2008 that he ever...
The judge in the Roger Clemens perjury trial ruled Monday that defense lawyers can't call Rep. Darrell Issa as a witness. Issa is chairman of the House Oversight and Government Reform Committee, the panel that Clemens allegedly lied to in 2008 when he denied taking performance-enhancing drugs. Issa, a California Republican, wasn't chairman at the time, and he had criticized...
Roger Clemens lost something off his fastball in his 40s but still succeeded by pitching smarter, his former manager testified Thursday. ''He continued to have great success, but for different reasons,'' said defense witness Phil Garner, who managed Clemens with the Houston Astros from 2004-2006. ''He didn't just overpower teams; he outsmarted teams ...
Lawyers have launched their defense of Roger Clemens with what seemed more like a testimonial dinner than a trial, putting on a pair of witnesses who described in reverential terms the famed baseball pitcher's work ethic in high school and college. The message the defense began hammering home Tuesday was that hard work, not steroids or human growth hormone, turned Clemens into...
Knowledgeable baseball fans can argue all day whether it was the split-finger fastball - and not performance-enhancing drugs - that kept Roger Clemens on top of his game well into his 30s and beyond. His lawyers are trying to make that point at a trial where basic terms such as ''Fenway Park'' and ''foul pole'' require an explanation for a jury of...
As the weeks go on and the Roger Clemens trial begins to be buried further within the marginalia of the sports page, I've started to wonder if I'm beating a dead horse. Is this really that important? Is the state of the game really in as much peril as I fear? The estranged wife of Brian McNamee, Clemens' chief accuser, was expected to take the stand as a defense witness in...
After years of beyond-belief denials and "it happened in the past" non-answers, this week appears to mark the unofficial beginning to the final installment of Major League Baseball's truth and reconciliation commission for the steroid era. Arguably the best pitcher of modern times, Roger Clemens, is in the seventh week of a federal trial in which he is accused of perjuring...
Defense lawyers for Roger Clemens say they'll call the estranged wife of Brian McNamee, Eileen, to testify, though her lawyer told reporters Thursday that he wants to ensure that her previously granted immunity remains intact, according to multiple reports. McNamee may have implicated her in a number of ways during his testimony, including possible mail fraud. Clemens'...
MLB News

Delivered to your inbox

You'll also receive Yardbarker's daily Top 10, featuring the best sports stories from around the web. Customize your newsletter to get articles on your favorite sports and teams. And the best part? It's free!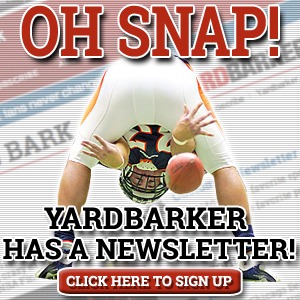 Latest Rumors
Best of Yardbarker

Today's Best Stuff

For Bloggers

Join the Yardbarker Network for more promotion, traffic, and money.

Company Info

Help

What is Yardbarker?

Yardbarker is the largest network of sports blogs and pro athlete blogs on the web. This site is the hub of the Yardbarker Network, where our editors and algorithms curate the best sports content from our network and beyond.