Found November 05, 2012 on Monkey with a Halo:
The November 5th, 2012 edition of daily news for the Los Angeles Angels of Anaheim including Dipoto talks about the Haren non-trade, Hunter not given a qualifying offer, Bourjos will start in the outfield and much more... The Story: Jerry Dipoto talks about the wild events of Friday night that led the Angels to decline Dan Haren's option. The Monkey Says: He doesn't offer any insight into how the trade to Chicago fell apart or how no other trade came available though.  However, he does say that he hasn't ruled out re-signing Haren or Hunter, though logic suggests that both options are rather unlikely. The Story: Torii Hunter did not receive a qualifying offer from the Angels. The Monkey Says: Torii sounds resigned to leaving Anaheim, but states clearly that he has no ill will towards the team for letting him go. The Story: As of right now, the Angels plan to have Peter Bourjos as a full-time starter in their outfield. The Monkey Says: They could always trade Bourjos and sign someone to take his place, but the statement by Dipoto seems pretty definitive that it has always been their intention to go with a Trout-Bourjos-Trumbo outfield.  I can't say that I disagree with that decision, but I also can't say I wouldn't mind if they trade Bourjos for a starting pitcher and signed someone like Nick Swisher to take his spot. The Story: Will the Angels dumping of Haren and Santana backfire? The Monkey Says: My biggest qualm with this piece is that it claims Dipoto has not identified replacements for Haren and Santana and thus have lost leverage with Greinke.  That just seems flawed on so many levels.  First off, I don't think the Angels lost leverage with Greinke because it has always been painfully clear that they need Greinke back.  But beyond that, it seems obvious that Dipoto was never planning on keeping Haren or Santana, so who is to say he doesn't have an idea of who he wants to pursue as replacements? The Story: Nick Cafardo breathes new life into the Lackey-for-Wells trade rumor. The Monkey Says: This report got shot down pretty hard last week by another Boston reporter, but Cafarado seems to be confirming that the Halos and Sox have at least discussed the possibility. The Story: Keith Law names Zack Greinke as the top free agent on the market. The Monkey Says: The most interesting part of this largely meaningless list is that Law believes that Greinke's anxiety issues are of little concen and that he would have no qualms about giving him a five-year deal. The Story: The Blue Jays have shown interest in pursuing Zack Greinke. The Monkey Says: They are a real wild card here.  For years, the rumor has been that Toronto has been saving up for one big free agent acquisition.  They've yet to do so, but the pressure is starting to mount on them to win, so if there is ever an off-season for them to do it, it is this one.  Personally, I think that rumor is just that and the ownership will never approve a contract of five-plus years and $100+ million. The Story: The Angels should still be considered the favorite to sign Zack Greinke. The Monkey Says: I agree with that, but won't expound upon it because I am pretty certain that I only agree because I want it to be true.  If I had to pick someone other than the Angels, I'd go with the Braves since he could play near his Florida home. The Story: Zack Greinke might be overrated and not nearly worth the money he is going to get. The Monkey Says: The ERA+ is interesting, but can't be taken on its own merits since he posted much lower FIP, xFIP and SIERA numbers over that same timespan.  That suggests that some bad luck may have been involved, though it doesn't totally excuse it either. The Story: 5 GIFs that prove Mike Trout should have won the Gold Glove. The Monkey Says: We all know he should have, but five plays hardly prove that, although I believe John Kruk recently claimed Trout was overrated based entirely on the "one" good play he made. The Story: Should Angel fans trust or not trust Jerry Dipoto now? The Monkey Says: I still think it is too early to judge as his moves last off-season were mostly well regarded.  The way the Haren non-trade went down certainly made me question him a bit as it was the first time we'd seen indecisiveness from him.  If his other moves don't pan out, at least they were made out of aggressiveness, unlike the Haren debacle. The Story: The top five performances of Dan Haren's Angel career. The Monkey Says: He will be miss. [follow]
Original Story:
http://www.monkeywithahalo.com/2012-a...
THE BACKYARD
BEST OF MAXIM
RELATED ARTICLES
Dan Haren was nearly traded to the Chicago Cubs yesterday. Today the right handed pitcher is a fee agent after being released ahead of Friday's deadline to pick up options. The Los Angeles Angels will pay Haren a $3.5 million buyout instead of the $15.5 million option the team had on him. Despite injury concerns Haren expects to be a highly targeted pitcher. The Cubs and Angels...
BEANTOWN BANTER
A report out of Boston indicates that the Red Sox might be interested in veteran outfielder Torii Hunter, a longtime friend of David Ortiz.
By Brian Waller - AngelsWin.com Columnist All good things must come to an end, and it appears as though fan favorite Torii Hunter's days in a Halo's uniform have come to an end; with the door only slightly cracked for the mayor of "Toriitown" to return. After signing a 5 year $90-million deal with the Angels on November 22, 2007 Hunter seemed like the perfect fit for...
  It looked great on paper.  Angels pitcher Dan Haren for troubled closer Carlos Marmol. Unlike some media nowadays, I read between the lines. When Patrick Mooney of CSN's Chicago came out with the news that the Haren for Marmol trade was off. I gave myself a sigh of relief. It didn't feel like new [...] [[ This is a content summary only. Visit my website for full links, other...
The New York Yankees have interest in free agent outfielder Torii Hunter, tweets Mark Feinsand of The New York Daily News. Hunter, 37, may have lost a step since he won nine Gold Glove awards as one of the league's elite center fielders, but he has proven he can still be a good fielder since moving to right field for the Los Angeles Angels. He can still swing the bat as well, hitting...
Torii Hunter may be pushing 40, but the outfielder proved in 2012 that he can still play. Hunter, who turns 38 in July, is drawing interest from the Red Sox, according to Rob Bradford of WEEI.com. Hunter hit .313 with an .817 OPS while making $18 million this past season — the final year of a 5-year, $90 million contract with the Halos. As Bradford points out, the 16-year veteran...
The die has been cast.  Jerry Dipoto made his decision and ushered fan-favorite Torii Hunter out the door and into the wilderness of free agency,  In so doing he has also ushered in the Peter Bourjos era... again. A fan-favorite to a much lesser degree, Bourjos appears to have been given back his starting outfield job.  He didn't earn it back, mind you, he was simply gifted...
By Jonathan Northrop - AngelsWin.com Columnist Just over a year ago Jerry Dipoto was named the Angels' General Manager and within a couple months made his mark, culminating with the "Big Splashes" of the 2011 December GM meetings, netting the top free agent hitter and pitcher, Albert Pujols and CJ Wilson. Over the course of the rest of the offseason he made a variety of...
Last week, the Angels shopped Dan Haren around the league, as it was common knowledge that they weren't going to pick up his $15.5 million option for 2013, and were willing to trade him to a team that wanted to take a one year flier on a pitcher was among the game's best as recently as 2011. Because they owed him a $3.5 million buyout, the marginal cost of acquiring Haren was...
Before the Los Angeles Angels decided to decline Dan Haren's option for 2013, they talked with the Cubs about a trade that would have involved the right-hander and Chicago's late-inning reliever Carlos Marmol. It was well known that the Angels were trying to trade Haren. They didn't want to exercise his 2013 option, but they also didn't want to allow the talented...
The November 6th, 2012 edition of daily news for the Los Angeles Angels of Anaheim including Trout wins Players Choice AL Rookie of the Year, considering Haren's health, estimating how much money will Greinke get and much more... The Story: Mike Trout named Players Choice AL Rookie of the Year... but nothing else. The Monkey Says: Good gravy, I don't recall there...
Just yesterday news broke that the Jeremy Hellickson of the Tampa Bay Rays was drawing trade interest from multiple teams. I have to imagine that Jerry Dipoto has at least kicked the tires on Hellickson, this type of move falls all too well into Dipoto's method of operation. Aside from the massive Pujols contract Dipoto is very conservative when it comes to giving out big contracts...
MLB News

Delivered to your inbox

You'll also receive Yardbarker's daily Top 10, featuring the best sports stories from around the web. Customize your newsletter to get articles on your favorite sports and teams. And the best part? It's free!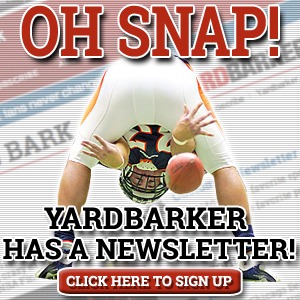 Latest Rumors
Best of Yardbarker

Today's Best Stuff

For Bloggers

Join the Yardbarker Network for more promotion, traffic, and money.

Company Info

Help

What is Yardbarker?

Yardbarker is the largest network of sports blogs and pro athlete blogs on the web. This site is the hub of the Yardbarker Network, where our editors and algorithms curate the best sports content from our network and beyond.