Found March 26, 2013 on Monkey with a Halo:
The March 26th, 2013 edition of daily news for the Los Angeles Angels including Madson feeling good after another bullpen session, Trout vs. Harper and much more... The Story: Ryan Madson is feeling good after another bullpen session on Monday. The Monkey Says: Nice to hear, but he still isn't throwing 100% or throwing his changeup. In other words, he still has a long way to go The Story: ESPN felt the need to run three articles pitting Mike Trout versus Bryce Harper, with the first coming from Jim Bowden. The Monkey Says: The Bowden piece is as stupid as you'd expect. But I just don't get why we need to declare a winner in the present, past or future with these two. Why can't we all just enjoy them both being great, potentially generational talents without trying to constantly force this stupid narrative that they are somehow rivals? The Story: The second article uses advanced metrics to project who will have the better career between Trout and Harper. The Monkey Says: Using more sophisticated tools doesn't make this manufactured debate any less inane. The Story: Looking at the areas at the plate where Harper and Trout can both stand to improve. The Monkey Says: They avoid the comparison here in favor of something that is actually interesting, which was a welcome surprise. More of this please. The Story: The beauty of the Vernon Wells trade. The Monkey Says: It is so beautiful that I think I just shorted out my keyboard because it was soaked in tears of joy. (Don't ask how I just typed that. You'll ruin the moment.) The Story: The money saved in the Vernon Wells trade allows the Angels to avoid the luxury tax. The Monkey Says: This is the gift that keeps on giving! The Halos probably would've come in just under the threshold anyway, but at least now they actually have enough wiggle room to add another chunk of salary via trade if need be. The Story: Vernon Wells ranks 18th in Jonah Keri's Vernon Power Rankings. The Monkey Says: If reduced to the Vernon Wells Power Rankings, Vernon Wells the ballplayer still comes in second behind Vernon Wells the actor. He just can't do anything right, can he? The Story: Nick Maronde is being converted to a reliever permanently. The Monkey Says: The Angels say "indefinitely" but it is really "permanently." I think I kind of hate this move. Don't get me wrong, Maronde could become a terrific reliever, but he at least had a chance of being a quality mid-rotation starter and the Angels don't have many of those in their system, much less ones with experience above High-A ball. It seems to me the Halos could've allowed him to keep starting for another year to see if he could hack it since they don't have a pressing need for another lefty reliever. The Story: Mitch Stetter has a chance at making the Opening Day roster. The Monkey Says: If the Angels carry three southpaw relievers, I might have to quit blogging. There is absolutely no reason for it, especially since Scioscia has never been a guy who is religious about exploiting platoon match-ups. Also, Stetter doesn't appear to be all that good, so that only makes this more infuriating. [follow]
Original Story:
http://www.monkeywithahalo.com/2013-a...
THE BACKYARD
BEST OF MAXIM
RELATED ARTICLES
So Bryce Harper announced his walkup songs for 2013 on Twitter Sunday night. In order: Moby - "Flower (Bring Sally Up)", Imagine Dragons - "Radioactive", and Run DMC - "It's Tricky": Apparently the #3 selection caused Harper some trouble: Still can't understand why Harper didn't go with "Nuts about the Nats"... Befriend...
Recovered from a swollen left thumb that's now "all good," Washington Nationals wunderkind Bryce Harper is on the brink of having a historic season. Harper, a 20-year-old who Washington selected out of the College of Southern Nevada with the first overall pick in the 2010 Major League Baseball Draft, was an All-Star and National League Rookie of the Year winner in 2012. The...
Just in time for Opening Day, MLB launched its new "I Play" marketing campaign today, featuring spots with Bryce Harper, Robinson Cano, Carlos Gonzalez, Adam Jones, Andrew McCutchen, Buster Posey, David Price, Mike Trout, Justin Verlander and David Wright. Up above is the video for Harper's spot, in which a Harper voice-over talks about playing for "the W on...
A lot of people hate on me for liking Bryce Harper so much. I was a little undecided on the guy until I read a book about his only amateur season. And then I wanted to immediately learn more about the guy. Then I saw him play. From his first big league at-bat, I saw that he wasn't a fraud. I always believed in his ability, and then I decided that when you watch him play; this is...
Bryce Harper does not browse hot girls or sports on the internet, but rather houses and clothes on Pinterest. Who'da thunk it?
And now we finally get to the projection you have all been waiting for. And now a player that needs no introduction... 2012 Stats: 639 PA, .326 AVG, .399 OBP, .564 SLG, 129 R, 30 HR, 83 RBI, 49 SB, 5 CS, 139 K, .409 wOBA, 170 OPS+, 10.0 fWAR 2013 ZiPS Projections: 695 PA, .282 AVG, .364 OBP, .507 SLG, 122 R, 29 HR, 83 RBI, 47 SB, 8 CS, 149 K, .371 wOBA, 142 OPS+, 7.4 fWAR...
Bryce Harper had three hits and stole two bases, one day after he was scratched because of a swollen left hand, and Danny Espinosa went 3 for 3 with a three-run homer Sunday in the Washington Nationals' rain-shortened 9-3 win over the Atlanta Braves. In a game called after seven innings because of bad weather, Washington's Jordan Zimmermann allowed three runs - one earned...
The March 28th, 2013 edition of daily news for the Los Angeles Angels including Trout in GQ, Angels sign Mark Lowe, trade Geltz and much more... The Story: The Angels signed reliever Mark Lowe to a minor league contract with a invite to spring training. The Monkey Says: It looks like the Angels are getting really nervous about the bullpen's performance. It seems the plan...
VIERA, Fla. (AP) Bryce Harper scrapped the pad he had planned to wear on his swollen left thumb. After missing a game because of the injury, Harper singled twice, doubled and stole two bases Sunday in the Washington Nationals' rain-shortened 9-3 win over the Atlanta Braves. Harper got hurt when he was jammed with a pitch Friday. He didn't feel comfortable swinging with...
JUPITER, Fla. (AP) -- Giancarlo Stanton homered twice, including a drive high off the hitters' background screen in center field, to help the Miami Marlins defeat the Washington Nationals 8-5 Tuesday. Bryce Harper singled in each of his first two times up to extend his streak of consecutive at-nats with hits to nine, He walked in the fifth, then left the game. Harper is hitting...
The Oakland Athletics know that few will give them a chance to repeat in a division featuring sluggers Albert Pujols, Josh Hamilton and Mike Trout making up a loaded lineup for the Los Angeles Angels. Even with almost the same A's roster that pulled off an improbable late-season rally to stun the Texas Rangers on the season's final day last fall. No problem. They're...
MLB News

Delivered to your inbox

You'll also receive Yardbarker's daily Top 10, featuring the best sports stories from around the web. Customize your newsletter to get articles on your favorite sports and teams. And the best part? It's free!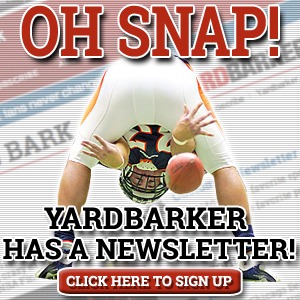 Latest Rumors
Best of Yardbarker

Today's Best Stuff

For Bloggers

Join the Yardbarker Network for more promotion, traffic, and money.

Company Info

Help

What is Yardbarker?

Yardbarker is the largest network of sports blogs and pro athlete blogs on the web. This site is the hub of the Yardbarker Network, where our editors and algorithms curate the best sports content from our network and beyond.