Found February 08, 2013 on Monkey with a Halo:
The February 8th, 2013 edition of daily news for the Los Angeles Angels of Anaheim including optimizing the Angels' batting order, the Halos have the best defense in the league and much more... The Story: Optimizing the Angels' batting order. The Monkey Says: I'm pretty sick of this topic, but the point about Hamilton being such a free-swinger making him a poor fit behind Mike Trout does make a lot of sense. All the crap about fastball percentage and "quality of fastballs" is pure nonsense though. Just put Callaspo there because he can get on base and work deep counts. The Story: The Angels have the top-ranked defense in all of baseball. The Monkey Says: No argument here. They have an above average or much better defender at every position save maybe catcher, and even then Chris Iannetta probably isn't much worse than average. The Story: Josh Hamilton is the very definition of a streak hitter. The Monkey Says: That was true last year, but not previously. In fact, Hamilton hadn't had a single month where his OPS was under .800 since July of 2009. So, one could argue that he was actually quite consistent before he started having all that weird stuff going on with caffeine and chewing tobacco. The Story: C.J. Wilson has been named the Head & Shoulders "Mane Man" for MLB. The Monkey Says: This ranks pretty high on the list of stories I don't give a **** about. Alas, I link to it because it inevitably means we are going to be subjected to a terrible TV commercial starring C.J. in the near future. Sigh. The Story: Kole Calhoun is #86 on the "names you should know" for 2013. The Monkey Says: This is kind of like a top prospect list, except for prospect-ish players who are ready to actually make an impact in the majors this season, which is a pretty cool idea. The Story: A look at Kole Calhoun's highly productive minor league season. The Monkey Says: At some point Calhoun is going to be such a widely accepted sleeper that he is going to jump the shark and somehow end up being overrated. The Story: A look at how Mike Trout's unexpected power will likely contribute to him regressing in 2013. The Monkey Says: Does it have to though? Not everyone thought Trout would top out at 25 homers. There is reason he was drawing Mantle comparison, you know. I agree that regression is the most likely outcome, but I'm not totally sold that Trout has already exceeded his power ceiling. The Story: Torii Hunter ranks as the seventh-best acquisition in Angels history. The Monkey Says: Yeah, but he's the best baseball acquisition in the history of Del Taco. [follow]
Original Story:
http://www.monkeywithahalo.com/2013-a...
THE BACKYARD
BEST OF MAXIM
RELATED ARTICLES
By Rob Goldman - AngelsWin.com Historical Writer   By 1977, Angels owner Gene Autry had committed to do whatever it took to produce a championship caliber club. In 1976 he had acquired Dan Baylor, Joe Rudi and Bobby Grich through free agency. Though weary of the process, Autry knew free agency was the fastest way to produce a winner and was prepared to take full advantage of it...
   By Brian Waller, AngelsWin.com Writer Although it's fun to see what former Angel greats like Tim Salmon, Jim Edmonds, or Chuck Finley are up to these days, I actually enjoy following up on the lesser known players that once wore an Angel's uniform; players who weren't mega stars but still made key contributions to the big club. I tend to think back to the championship...
Lost in all the hullabaloo of last week's Super Bowl was the fact that Head & Shoulders named their MLB "Mane Man" for the upcoming season.And that guy...none other than Los Angeles Angels pitcher, friend of The Hall, C.J. Wilson."Head & Shoulders is an iconic brand that I trust to take care of my hair and scalp so I can concentrate 100 percent on and...
The MWAH prospect countdown marches on with a toolsy outfielder that somehow managed to turn in two polar opposite seasons in the same year. Travis Witherspoon Position: OF  Highest Level: Double-A Bats: Right Throws: Right  Height: 6'2" Weight: 190 lbs. Age: 23  Born: 4/16/89 2012 Season Stats High-A: 306 PA, .319 AVG, .399 OBP, .470 SLG, 10 2B, 5 3B...
The February 7th, 2013 edition of daily news for the Los Angeles Angels of Anaheim including Keith Law's top ten Angels prospects, Mike Trout is now an answer on Jeopardy and much more... The Story: Keith Law unveiled his top ten Angels prospects. The Monkey Says: The most notable part is that he is so high on Taylor Lindsey. I like Lindsey a lot too, but rating him second...
By Ellen Bell - AngelsWin.com Columnist He was nine years old. Even though I'm only 5'3, I could rest my arm on his shoulder. His red hair was trimmed in a neat, military buzz cut and his eager face was covered with freckles.  We were on a quest. It was 2003. The Angels were World Series Champions and we couldn't wait for another season to start. So we boarded an airplane...
He's no Dan Haren, heck he may not even by Ervin Santana (although that might be a good thing) but he is the first of three new starters in the Angels rotation. He even has extensive experience in the AL West as a bonus! Let's take a look at Jason Vargas has in store for us in his first and possibly last season in Anaheim. 2012 Stats: 217.1 IP, 15-11, 3.85 ERA. 4.69 FIP...
By Brian Waller - AngelsWin.com Columnist Brazil I know I know, there are some people that can't get excited or pumped up for the World Baseball Classic (WBC) no matter how much hype the tournament gets. It's definitely not for everyone and there are obvious flaws in the set-up, format, etc. but I still find it very intriguing. As fans of Major League Baseball (MLB), we all...
For a second straight year, the Texas Rangers come to spring training in Arizona looking less like the team that went to back-to-back World Series in 2010-11. Only this year, the turnover is much more significant. The post-Josh Hamilton era begins in earnest for the Rangers when the team opens camp in Surprise without the former MVP and five-time all-star outfielder, who left for...
There have been a lot of gambles made this offseason.  The Angels are banking on Josh Hamilton putting them over the threshold.  The Dodgers hedged their Adrian Gonzalez, Josh Beckett, Carl Crawford trade by inflating the payroll up toward $230 million.  The Royals are going for it all in the AL Central after dealing perhaps the top prospect in baseball (and then some) for James...
The 2013 rookie class may not have Mike Trout or Bryce Harper, but this is still a strong first-year group with the potential to make an impact this season. Trout's season spoiled what many expected from rookies, but the players below are the types of lottery tickets we all chase on draft day hoping for a big prize. Talent does not always win out because opportunity is king...
MLB News

Delivered to your inbox

You'll also receive Yardbarker's daily Top 10, featuring the best sports stories from around the web. Customize your newsletter to get articles on your favorite sports and teams. And the best part? It's free!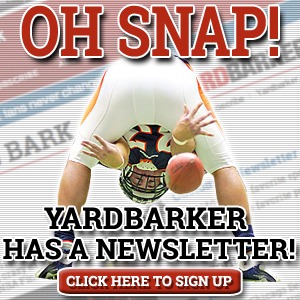 Latest Rumors
Best of Yardbarker

Today's Best Stuff

For Bloggers

Join the Yardbarker Network for more promotion, traffic, and money.

Company Info

Help

What is Yardbarker?

Yardbarker is the largest network of sports blogs and pro athlete blogs on the web. This site is the hub of the Yardbarker Network, where our editors and algorithms curate the best sports content from our network and beyond.