Found April 24, 2012 on Monkey with a Halo:
PLAYERS:
Albert Pujols
,
Vernon Wells
,
Mike Trout
,
Grant Balfour
,
Buster Olney
,
Alberto Callaspo
,
Mo Vaughn
,
Kevin Appier
,
Mark Trumbo
,
Peter Bourjos
TEAMS:
Los Angeles Angels
,
Oakland Athletics
The April 24th, 2012 edition of daily news for the Los Angeles Angels of Anaheim including Albert Pujols has gotten pull happy, Angel Stadium attendance is down early this year, Trout OK after being hit by a pitch and much more... The Story: Albert Pujols has gotten very pull happy. The Monkey Says: Picture perfect proof that Pujols is trying too hard.  This is what I like to call Vernon Wells Syndrome.  Hopefully Albert can find the cure that has thus far eluded Vernon. The Story: The Angels home attendance is way down from last year, but their road attendance is way up. The Monkey Says: I would chalk up the low home numbers thus far to the lackluster opponents they have faced, though it is surprising that the presence of Pujols hasn't been more of a draw locally.  Where it has been a draw is on the road, where the Angels are now the top draw after being one of the lowest draws in the league last season. The Story: Mike Trout is fine after being pulled from Sunday night's game after being hit by a pitch. The Monkey Says: Sigh of relief.  The Bees trounced their opponent in that game, so the team was just playing it safe, which is probably a good idea since Trout is the future of the franchise. The Story: 12 relief pitchers that could help the Angels right now. The Monkey Says: I detest slideshows, but one of the relievers mentioned is Grant Balfour, who we all know I have deep trade-lust for.  That lust was piqued yesterday after Buster Olney tweeted something that strongly suggested that the Oakland A's would be willing to trade him right now.  Given their known interest in Alberto Callaspo, one would think there is a good match here, although the Angels would surely have to toss in some kind of prospect or perhaps some money to make it happen. The Story: Are the Angels repeating the wrong kind of history with their Albert Pujols signing? The Monkey Says: This article temporarily made me lose my mind on Twitter because it was tweeted out with the title of "Pujols just the latest big-money bust for Angels."  That isn't quite what the story was about though.  It is more about how the Angels have made a big free agent splashes in the past but never had it pay off in a World Series appearance.  I don't really think that is a huge issue though.  The Baylor, Rudi and Grich signings didn't lead to a World Series, but they did lead to the Angels first division title in 1979, which was a huge moment for the franchise, not a big money mistake as it is portrayed in the article.  The Mo Vaughn signing definitely didn't work out as planned, but it did inadvertently lead to the trade for Kevin Appier, who was a major part of the 2002 World Series team.  And that big 2003 spending spree is still a success in my mind as it established the Angels as a perennial contender and not just a flash in the pan.  Sure, they didn't win a pennant, but they made several playoff appearances behind Guerrero and those other players.  To make it seem like the Pujols signing is going to be a failure simply because they may not win the World Series this year is just wrong-headed.  Let's give it five years before we start talking about whether or not the Pujols signing paid off, OK? The Story: Spots are now available at the Angels Youth Baseball Camp. The Monkey Says: Sign your kid up now so that Mark Trumbo can teach him how to not play third base.  Sorry, that was just too easy. The Story: Now is the time to call up Mike Trout. The Monkey Says: I am very torn on this issue, which is probably why I haven't written about it much even though it is prime for a post.  On one hand, the Angels very much need the kind of top of the order catalyst that Trout stands to be.  However, my problem is that I'm still not sure who's spot he should take since he is going to play everyday once called up.  I've seen many suggest that he should take over for the struggling Peter Bourjos, but that runs a major risk of stunting Bourjos' growth as a hitter while also weakening the Angel defense.  Wells seems like the most logical choice and I would not bemoan him being benched, but he does lead the team in homers.  Moreover, he has shown some signs of coming around in the last week and the Angels probably should give him a little more time to re-establish himself.  If I had to choose, I would choose to punt and delay any such decision for at least two more weeks to see how everyone is performing as I believe the Angels are emerging from this slow start, so everyone will begin to show their true colors soon. [follow]
Original Story:
http://www.monkeywithahalo.com/2012-a...
THE BACKYARD
BEST OF MAXIM
RELATED ARTICLES
ST. PETERSBURG, Fla.--Throughout spring training, Angels first baseman Albert Pujols downplayed speculation that it might be difficult to adjust to a new league and a new set of pitchers after spending his first 11 seasons with the St. Louis Cardinals. All the National League pitchers were new to Pujols when he broke into the big leagues in 2001, Pujols reasoned, and that wasnt...
The Anaheim Angels right now are one atrocious MLB Baseball team. As far as I see it we can blame it all on Albert Pujols. They have no setup pitchers, aging talent everywhere, and some massive bum named Vernon Wells. Lets not get it twisted, Vernon Wells is much worse than Pujols  its just Pujols makes $25 Million a year…..wait Wells makes $14 Million. Well at least Mike Scioscia...
(Eds: APNewsNow. Will be updated. With AP Photos.) By GREG BEACHAM AP Sports Writer Albert Pujols has hit soaring fly balls that died on the warning track. He has hit several liners deep into the gaps, and he produced a smoking drive that barely caught the top of the left-field wall. Yet during his 16 games with the Los Angeles Angels, the $240 million slugger still hasn't cleared...
In a press conference at the Winter Meetings, Angels GM Jerry Dipoto was asked why Albert Pujols was worth a long-term deal when so many other stars have disappointed. Here's Dipoto: I'll say this, that in regard to the evolution of a hitter, as hitters begin to age, into their 30s, to whatever point you can project, there's a certain quality or trait in a hitter...
ANAHEIM, Calif. Albert Pujols stood in the on-deck circle Sunday afternoon waiting for one last chance to bat. It never came. Maybe that's a good thing. The Angels could have used a home run or two, but that's one area where Pujols has yet to deliver. He will -- and sooner or later, the Angels will muscle up as everyone expects them to. But 16 games into the season, with...
Come on now, come on guys. Seriously, there's no way this is happening for real guys. No way Santana goes and gives up 4 home runs in 5 innings to add to his terrible losing streak which has now extended to four games. His ERA is so horribly ugly that's I intentionally won't write it just to save you from the horrors that would be sure to come if you laid your eyes on...
It's been well documented that Albert Pujols is struggling to adapt to the American League. Most of us know he has yet to hit a homerun. After a base on balls in the 8th inning of tonight's game, he's currently in an 0-19 slump - the worst hitless streak of his career. His current batting average (.222) is lower than the millions of dollars on his contract ($240,000,000...
The Rays aren't taking Albert Pujols lightly despite his season-opening slump, Godzilla is soon to join the franchise on a minor league deal, Desmond Jennings and his bat are starting to heat up and former NBA center Matt Geiger is contrite for interfering with a ball in play on Sunday. All of that and more in today's edition of Rays Roundup.
It wasn't supposed to go this way. The Angels committed over $320 million to free agents Albert Pujols and C.J. Wilson over the winter and instantly became the offseason champions, picked by some to reach the World Series and by almost all to fight it out with the Texas Rangers in the AL West. Three weeks into the regular season, though, the Angels are 6-12, having spotted...
While the Los Angeles Angels had a mostly successful weekend, it was a miserable three days at the plate for Albert Pujols. The slugger will try again to get on track when the Angels open a three-game road series against the Tampa Bay Rays on Tuesday night. Los Angeles took two of three from Baltimore over the weekend, though it couldn't complete the sweep Sunday, losing 3...
Your Weekly Mike Trout Update Through 18 games: .400/.463/.600 - 3 2B, 4 3B, 1 HR, 9 BB, 15 K, 6-for-7 in SB attempts. Meanwhile, Vernon Wells is at .232/.246/.446, 3 2B, 3 HR, 1 BB, 9 K, 0 SB. And the Angels offense is looking, well, pathetic. Trout's already been called up before, so his service time has been taken care of. Let him play, already. From this moment forward,...
It happens every year. Owners in redraft (one-year) leagues stash away top prospects hoping for a big impact early in the season and it never comes. This year, there are plenty of benches occupied by the likes of Bryce Harper and Mike Trout, while owners await word that their respective major league organizations will give them a big league role. Few will debate the magnitude...
MLB News

Delivered to your inbox

You'll also receive Yardbarker's daily Top 10, featuring the best sports stories from around the web. Customize your newsletter to get articles on your favorite sports and teams. And the best part? It's free!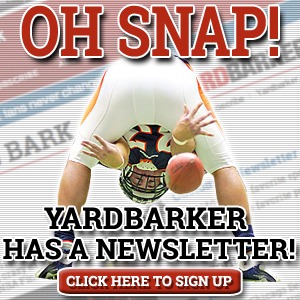 Latest Rumors
Best of Yardbarker

Today's Best Stuff

For Bloggers

Join the Yardbarker Network for more promotion, traffic, and money.

Company Info

Help

What is Yardbarker?

Yardbarker is the largest network of sports blogs and pro athlete blogs on the web. This site is the hub of the Yardbarker Network, where our editors and algorithms curate the best sports content from our network and beyond.