Found February 13, 2013 on Monkey with a Halo:
PLAYERS:
Ryan Madson
,
Josh Hamilton
,
Sean Burnett
,
Jim Bowden
,
Mike Scioscia
,
Tommy Hanson
,
Albert Pujols
,
Jason Vargas
,
Ernesto Frieri
,
Mariano Rivera
,
Nick Maronde
TEAMS:
Los Angeles Angels
,
New York Yankees
The February 13th, 2013 edition of daily news for the Los Angeles Angels of Anaheim including Ryan Madson to get an elbow MRI, Josh Hamilton is in the best shape of his life and much more... The Story: Ryan Madson underwent an MRI on his elbow yesterday and he could start throwing again if it is clean. The Monkey Says: The results should be available today, if they aren't already. The scary part here is what happens if it doesn't come back clean. They are saying this is a precaution, but it definitely raises alarms that they even felt an MRI was needed. The Story: Josh Hamilton reported to camp 20 pounds lighter than normal after a juice, fruit and veggie heavy diet in the off-season. The Monkey Says: Apparently Jesus sent him secret signs that he needed to give up carbs. That isn't a joke. That is essentially what he said about why he changed his diet. He also says he reduced his caffeine intake, which is significant given that a caffeine dependency caused him some vision problems last year. The Story: The Angels are featured in seven of FOX's national baseball broadcasts. The Monkey Says: They face the Rangers in FOX's first weekend and then are on the schedule three of the next four weeks. Strangely, they aren't on national TV once after July 27th though it seems like a good bet that they'll get on TV when they play Texas in the final two weeks of the season. The Story: Sean Burnett says he is 100% recovered from elbow surgery and is on the same schedule as all the other relievers in camp. The Monkey Says: Finally, some good injury news. The Story: Jim Bowden ranks the Angels as having had the third-best off-season. The Monkey Says: That seems too high, especially now in light of the fact that Madson might not be ready for Opening Day. The Angels added a lot of talent but they also lost a lot of talent and only but greater strain on the long-term financial flexibility, so I don't see how they can be given such a high grade. The Story: Mike Scioscia has "no doubt" that Tommy Hanson will regain the velocity he lost off his fastball last season. The Monkey Says: If he knows that for certain, he is either a warlock or is the secret identity of Dr. Tony Bosch. Guys with rotator cuff injuries and honked up mechanics don't just regain 3 MPH on their fastball like that. There's a reason the Braves traded him for an erratic reliever, after all. The Story: Albert Pujols reported to camp early but won't get much defensive work just yet to protect his surgically repaired knee. The Monkey Says: He took BP, so he must not be feeling too bad. If this knee injury lingers, it sounds like all it will do is force him to DH with Trumbo moving to first, which is not the end of the world. The Story: Jason Vargas is trying not to worry about his looming free agency. The Monkey Says: Let's hope not because this is a huge year for him. He isn't flashy, but if he can put up good numbers away from Safeco, he is going to make himself a lot of money. If not, he is going to join the ranks of back-of-the-rotation veterans who jump from team-to-team on one- and two-year contracts. The Story: Ernesto Frieri has no problem working on a setup role and is working on developing a new pitch. The Monkey Says: He says he can't be like Mariano Rivera and live off just one pitch, but I don't see why not. His two-seamer is practically unhittable... when he can locate it. I'd much rather he work on commanding that pitch than screwing around with a new off-speed pitch that he probably will have to scrap by the end of the spring since that is what happens 99% of the time a pitcher tries to learn a new pitch in one off-season. The Story: A look at the surprisingly fantastic season of Nick Maronde. The Monkey Says: I think I am higher on Maronde than most and can't wait to see what he can do as a starter in Double-A. Also, I have no idea who Angel Guerra is either. The Story: Bobby Grich ranks as the fourth-best Angels acquisition of all time. The Monkey Says: I am fully on board with the idea to get a campaign going to get Grich into the Hall. He is criminally underrated, especially given the era he played in. It will probably never happen though. [follow]
Original Story:
http://www.monkeywithahalo.com/2013-a...
THE BACKYARD
BEST OF MAXIM
RELATED ARTICLES
OH NO!
New Angels slugger Josh Hamilton credits a new diet featuring plenty of fruit and vegetable juices to showing up at training camp feeling great and weighing 225 pounds.
TEMPE, Ariz. -- An MRI test has showed mild inflammation but no significant damage to Ryan Madson's surgically repaired elbow, a huge relief for the Angels reliever. However, Madson will not resume throwing for at least another week, and he is expected to open the regular season on the disabled list. "I was pointing toward the season opener, and I think that maybe got...
In the first real injury news of the spring (it's still winter, really), the Los Angeles Angels have received some bad news regarding Ryan Madson.  Their new closer, who is coming off Tommy John surgery, suffered a minor setback in his recovery.  Madson has not thrown in 10 days because of it. According to Mike DiGiovanna of the Los Angeles Times, Madson experienced soreness...
The February 12th, 2013 edition of daily news for the Los Angeles Angels of Anaheim including Madson suffers a setback in rehab, PECOTA predicts the Angels to win the AL West and much more... The Story: Ryan Madson has shut down his rehab after suffering a sore elbow on February 1st, making it very unlikely he'll be ready for Opening Day. The Monkey Says: Zoiks, Scoob...
The February 15th, 2013 edition of daily news for the Los Angeles Angels of Anaheim including Trout up to 240 pounds, wondering if Hamilton's weight loss is PED related and much more... The Story: Mike Trout is up to 240 pounds after adding 15 pounds this off-season. The Monkey Says: I'm going to assume it is 15 pounds of muscle. Either way, I'm not sure I like...
Continuing from our season preview of the Rangers earlier today... Are the Rangers going to be able to adequately replace the offense that Josh Hamilton and Mike Napoli provided to the team in 2012? Hamilton and Napoli provided a ton of offense for the Rangers during their careers in Texas. In just over 1050 plate appearances last season, the duo combined for 67 homers, an...
Our first week of previews rolls along today with Los Angeles Angels day. The Angels came into 2012 with a ton of expectations and couldn't even crack the playoffs, and might have even more pressure on them going into 2013 after the addition of Josh Hamilton. We'll be rolling today's pieces about the Angels out at the same timeslots as we've been doing, so keep an...
The Los Angeles Angels head into 2013 as a nearly unanimous favorite to capture the AL West this season, if not take home the pennant in the American League. With the addition of Josh Hamilton to a lineup that laready featured a few big names in it, it isn't difficult to see why. Aside from the main guys (Hamilton, Pujols, Trout, etc.), there are a couple of folks who could...
In the This Is My Nightmare series, we'll take a look at what the absolute worst case scenario for each team would be in 2013. Think of it as the negative complement to our You May Say I'm A Dreamer series that we'll be running during our preview series. For a team that lost two consecutive World Series, including one where they were one strike away from winning it...
The February 14th, 2013 edition of daily news for the Los Angeles Angels of Anaheim including the Angels are not interested in Lohse, Madson's MRI comes back clean and much more... The Story: Scott Boras has tried to get the Angels interested in Kyle Lohse, but they have rebuffed him thus far. The Monkey Says: First, I really enjoyed getting to use the word "rebuffed...
What else can baseball fans do in January but dream of October? In You May Say I'm a Dreamer, the Outside Corner staff will imagine the route to a World Series in 2013 title for all 30 teams.   You could say the 2013 season was...heavenly for the Los Angeles Angels. Regardless of whether or not you're a fan of overly simple puns, it certainly was a year to be remembered...
MLB News

Delivered to your inbox

You'll also receive Yardbarker's daily Top 10, featuring the best sports stories from around the web. Customize your newsletter to get articles on your favorite sports and teams. And the best part? It's free!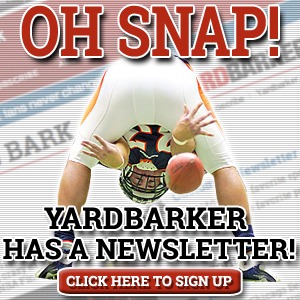 Latest Rumors
Best of Yardbarker

Today's Best Stuff

For Bloggers

Join the Yardbarker Network for more promotion, traffic, and money.

Company Info

Help

What is Yardbarker?

Yardbarker is the largest network of sports blogs and pro athlete blogs on the web. This site is the hub of the Yardbarker Network, where our editors and algorithms curate the best sports content from our network and beyond.