Found November 08, 2012 on Monkey with a Halo:
PLAYERS:
Mike Trout
,
Jered Weaver
,
Carlos Gomez
,
Zack Greinke
,
Danny Haren
,
Miguel Cabrera
,
Billy Butler
,
Ryan Braun
,
Justin Upton
,
Mark Trumbo
,
Garrett Richards
,
Anibal Sanchez
TEAMS:
Los Angeles Angels
,
Milwaukee Brewers
,
Detroit Tigers
,
Kansas City Royals
,
Arizona Diamondbacks
The November 8th, 2012 edition of daily news for the Los Angeles Angels of Anaheim including Trout and Weaver finalists for BBWAA awards, Greinke wants $150 million, Angels hire international scouting director and much more... The Story: Mike Trout was named a finalist for AL Rookie of the Year and AL MVP while Jered Weaver was named a finalist for the AL Cy Young. The Monkey Says: None of those are surprises although I had a minor heart attack when the first three AL MVP candidates were announced without Trout before I realized that MVP has five finalists unlike the rest of the awards.  Weaver probably wasn't a total lock for AL Cy Young, but he definitely was a favorite to be in the top three.  The winners will be announced starting Monday. The Story: The Angels named Carlos Gomez their new director of international scouting. The Monkey Says: He had been in the same position for Arizona, a team that has been very active in the international market recently.  The Angels, however, have been fairly dormant, so this really is a great development for the future of their farm system. The Story: A source (probably his agent) says Zack Greinke is seeking a six-year, $150 million contract. The Monkey Says: Like, zoiks, Scoob!  That would make him the highest paid right-handed pitcher in history, by a lot.  Most experts have pegged him closer to $120 million over six years, so this is clearly just a ploy to artificially inflate his price before bidding even opens.  Basically, this is the equivalent of his eBay "Buy It Now" price. The Story: Dan Haren's agent swears his client is fully healthy. The Monkey Says: Quite obviously the agent has a lot of motivation to make such a statement even if it isn't true.  But if it isn't, I'm not sure how the agent will be able to hold serious contract talks after being so outright dishonest.  Or maybe that is just standard operating procedure for a sports agent. The Story: Does the Les Milgram Award suggest Miguel Cabrera will win the AL MVP? The Monkey Says: The gist is that KC writers voted for Billy Butler over Alex Gordon even though Gordon is probably better once you factor in his defense and baserunning.  Sounds familiar, right?  That could just be the KC writers though.  I was actually quite encouraged to see that Ryan Braun was named an NL MVP finalist, suggesting that there is a contingent in the BBWAA that is more open-minded.  How big that contingent remains to be seen. The Story: Starting pitching remains a top priority for the Angels. The Monkey Says: This link was brought to you by the Department of Stating the Obvious. The Story: Mike Trout is amongst a group of young players that teams should try and lock into a long-term extension right now. The Monkey Says: I think I started saying this back in May and I still wholeheartedly support it.  I imagine the Angels do to, but they have bigger fish to fry right now. The Story: The Diamondbacks are having "active discussions" regarding a trade of Justin Upton. The Monkey Says: I have no idea if the Angels are even interested, but give that Dipoto comes from the Arizona organization, he would potentially have an inside track on pulling off such a trade if he were so inclined.  Or maybe he knows enough about Upton to make him not want to even get involved with such a deal. The Story: A look at the kind of starting pitchers that got traded last off-season, because, you know, the Angels might need to do that. The Monkey Says: One year isn't really a good sample, but it shows it can happen.  It also suggests that the best pitchers are only acquired in massive packages.  I actually think it bodes well for the Angels if they re-sign Greinke and want to find a reasonable number four starter via trade rather than overpaying for one on the free agent market. The Story: It is "unlikely" the Angels will ask Mark Trumbo to play third base again. The Monkey Says: So says Dipoto at the GM meetings.  That's probably the smart move given the way the roster is currently constituted and how poorly Trumbo's first go at the hot corner went.  Also, Jerry all but guaranteed Garrett Richards a rotation spot, which we all kind of assumed already. The Story: Speculation that the Angels could make dark horse acquisition for Japanese pitcher Hyun-Jin Ryu. The Monkey Says: A nice idea, though I don't really know much about him, but I think this is another case of just assuming the Angels have that kind of money.  As I mentioned earler this week, the Angels didn't have much of a scouting presence internationally this last year, so they may not have enough information on Ryu to make a play for him. The Story: Mark Gubicza talks about his love of hockey and the LA Kings. The Monkey Says: ...even though there probably won't be a NHL season.  This seems like one big troll. The Story: Considering Anibal Sanchez as a fallback option to Zack Greinke. The Monkey Says: I'm not a fan.  He just isn't that good but he is going to be paid like he is.  I'd rather the Angels pick up a slightly lesser pitcher for a much lesser contract. [follow]
Original Story:
http://www.monkeywithahalo.com/2012-a...
THE BACKYARD
BEST OF MAXIM
RELATED ARTICLES
Mike Trout isn't afraid of his parents embarrassing him in public. That means social media. The Angels outfielder welcomed both of his parents to Twitter and urged his followers to follow them. Welcome my parents to twitter land !!! @debbietrout27 @jeffreytrout !! #FOLLOW — Mike Trout (@Trouty20) November 5, 2012 Fortunately for Trout –– who is likely to be the Rookie of...
The equation between what teams should pay a free agent and what they end up paying him do not always match up. The free agent history of the past thirty years is littered with bad contracts. So, if you are a general manager and the prize free agent on the market is Zack Greinke, what should you pay him? Is he closer to Sabathia-type money at $23 million per year or he is closer...
The Cabrera-Trout MVP debate is one of the hottest topics in baseball leading up to next Thursday's announcement which you can view live on the MLB Network at 6:00 p.m. ET. Former Angels Director of Scouting (now assistant to the Red Sox GM) gave his take on the MVP here. Check out the AL MVP debate from last night's "Clubhouse Confidential" with Brian Kenny on MLB Network...
Screwed. Boned. Dead in the water. Up a creek. In deep doo-doo. Totally f#&ked. However you want to phrase it, for the Angels, life without Zack Greinke doesn't look particularly appealing.  They gave away most of the best parts of their farm system to get him and their entire off-season plan is centered entirely around the Halos bringing him back...
NEW YORK (AP) -- Triple Crown winner Miguel Cabrera is one of five finalists for the AL MVP award in voting by the Baseball Writers Association of America. The Detroit third baseman is joined by Texas' Adrian Beltre and Josh Hamilton, the New York Yankees' Robinson Cano, and Los Angeles Angels rookie Mike Trout, who also is one of three nominees for AL Rookie of the Year...
The November 6th, 2012 edition of daily news for the Los Angeles Angels of Anaheim including Trout wins Players Choice AL Rookie of the Year, considering Haren's health, estimating how much money will Greinke get and much more... The Story: Mike Trout named Players Choice AL Rookie of the Year... but nothing else. The Monkey Says: Good gravy, I don't recall there...
The November 9th, 2012 edition of daily news for the Los Angeles Angels of Anaheim including Izturis signs in Toronto, Trout wins a Silver Slugger, Dipoto confims interest in Fujikawa and much more... The Story: Maicer Izturis signed a three-year, $10 million deal with the Toronto Blue Jays. The Monkey Says: Best of luck to Maicer.  I'm sure Toronto won't at all...
I completed my first trade with Oscar from All Trade Bait, All The Time. He posted an auto I knew didn't fit into his collection, as he and I are both Dodger fans. A few e-mails later and we worked out a great deal. The gem of the swap for me:My second Jered Weaver autograph, and it will be a most welcome addition to my Long Beach State Dirtbags PC.Oscar also knocked off a pair...
Even with six veteran starting pitchers under contract for the 2013 season, the Los Angeles Dodgers are in the market for another arm, reports Jayson Stark of ESPN. He notes that the team is considering free agent right-handers Zack Greinke, Hiroki Kuroda and Anibal Sanchez. Even w/ 6 veteran starters under contract, #Dodgers want to add another. Besides Greinke & Kuroda...
Baseball's biggest spenders may be relatively quiet this winter, at least when it comes to big-name, big-money free agents. The New York Post reports that the Yankees aren't likely to be in on Josh Hamilton or Zack Greinke, the two biggest names in free agency this offseason. If New York does splurge on a big contract, the Post reports, it will be on a contract extension for...
Justin Upton was supposed to be Mike Trout. Taken No. 1 overall in the 2005 amateur draft, Upton was promoted to the big leagues just over two years later by August 2007 at the age of 19, and the world was expected — to a degree rightfully so. While Upton was still a teenager upon arriving in The Show, he didn't only have all the skills to be successful at that age, but he had...
True Blue LA: Eric Stephen looks at the available free agent starting pitchers and concludes that it's Zack Greinke or bust. When it comes down to it, if the Dodgers are hellbent on adding a starting pitcher they should only add a difference-maker. Dempster is a fall back, while Sanchez (money) and Kuroda (draft pick, age) seem overly expensive and not without significant risk...
MLB News

Delivered to your inbox

You'll also receive Yardbarker's daily Top 10, featuring the best sports stories from around the web. Customize your newsletter to get articles on your favorite sports and teams. And the best part? It's free!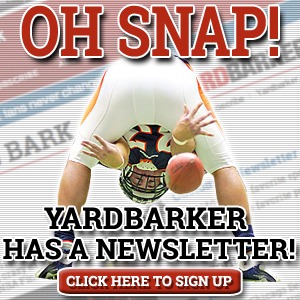 Latest Rumors
Best of Yardbarker

Today's Best Stuff

For Bloggers

Join the Yardbarker Network for more promotion, traffic, and money.

Company Info

Help

What is Yardbarker?

Yardbarker is the largest network of sports blogs and pro athlete blogs on the web. This site is the hub of the Yardbarker Network, where our editors and algorithms curate the best sports content from our network and beyond.