Found December 13, 2012 on Fox Sports Southwest:
PLAYERS:
Josh Hamilton
,
Jon Daniels
,
Alex Rodriguez
,
Albert Pujols
,
CJ Wilson
,
Zack Greinke
,
Hyun-jin Ryu
,
Mark Trumbo
,
Peter Bourjos
,
Vernon Wells
,
Mike Scioscia
,
Mike Trout
TEAMS:
Los Angeles Angels
,
Texas Rangers
,
New York Yankees
,
Los Angeles Dodgers
FORT WORTH, Texas (AP) -- Josh Hamilton left the Texas Rangers on Thursday and agreed to a 125 million, five-year contract with the Los Angeles Angels. Rangers general manager Jon Daniels said the slugging free-agent outfielder had reached the deal with the AL West rival Angels. Two people familiar with the talks disclosed the amount and length of the contract, speaking on condition of anonymity because the agreement was not yet final. Hamilton's 25 million average salary matches Philadelphia first baseman Ryan Howard for the second-highest in baseball, trailing only Alex Rodriguez's 27.5 million average with the New York Yankees. Texas had hoped to sign the 2010 AL Most Valuable Player, who led the Rangers to consecutive World Series appearances in 2010 and 2011. Speaking Thursday after a Rangers' holiday luncheon, Daniels said he had just been informed of the decision by Hamilton's agent, Michael Moye. Daniels said he was disappointed "to some degree," especially since the Rangers never got a chance to match any offer as had been expected during the process. Or at least get contacted before Hamilton agreed with another team. "I never expected that he was going to tell us to the dollar what they had, and a chance to offer it. Our full expectation, the phone call was going to be before he signed, and certainly not after," Daniels said. "Everybody's got to make their own calls." Hamilton joins a team that spent big last offseason to add first baseman Albert Pujols for 240 million and pitcher C.J. Wilson -- Hamilton's Texas teammate -- for 77.5 million. Yet, the Angels disappointed and failed to make the playoffs. "He's a tremendous talent and I think that they've shown they're going to be in on a lot of the best players out there," Daniels said. "No sugarcoating it, we wanted the player back. And he signed with the Angels. They're better." The agreement came days after the Los Angeles Dodgers added pitchers Zack Greinke and Ryu Hyun-jin, boosting their payroll over 200 million. Greinke, another offseason target, said he chose the Dodgers over the Rangers. Hamilton's addition to the Angels outfield means Mark Trumbo could be moved to third base or traded. Peter Bourjos and Vernon Wells also are among the outfielders competing for time unless a trade is made. Manager Mike Scioscia will have an interesting decision to make on where in the batting order to slot in Pujols, AL Rookie of the Year Mike Trout and Hamilton. Daniels met with Moye last week at the winter meetings in Nashville, Tenn., and had talked about the parameters of a new contract along with numbers. While Daniels wouldn't get into any specifics, he said his understanding is the deal with the Angels "is certainly more guaranteed money." The move keeps Hamilton in the same division with plenty of opportunities to play against his team -- the first one coming fast next season. After the Rangers open with three games at new division foe Houston, they play their first home series April 5-7 against the Angels. The 31-year-old slugger was considered a risk by some teams because of his history of alcohol and substance abuse, which derailed his career before his surge with the Rangers over the past five seasons. "Josh has done a lot for the organization, the organization has done a lot for Josh, a lot of things that aren't public and things of that nature," Daniels said. "I'm a little disappointment how it was handled, but he had a decision to make and he made it." Hamilton a career-high 43 home runs with 128 RBIs in 148 games last season, when the Rangers struggled down the stretch and lost the division to Oakland on the final day of the regular season. Texas then lost in the winner-take-all wild-card game against Baltimore, and Hamilton was lustily booed by Rangers fans while going 0-for-4 -- twice striking out on three pitches, including an inning-ending out in the eighth with a runner in scoring position when it was still a 3-1 game. That came after Hamilton dropped a routine popup in the regular-season finale two days earlier, a two-out tiebreaking miscue that allowed the A's to score two runs and go ahead to stay. He missed five games on a September trip because of a cornea problem he said was caused by too much caffeine and energy drinks -- and had one homer with 18 strikeouts in the final 10 regular-season games after returning. Hamilton hit .304 with 161 homers in his six major league seasons, the first with Cincinnati. In May against Baltimore, he became only the 16th major league with a four-homer game as part of a 5-for-5 night that included a double. "Josh had indicated recently ... told us that he felt it might be time to move on, but that we were still talking," said Daniels, who wouldn't elaborate on the reasons. "We had additional conversations this week that I thought had moved it along in a positive direction, but apparently not."
Original Story:
http://www.foxsportssouthwest.com/12/...
THE BACKYARD
BEST OF MAXIM
RELATED ARTICLES
  Yes, the Dodgers had conversations with Josh Hamilton's agents, Michael Moye and Scott Sanderson. But the impetus for the discussions came from the agents, not club officials, and the talks failed to progress, major-league sources say.   It's understandable that Moye and Sanderson would want to engage the Dodgers, who under their new ownership have become the biggest spenders...
The Los Angeles Angels have reportedly agreed to sign Josh Hamilton to a deal worth around $125 Million over five years.  The Angels had a disapointing season last year, and are not gun shy about spreading some cash around.  This all comes from a source with direct knowledge of the deal told ESPN Dallas talk show host Ben Rogers.  The Angels have a power filled line-up to say...
Because I know how ignorant people can be, especially on Twitter, I figured today's news of Josh Hamilton's big signing with the Angels would prompt some very personal attacks on the social network. After a quick search, it was pretty clear I was right. Compiled below are some of the worst of the worst. Keep in mind that these are some of the same people who just yesterday were...
FORT WORTH, Texas The normally pleasant Texas Rangers media luncheon took a turn late Thursday afternoon. That's when Texas general manager Jon Daniels ducked out of the banquet room at the Omni Fort Worth Hotel and took a call from Mike Moye, Josh Hamilton's agent. Moye informed the club that Hamilton had agreed to a deal with the Los Angeles Angels. He's leaving...
The Angels shocked everyone on Thursday by signing Josh Hamilton. Adding to the surprise factor was the magnitude of the deal. Hamilton inked a five-year pact with Los Angeles, which apparently was too lengthy for Boston's blood, even though the Red Sox reportedly did consider the five-time All-Star. According to WEEI.com's Rob Bradford, the Sox were interested in possibly signing...
The Los Angeles Angels have plucked another player from their division rival Texas Rangers. Today the Angels and Josh Hamilton agreed to a 5 year contract worth $125 million. The 2010 MVP had been shopping his services and will land with former teammate C.J. Wilson. Hamilton hit .285 with 43 homers and 128 RBIs in 2012 and is a lifetime .304 hitter with 161 home runs. The 31 year...
Last year it was Albert Pujols who signed a major contract deal with the Los Angeles Angels. This year the Angels have made a deal with Josh Hamilton. It looks as though Josh will get a five-year contract worth $125 million. It looks like the Angels are taking some pages out of the New York Yankees and Boston Red Sox free agent signing book. Last year the Angels spent $240 million...
by: Parker Perry @ParkerPerry_ Staff Writer  The Cincinnati Reds first opponent of the 2013 season has completed the biggest signing of the 2012-2013 off-season. The Los Angeles Angels of Anaheim inked their rival's, the Texas Rangers, outfielder Josh Hamilton to a five year, $125 million contract. Yes, that is $25 million a year. Hamilton was traded by the Reds...
I'm not sure what the L stands for, but Josh Hamilton obviously felt LAA was a good fit for him. What I'd like to know is how is California a bankrupt state? The Dodgers and Angels' salaries combined are equal to the GDP of every country, except China and Switzerland. Mozambique couldn't afford just Pujols and Hamilton. Forget Greinke, Hanley, Vernon Wells, Matt...
Imagine being stuck with the contracts of Ryan Howard and Josh Hamilton in 2016. Howard will be 36 and Hamilton would be 35. Roy Halladay and Chase Utley in 2016? Forget it. How about trying to win it all in 2013 and then revamp the team? The big TV money is not there yet and the luxury tax threshold begins next season. Right now the outfield is Daren Ruff in left, Ben Revere in...
Whether it was the need to one-up the Dodgers or a decision to add a bat to an already potent lineup, the Angels went deep Thursday when they snapped up free-agent outfielder Josh Hamilton with a five-year, 125-million contract. Its your move, Dodgers. In a span of three mind-numbing days, the two Southern California teams separated by 35 miles of freeways and congestion signed...
Incidents in Connecticut this morning remind us of what a frightening world this can be. My thoughts and condolences to anyone affected by the tragedy. Josh Hamilton signed with the Angels, and Torii Hunter was not happy about it. This is some serious dedication. Brandon McCarthy has a serious Twitter problem. SCOREBOARD Nothing last night
MLB News

Delivered to your inbox

You'll also receive Yardbarker's daily Top 10, featuring the best sports stories from around the web. Customize your newsletter to get articles on your favorite sports and teams. And the best part? It's free!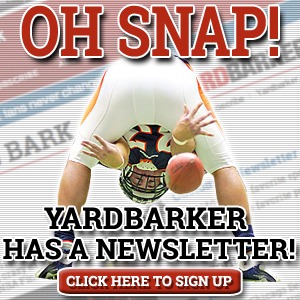 Latest Rumors
The Backyard

Today's Best Stuff

For Bloggers

Join the Yardbarker Network for more promotion, traffic, and money.

Company Info

Help

What is Yardbarker?

Yardbarker is the largest network of sports blogs and pro athlete blogs on the web. This site is the hub of the Yardbarker Network, where our editors and algorithms curate the best sports content from our network and beyond.