Found July 03, 2012 on With Leather:
This is a picture of Washington Nationals rookie Bryce Harper with UFC ring girl/Playboy playmate Brittany Palmer. Compare and contrast that to the following video by YouTube's Mallory Moreno entitled, 'If Bryce Harper Was My Boyfriend', a Justin Bieber parody song about how awesome of a girlfriend she'd be filmed longways on a Flip with about five minutes notice. Sample lyrics: I got stats in my hands that i'd really like to show show show to you chillin at the ballpark while the sky's blue you don't know about me but i know about you so say hello to the bigggest fan of three four, swag Long story short, this is the difference between Girls Who Like Bryce Harper, and Girls Bryce Harper likes: Big ups to Savannah Palumbo for her awesome directing job. [via The Nats Enquirer]
Original Story:
http://feedproxy.google.com/~r/uproxx...
THE BACKYARD
BEST OF MAXIM
RELATED ARTICLES
CLOWN GESTURE, BRO
(Video above via @JakeRussell) Because nothing says "Fourth of July" like Bryce Harper in his official Under Armour "Don't Be a Clown Bro" t-shirt, getting a shaving cream pie in the face from Jayson Werth on MLB Network after the Nats beat down the Giants. (Screencap via @recordsANDradio) Befriend the Nats Enquirer on Facebook. Follow us on Twitter.
Bryce Harper debuted his new Under Armour "Don't Be A Clown Bro" shirt during a MLB Network post-game interview this afternoon, but that wasn't the real highlight. The original Nats bro, Jayson Werth, interrupted the interview with a shaving cream pie to Harper's face. Yes, Bro Harper got clowned by Bro Werth and Internet bros totally lost it. Who's rushing out to get...
This town is getting a new education in "negative campaigning." Bryce Harper is one of five candidates for the final spot on the National League All-Star roster, and the team's unofficial slogan appears to be: "DO NOT -- UNDER ANY CIRCUMSTANCES -- VOTE FOR OUR GUY." Harper said he wanted future Hall of Famer Chipper Jones -- not himself -- to win the Final...
Bryce Harper is believed by many to be the favorite to win the annual MLB All-Star Game Final Vote out of the National League. His steepest competition will be Chipper Jones, who has said that this will be his last major league season meaning this would likely be his final All-Star appearance. Chipper has made seven All-Star teams in his 19-year career, and many believe number eight...
Stephen Strasburg, Gio Gonzalez, and Ian Desmond are All-Stars. Bryce Harper could be too. Go here to vote for Harper in the NL Final Vote early and often. And don't listen to Harper, who is apparently voting Chipper Jones: "I think a Hall of Famer should be able to go to the All-Star Game his last year. If I was going to make a vote, I'd go vote for...
This season's National League Final Vote has its usual field of five candidates, but let's be real here, it's essentially a two-horse race between 19-year-old phenom Bryce Harper and 40-year-old future Hall of Famer Chipper Jones. The truth, however, is that neither player deserves an All-Star nod. If we're voting based on entertainment value, yes, Harper deserves...
Bryce Harper, in all likelihood, will play in a whole bunch of All-Star Games. So there's not a huge rush to make his first Midsummer Classic appearance this season, especially considering who he'll have to beat out to earn the bid. Harper is one of five National League players on the Final Vote ballot for inclusion into next week's All-Star Game. Fans will have a chance...
    Orioles and Nationals team up to have fans vote for Beltways Ballot of Hammel and Harper for the All-Star Game The Orioles and Washington Nationals have partnered in an effort to help send the "Beltways Ballot" of RHP JASON HAMMEL and OF BRYCE HARPER to Kansas City for this year's All-Star Game. Hammel and Harper are candidates on Major League Baseball's...
We've seen some pretty terrible song parodies here on Outside the Boxscore but this one deserves its own post to stand on its own. Check out this Nationals fanatic who decided to do an ode to Bryce Harper using Justin Bieber's new hit, "Boyfriend". It's called, "If I Was Bryce Harper's Girlfriend": (Courtesy of Nats Enquirer)
MLB All-Star rosters have been announced, and they include three Nationals (Stephen Strasburg, Gio Gonzalez and Ian Desmond) and three Orioles (Adam Jones, Matt Wieters and Jim Johnson). Both teams also have a guy in the mix for the Final Vote (Bryce Harper for the Nats, Jason Hammel for the O's). The NL's Final Vote is particular interesting as Harper is up against Chipper...
(Eds: Sports Columnist Jim Litke is on vacation. This is a replacement column. With AP Photos.) By PAUL NEWBERRY AP National Writer With apologies to Bryce Harper and the first-place Washington Nationals - not to mention the individual brilliance of everyone from Josh Hamilton to Matt Cain - the Pittsburgh Pirates are the best story in baseball over the first half of the season....
Yesterday was pretty much the ideal 4th of July, other than I had to return to work today. And I didn't have even a drop of alcohol. One of the things that made it perfect was there was baseball on starting at 11:00 AM ET in the nation's capital. Bryce Harper, Mike Morse, Ryan Zimmerman (all fantasy teamers of mine) were destroying Madison Bumgarner (fantasy teamer I cut prematurely...
Nationals News

Delivered to your inbox

You'll also receive Yardbarker's daily Top 10, featuring the best sports stories from around the web. Customize your newsletter to get articles on your favorite sports and teams. And the best part? It's free!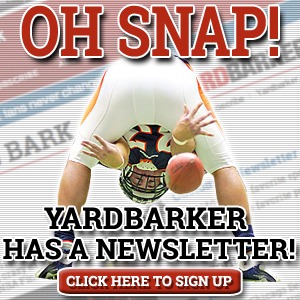 Latest Rumors
The Backyard

Today's Best Stuff

For Bloggers

Join the Yardbarker Network for more promotion, traffic, and money.

Company Info

Help

What is Yardbarker?

Yardbarker is the largest network of sports blogs and pro athlete blogs on the web. This site is the hub of the Yardbarker Network, where our editors and algorithms curate the best sports content from our network and beyond.