Found June 23, 2012 on Hall of Very Good:
JOHN SHARP on BILL FREEHAN
It's my honor to write about my baseball hero, Bill Freehan.
Freehan is a sure fire starter at catcher for the Hall of Very Good, and a first ballot HOVG…Hall of Very Good.
I really believe, had the catcher played in New York, Boston, Chicago, or LA, he'd be right there, in the discussion, as one of the best defensive catchers in baseball history.
Bill Freehan came to the Detroit Tigers for a brief time at the end of 1961, a bonus baby sign out of the University of Michigan, where he hit a Big Ten record .585…a record that still stands.
After going back to the minor leagues in 1962, Freehan was back to stay in Motown in'63, the start of a 15 year big league career wearing his famed Number 11, all with Detroit.
I became a Freehan fan soon after becoming a baseball fan, in the mid '60's.
My Uncle Bob would come to Kalamazoo, or Muskegon, he'd drive us to Detroit, or we'd get on the train with my Grandmother Sharp, head to Motown, the Detroit Zoo, Greenfield Village, and a trip to a Tigers game.
The thing that stood out for me, about Bill Freehan, was that, like me, he was a catcher, and he was the Tigers catcher.
I remember sitting in Tiger Stadium, in 1969, looking at the Tigers annual yearbook, seeing Freehan on the cover, blocking home plate, tagging the Cardinals Lou Brock out before he touched home plate.
One of the best defensive plays ever in a World Series game.
That play, in Game Five of the 1968 World Series, held the score at 3-2 Cardinals.
The Cards, defending World Series champions, had a 3-1 series lead, and were on their way to another win, an end to the series, the end of the Tigers season.
Brock led off the fifth inning with a double…he destroyed Tigers pitching in the series.
After a Javian Javier single to left, Brock was sent sprinting to the plate.
Willie Horton raced in, gloved the ball, and threw a strike to Freehan.
Brock, to this day, believes he scored.  Bill Freehan, the Tigers, and us Tigers fans, knew better.
Instead of a 4-2 St. Louis lead, the Tigers held, rallied, and won the game, 5-3, on an RBI single by Al Kaline in the seventh.
The Tigers headed to St. Louis, the momentum all theirs, and beat the Cardinals in Games Six and Seven.
The final out of the '68 WS was a foul pop up caught by, you guessed it, Bill Freehan.
The Detroit Tigers and Bill Freehan…your 1968 World Series Champions!
Bill Freehan was a terrific catcher, logging 1,581 games behind the plate for the Tigers…the most ever by any Detroit backstop.
Suffering from a bad back, Freehan caught less and less in the early '70s until the end of his career, in 1976.  But at his best, in his prime, Bill Freehan was simply the best catcher in baseball.
Well, at least I think so.
From 1964, and through 1969, Freehan's games caught were 141, 129, 132, 147, 138 and 120 games.
His fielding percentage was never below .990 in that period, with a high of .996 in 1965.  After that season, Bill Freehan was awarded the Gold Glove for American League catchers, his first Gold Glove Award.
For five years (1965 to 1969), Freehan would win the Gold Glove every year, five consecutive awards, the first catcher to ever accomplish that feat.
When he retired following the 1976 baseball season, he had a lifetime fielding percentage of .993…a record for catchers in big league baseball.
That number, .993, would be the Gold standard for catchers for two-plus decades, and why, I believe, he should be more highly regarded.
His defense behind the plate was what made him and the Tigers go.
He was the team's leader on the field.
Bill Freehan was my hero as a kid, and I'd do anything to be like "Big Bill."
On the sandlots and Little League diamonds of
Kalamazoo, Portage, and Muskegon, whenever I played baseball, I was Bill Freehan.
I wanted to wear Number 11 in Little League.
I crouched behind home plate like Freehan, and, at bat, my stance was a dead on match for the Tigers slugging catcher.
I would listen to any and every Tigers game on the radio, and if the Tigers were on TV, a big deal back then, I just had to watch.
I own every Topps baseball card of Freehan from 1963 to 1977 (he had a 1977 Topps card, but had retired after the 1976 season), plus a few more of the newer cards, including some very cool autograph cards, bat cards and jersey cards.
My pride and joy is his first Topps card, #466, in 1963.
That card, Topps #466, Freehan's RC, was not easy to obtain.
I started collecting baseball cards around 1968 or 1969, and it took me until 1980, at a card show here in Jacksonville, Florida, to find it.
Back in the old days of card Topps released cards by series, and the high numbered cards, like the Freehan rookie, often never made it to store shelves, because the baseball season was near the end, and football cards replaced them.
In 1980 I paid $10.00 for the Freehan rookie card, a small sum, I know, but to me, any price would have been fine.
I would have found a way to get it.
Bill Freehan played in 11 All-Star Games for the American League, including every single year, from 1964 to 1973, and was the league's starter from 1966 to 1972.
Most importantly, he was the starter in 1971 when the All-Star Game was played at famed Tiger Stadium in Detroit.
There are plenty of stats I could bring you, but I'll just add a few…and none of them of the SABR variety.
You can check those out at
his player page over at Baseball Reference
.
In 1971, at Fenway Park in Boston, Bill Freehan hit three home runs. I was in the back seat of my Uncle Bob's car when I heard home run number three.
I was a very happy 11-year old to say the least.
Overall, Freehan hit exactly 200 homers in the big leagues.
114…that's the number of times Bill Freehan was hit by a pitched ball in 15 years, including an American League leading eight times in 1964, 20 times in 1967 and 24 times in 1968.  In 1967, Freehan lead the AL in intentional walks…with 15 free passes.
That one triple (one of 35 career triples) in 1967 must have caused A.L. pitchers and catchers some worrisome nights.
Bill Freehan should be more discussed, and more respected than he's been, when discussing the great catchers in the history of big league baseball.
He may not be a Hall of Fame catcher, because of his offense, but he did play the majority of his games in the era of the pitcher.
And he did have some back problems later in his career, playing some first base along the way.
ABOUT THE AUTHOR
John Sharp has loved the game of baseball longer than he can remember (at least 45 years) since I was seven.
He'll talk about baseball, what's going on now, what happened in the old days and what the future will bring to America's Pasttime.
You can find him on Twitter at
@freehan11
(yeah, it's a very cool handle),
on Facebook
and
at his blog
.
Look him up sometime and talk about the great game, the best game, ever invented by man…the game of baseball.
Original Story:
http://www.hallofverygood.com/2012/06...
THE BACKYARD
BEST OF MAXIM
RELATED ARTICLES
The potential of the Detroit Tigers No. 1, 2, and 3 pitchers is almost scary. However, that's where the word "potential" comes into play. The staff, even ace Justin Verlander, the 2011 American League MVP and Cy Young Award winner, has been up-and-down during 2012. But imagine a Tigers staff with Verlander pitching like he's [...]
Detroit Tigers, 34-37, 3 1/2 games behind Cleveland. The Tigers couldn't touch Cy Lincoln, McCutchen got an 0-2 fastball he liked very much, and that was that, a quick tidy victory for the Pirates. Well, the Tigers got the obligatory solo home run, and have still not been shut out this season.  So there's that. Also Delmon Young got a walk, for those of you have have been holding...
Different day… same results. The Tigers' offensive woes continued Saturday afternoon as they fall to the Pittsburgh Pirates 4-1 losing their first series of the year to a National League team. Detroit was held scoreless all game by Pirates starter Brad Lincoln until the seventh inning when Miguel Cabrera led off with a solo home run. In fact Lincoln held the Tigers hitless until...
The Detroit Tigers have a problem that most teams would love to have at this point in the season. An over abundance of outfielders who are able to play every day. Brennan Boesch, Quinton Berry, Delmon Young, Austin Jackson, and Andy Dirks. With Dirks being out due to injury, it has made Jim Leyland's job [...]
During a recent session with the media, Detroit Tigers manager Jim Leyland broke into a smile. "Nobody's asking about Miggy at third base anymore," he said. The biggest offseason debate in the Motor City was about the Tigers decision to sign free-agent Prince Fielder, install him at first base and move Miguel Cabrera back to his original position, third base. Cabrera...
Last night's win was a good thing for the Pirates, because over the next two afternoons they're going to face Max Scherzer and Justin Verlander, who combined to strike them out 27 times in 16 innings last month. It's true that this Pirate team is a bit different from the Pirate team that Verlander and Scherzer so thoroughly dominated, in that it looks like they can generally...
PITTSBURGH (AP) -- Brad Lincoln allowed two hits and a run in six innings, Andrew McCutchen hit a three-run homer and the Pittsburgh Pirates won for the sixth time in seven games with a 4-1 victory over the Detroit Tigers on Saturday. Lincoln (4-2) carried a no-hitter through five innings before Ramon Santiago singled to lead off the sixth. Detroit's Miguel Cabrera homered...
The Pirates open a three-game series with Detroit on Friday at PNC Park. Right-hander A.J. Burnett will pitch for the Bucs. The Tigers will counter with lefty Doug Fister.
For one brief, shining moment this afternoon, it looked like the Pirates were going to pull off an incredibly unlikely comeback against Justin Verlander this afternoon. After falling behind 2-0 in the first inning, Kevin Correia somehow shored up the slopes against the Tigers' exlposive offense and kept the game within reach until Garrett Jones hit an unlikely home run off of...
In this weeks edition of Detroit Sports Weekly, Adam Hernandez takes a look at the past series with the St. Louis Cardinals, Quintin Berry's contributions and whether or not the Tigers should finally part ways with pitching prospect Jacob Turner. In addition to all of this we also touch on the upcoming NHL free agency period and what some certain developments with Ryan Suter and...
What a game last night.  What a performance by J-Mac.  What a performance by the offense.  Mellie has more in her recap than I am going to put in this little space. Now it's time to close out the season series against the Tigers.  Pirates need to at least win this series to break even [...]
Tigers News

Delivered to your inbox

You'll also receive Yardbarker's daily Top 10, featuring the best sports stories from around the web. Customize your newsletter to get articles on your favorite sports and teams. And the best part? It's free!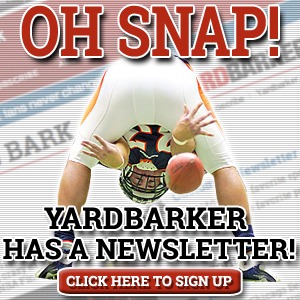 Latest Rumors
The Backyard

Today's Best Stuff

For Bloggers

Join the Yardbarker Network for more promotion, traffic, and money.

Company Info

Help

What is Yardbarker?

Yardbarker is the largest network of sports blogs and pro athlete blogs on the web. This site is the hub of the Yardbarker Network, where our editors and algorithms curate the best sports content from our network and beyond.