Found April 10, 2013 on IT IS HIGH, IT IS FAR, IT IS caught:
"While there is a lower class I am in it; while there is a criminal element I am of it; while there is a pitcher beaning Youkilis, I am not free."- Eugene V. Debs -Yesterday, the Yankiverse faced its first major crisis of the "Good Youk Era:" No sooner did Robbie Cano homer than Kevin Youkilis - our Kevin Youkilis - took a plunking, square in the back lot. Immediately, pitcher Carlos Carrasco was ejected from the game. I hope he faces a severe caning. Later, the man apologized. Yeah, right. As if a few well chosen words can restore the smiling head to Lady Liberty?I. Don't. Think. So.Today, the Yankiverse must form a protective cone around Youkilis - a human shield comprised of fans and homeless people who can be purchased with wine, a buffer zone of flesh that will guard our thirdbaseman with their lives, if necessary. This psychic force of human nature must accompany the team on road trips and make sure that Youkilis is not targeted by hotel lobby wenches, police s...
Original Story:
http://johnsterling.blogspot.com/2013...
THE BACKYARD
BEST OF MAXIM
RELATED ARTICLES
During Tuesday's Yankees-Indians game, Cleveland starter Carlos Carrasco was ejected in his first start since August 3, 2011 for throwing at the head of Yankees third baseman Kevin Youkilis. Carrasco was ejected in the fourth inning, and threw at Youkilis the pitch after Robinson Cano hit a two-run homer to give the Yankees a 7-0 lead. The ironic part is that Carrasco served...
Clay Rapada has re-signed with the Yankees (Photo: Jonathan Daniel/Getty Images) Left-handed reliever Clay Rapada has signed with the New York Yankees on a minor league contract. Rapada, 32, has been in the major leagues for six years, his last year spent with the Yankees. In 2012, Clay Rapada had a 3-0 record with a 2.82 ERA. He struck out 38 in 38.1 innings. In 2012, Rapada held...
Derek Jeter is progressing in the rehab of his injured left ankle, and will take batting practice on the field today down in Tampa, Fla., according to Andy McCullough of the Newark Star-Ledger. Previously, Jeter had only taken some swings in the batting cage. Yesterday, he took grounders and ran sprints for the first time since appearing in a game on March 23. The 13-time All-Star...
CLEVELAND -- Ubaldo Jimenez did nothing in the Cleveland Indians home opener Monday to quell concerns about his consistency. Jimenez followed his good first start in Toronto with a clunker in Cleveland. Which has pretty much been the problem with him since he arrived in Cleveland. The Indians, and the fans, do not know what pitcher will show up. In his first start in the Indians...
Around the Farm takes a quick look at some of yesterday's performances by Indians prospects throughout the system. The positions listed below are where the player was playing in yesterday's game. Toru Murata: SP, Akron: W (1-0), 7 IP, 3 H, 1 R/ER, 9K: Murata will likely never end up as a top prospect, but he certainly knows how to pitch. In 2011, Murata went 3-2 with a 2.36 ERA...
As someone who used to live in downtown Cleveland, Ohio, I'm still trying to figure out how Cleveland Indians manager Terry Francona got lost walking the streets. Francona was attempting to walk from his nearby apartment to Progressive Field for the Indians home opener against the Tampa Bay Rays. Sadly for Terry, he got a little turned around while trying to get to the...
CLEVELAND (AP) -- Indians manager Terry Francona hopes Carlos Carrasco can duck another suspension. Carrasco, who just finished serving a five-game suspension for throwing at a player in 2011, is facing further discipline after he was ejected in the fourth inning Tuesday for hitting New York's Kevin Youkilis in the left shoulder -- one pitch after giving up a two-run homer to...
The Indians have placed catcher Lou Marson on the 15-day disabled list with a neck strain sustained in a home-plate collision. Marson was bowled over Saturday night at Tampa Bay by Desmond Jennings. Marson did not suffer a concussion, and manager Terry Francona said the backup was making progress. However, the team placed Marson on the DL for the first time in his career before...
Indians starter Carlos Carrasco has been ejected in the fourth inning after hitting Kevin Youkilis in the shoulder with a pitch. Carrasco, who recently finished serving a five-game suspension for throwing at Kansas City's Billy Butler in 2011, had just given up a homer to Robinson Cano, giving the New York Yankees a 7-0 lead Tuesday night, when he drilled Youkilis with his next...
Alex Rodriguez may have spent Opening Day in the Bronx, but just days later, he was back to other pursuits during his long rehab from hip surgery. Rodriguez was spotted in the Dominican Republic last Saturday courting his new love interest, Rebeca Yunen Finke, Diario Libre reports. The 24-year-old is an honors graduate in business administration at Pontificia Universidad Catolica...
Here are the 2013 coaching assignments at all levels of the Cleveland Indians Player Development system.Columbus Clippers (AAA)Chris Tremie, ManagerTony Arnold, Pitching CoachPhil Clark, Hitting CoachAkron Aeros (AA)Edwin Rodriguez, ManagerGreg Hibbard, Pitching CoachJim Rickon, Hitting CoachCarolina Mudcats (A+)Dave Wallace, ManagerJeff Harris, Pitching CoachRouglas Odor, Hitting...
CLEVELAND (AP) -- Travis Hafner drove in four runs in his return to Cleveland and Robinson Cano homered twice as the injury-riddled New York Yankees wrecked the Indians' opener -- and manager Terry Francona's first home game -- with an 11-6 win Monday. Hafner hit a three-run homer in the first inning off Ubaldo Jimenez (0-1) and added an RBI single in the third. Cano connected...
MLB News

Delivered to your inbox

You'll also receive Yardbarker's daily Top 10, featuring the best sports stories from around the web. Customize your newsletter to get articles on your favorite sports and teams. And the best part? It's free!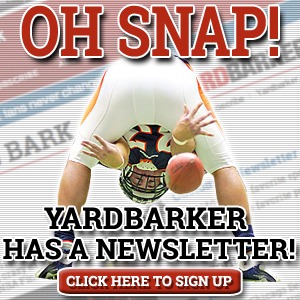 Latest Rumors
Best of Yardbarker

Today's Best Stuff

For Bloggers

Join the Yardbarker Network for more promotion, traffic, and money.

Company Info

Help

What is Yardbarker?

Yardbarker is the largest network of sports blogs and pro athlete blogs on the web. This site is the hub of the Yardbarker Network, where our editors and algorithms curate the best sports content from our network and beyond.