Found August 13, 2013 on Fox Sports Wisconsin:
MILWAUKEE -- Complacency is dangerous in any profession, but just small doses can be killer for a professional athlete. Cruising through the minor leagues, Donovan Hand was already in Double-A just one season after being drafted in the 14th round of the 2007 draft. A trip to Milwaukee was right around the corner, or so he thought. "I thought this game was easy," Hand said. "As soon as you think this game is easy it will humble you in a hurry. It was kind of what happened, but I learned it the hard way." Hand stopped working as hard, his body wasn't where it needed to be and his performance suffered. Four years later he was still sitting in Triple-A. Even after a strong showing in spring training this season, Hand was the final pitcher cut from the bullpen. Instead of wondering what could have been if he had taken the game more seriously years ago, the 27-year-old has owned up to his mistakes, put his head down and worked to overcome them. When the Milwaukee Brewers needed help in long relief, Hand got the call in late May. "It stinks to do it that way," Hand said. "I wish I could have knew it before, but I learned it, went through it and it has made me a better player from that time on." It's hard to explain how valuable Hand has been to the Brewers this season, mostly because his overall numbers are solid, but not eye-popping. Hand has a 3.44 ERA in 12 relief appearances, but lately has been forced to start, something he hasn't done over an extended period of time since 2009. With injuries depleting Milwaukee's starting rotation, Hand has been one of the stabilizing forces. A rough outing in his last start raised his ERA to 4.17 in seven starts, but Hand's time in the rotation was encouraging. As Marco Estrada and Yovani Gallardo return, Hand is the odd man out in the rotation. He's headed back to the bullpen for the time being, but it certainly isn't because he failed in the role. "He throws strikes, which his huge for me," Brewers manager Ron Roenicke said. "I'd be confident to put him in with the bases loaded because he'd throw strikes. And if that guy gets on base he's going to have to get a hit to get on base. A lot of that is because he throws a slow curveball for a strike. He's got a good sinker, but he can also throw a four-seamer. And he's got a slider he commands really well. " With Hand and right-hander Alfredo Figaro the two finalists for the final bullpen spot, the Brewers decided to take a chance on Figaro's raw stuff. Hand went down to Nashville and worked as the long reliever, knowing he had an opportunity to finally earn his trip to the big leagues if he pitched well. From being the final cut in spring training to getting seven starts in Milwaukee's rotation, Hand's season has been full of crazy events. What his year hasn't included was a trip back to the minor leagues and one isn't on the horizon. While 2013 has been a lost season record-wise for the Brewers, players like Hand beginning to establish themselves a future pieces is somewhat of a silver lining. "It's always nice to get off to a good start," Hand said. "The more time goes on, the more comfortable I get with my surroundings here, more comfortable with the game plans and stuff like that. There's a lot more that goes into it here than the minor leagues. There's a lot more information you can process if you learn how to use it. The main thing is to keep getting more comfortable." At first, Hand's time in the rotation was supposed to be short, but he performed so well early on and the injuries kept piling up. A starter throughout his time at Jacksonville State University and early on in the minor leagues, Hand knew how to handle himself, but he had to relearn things along the way. "You are used to working with 40 to 50 pitches at most as the long guy," Hand said. "Now you have to go out there and throw 92. It's just staying locked in for that period of time. Yeah, you have to get your arm ready, but you also have to get mentally ready to take on that challenge. "It's a different challenge to stay locked in that long. As humans, our attention span is not that long. That's been my biggest thing and it's gotten better each outing. A couple of pitches here and there I've kind of relaxed and it has gone over the fence. I've gotten better in those areas and I just have to keep getting better." Does Hand's future come as a starter or a reliever? That question has yet to be answered. "I like him both as a starter and a reliever," Roenicke said. "It's hard to say (if his future lies) as a starter because I haven't seen him enough. He really fits the role of a long reliever because he's very durable. He gives you a little bit of length, but if you want to bring him in for an inning somewhere later in the game I feel comfortable." One of the lessons Hand learned through his struggle with complacency was to take baseball and life one day at a time. Back in 2008, Hand was looking too far ahead and it almost came back to bite him. So, he isn't worried about if he will pitch out of the bullpen or take the ball every five days in the coming years. Many claim to take things one day at a time, but Hand's past makes him believable. "As long as I can put on a Milwaukee Brewers uniform every day, that's my main concern," Hand said. "I really don't (have a preference). I am getting more comfortable as a starter. I'm obviously comfortable in the bullpen. Either way, as long as I can put on this uniform every day and walk out in front of these fans, it's a pretty good day." Follow Andrew Gruman on Twitter
Original Story:
http://www.foxsportswisconsin.com/mlb...
THE BACKYARD
BEST OF MAXIM
RELATED ARTICLES
(with Artwork. Both Artwork and music may be downloaded for free, by the way). To check out this Jim Henderson prog-rock instrumental, go to the Soundcloud Brewers Bar set! Meant for the Blog thebrewersbar.com - Bass, guitars & drums recorded/performed by J. Lemont, August 13th, 2013. Jim Henderson Theme Song - [TheBrewersBar-006] Artwork of J Henderson by J....
GOTCHA!
Scooter Gennett of the Brewers launched a massive home run, and first of his career, into the right-field upper deck during the 3rd inning of the Brewers night game against the Rangers on Tuesday night. In keeping with a great tradition his Brewers teammates greeted him with the silent treatment as he headed back to the dugout after rounding the bases. Always fun. [Hot Clicks] Article...
MILWAUKEE -- When his starting rotation was struggling mightily in May, Milwaukee Brewers manager Ron Roenicke would often be asked about options in Triple-A. The question asked about top pitching prospect Tyler Thornburg wasn't about whether he could come up and help, but instead trying to figure out what was going on with the talented young right-hander. One glance at Thornburg...
Giving the silent treatment in the dugout is usually reserved for the first home run of a career, but the Milwaukee Brewers pulled it off well Tuesday night. After second baseman Scooter Gennett connected for a 394-foot home run to the upper deck in Milwaukee's 5-1 victory in Texas, the entire dugout ignored the rookie for over 20 seconds. Aramis Ramirez eventually broke the...
The Milwaukee Brewers are at a point in their season where a strong performance from a young player can be just as important as winning a game. As tough as Wednesday's 5-4 loss to Texas was, the Brewers can take Tyler Thornburg's performance as a big positive going forward. Facing one of baseball's best lineups, the rookie right-hander allowed just one earned run on...
Third baseman Aramis Ramirez, bothered throughout 2013 by a sprained left knee originally suffered in Spring Training that forced stints on the disabled list in April and early May, is expected to return from the Brewers' disabled list on Tuesday. He's been on the DL since July 8th. #Brewers are now targeting the Texas series for Aramis Ramirez's return. DH on Tuesday...
Ostensibly, Kyle Lohse and I talked about the evolution of his approach last week before a game against the Giants. He showed me some grips and talked about how his arsenal has changed since he was in Minnesota. But — as it happens when you start talking about baseball's intricacies — our conversation ended up […]
--------------------------   ------- Some of the coloring came out looking kind of strange (Doug Melvin, for instance...or, Doug Melvin's face. I might have made some of the drawings a bit opaque at some point, and then failed to notice when I set the backgrounds behind them). Also, the nifty fonts service I use for comic bubbles from Urban Fonts was unavailable...
Scooter Gennett homered twice, Marco Estrada worked six solid innings and the Milwaukee Brewers beat Texas 5-1 on Tuesday night, ending the Rangers' eight-game winning streak. Khris Davis also homered for the Brewers. His solo shot in the seventh ricocheted high off the left-field pole and chased Alexi Ogando (5-4). Gennett, a 23-year-old rookie second baseman listed at 157...
At this point of a tough season the Brewers deserved a good post-game laugh. When it was mentioned to manager Ron Roenicke that rookie Scooter Gennett carried his offense Tuesday night with a pair of homers the skipper said "We can't get him thinking he's a home-run hitter." It was in that spirit that the Brewers used an excellent starting performance from Marco...
Brewers News

Delivered to your inbox

You'll also receive Yardbarker's daily Top 10, featuring the best sports stories from around the web. Customize your newsletter to get articles on your favorite sports and teams. And the best part? It's free!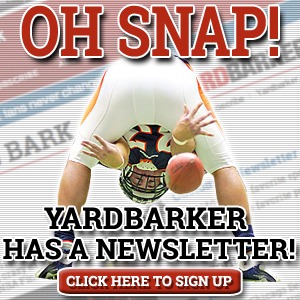 Latest Rumors
The Backyard

Today's Best Stuff

For Bloggers

Join the Yardbarker Network for more promotion, traffic, and money.

Company Info

Help

What is Yardbarker?

Yardbarker is the largest network of sports blogs and pro athlete blogs on the web. This site is the hub of the Yardbarker Network, where our editors and algorithms curate the best sports content from our network and beyond.