Found July 25, 2012 on MetsZilla:
Look, I'm aware that the Nationals are a very good team with excellent pitching, but ONE GAME isn't too much to ask is it?
Stephen Strausburg looked dominant today in the Nationals 5-2 win over the Mets, their second consecutive 5-2 victory over the Mets.  In a nod to consistency, this is the third straight game against the Nationals that the Mets have scored two runs.  At least we know what kind of offensive output to expect on a nightly basis.  Unfortunately for the team, the pitching staff has given up more than one run in each of the last three games, which just won't cut it.
Oh, and speaking of consistency, Adam LaRoche decided to hit another homer today to expand the Nationals lead.  For a second I thought I was watching last night's game being replayed with some insane lighting effects, but alas, I was watching the Mets lose again and go WINLESS on their current home stand. Inexcusable.
The only real saving grace I see here, is that it can't get worse…right? They're hitting the West Coast with a chance to win some games away from CitiField, and in the past, have gotten hot out West.  Also, positive is that Matt Harvey will be making his major league debut tomorrow night, and will hope to light a fire under the ass of the team.
So, if this is the low point of the season, I think I can survive.  But if this is the beginning of the slippery slope, which seemingly happens later and later every season, I don't know that I can handle it.
Here's to getting hot out west…
Original Story:
http://www.metszilla.com/2012/07/25/i...
THE BACKYARD
BEST OF MAXIM
RELATED ARTICLES
The big news today in Metsland is that Sandy Alderson turned down a trade offer from the Padres where the club would have sent Daniel Murphy west in return for Luke Gregerson. On July 1st this might have been an interesting trade proposal. On July 26th, if Sandy had pulled the trigger it would have been the classic case of locking the barn door after all of the horses escaped...
Updated 7/26 Adam Rubin of ESPN New York says the Mets have released RHP Miguel Batista. He was designated for assignment after last Saturday's game against the Dodgers. This just mean's he's officially an ex-Met. So who's next? Original Post 7/22 Batista struggled this season for the Mets, going 1-3 with a 4.82 ERA, having allowed 25 earned runs, 53 hits, 31 walks...
I don't think I need to remind anyone here about the tumultuous state that the Mets currently find themselves in. Clearly, I don't have to tell you they have dropped 12 out of their last 13 games. Obviously, Mets' fans are at the end of their rope and almost all have thrown in the towel and bemoaning how a great story fizzled with such a devastating crash and burn. Oh, but...
According to the team, the Mets plan to activate Johan Santana from the disabled list after they return from their 11-game road trip, which begins tonight in Arizona. Terry Collins said before Wednesday's game that Santana will start one of the games on either August 8th or 9th against the Miami Marlins at Citi Field. "He's going to continue throwing," Collins said. "Our...
In case you need more proof that Henry Rodriguez has incriminating photos of Davey Johnson, here's Johnson talking about Henry after the latest #SMH-Rod mess on Wednesday in NY (2 batters faced; 2 BB; 11 pitches, 3 strikes): "With Henry, it's kind of hit or miss. Nobody hits him, but if he doesn't get it over, it doesn't matter. They're still going to get...
Congratulations to this week's MMO Player of the Week… Through the use of the scorecard, let's take a look at how Daniel Murphy did during the week ending Sunday, July 22nd: G AB H R 2B 3B HR RBI BB K AVG 6 21 13 4 6 1 0 3 1 1 .615 Murphy showed us again why he is a valuable piece to our club. Aside from David Wright he...
That Barry Bonds cycling post last night brought up old memories for BC Twitter followers. See, Bonds is now looking like he did in 1991, which brought up Bobby Bonilla's name from the crypt. That led to: "Is Bonilla still getting paid by the Mets?" Um, yes, and Bobby received check #2 this year of his 25-year run of $1,193,248.20 checks from the team for deferring his salary...
Matt Harvey makes his MLB debut tonight in Arizona against the Diamondbacks. Game time is slated for 9:40 PM. It may take the software a minute to load when you first click on the page. Please be patient. Enter your comments in the text box above where it says "Powered by Quick Chat" and the various emoticons. Right above that text box is a small rectangle where you type in...
We all wondered why we were subjected to Miguel Batista start after Miguel Batista start when this kid Harvey was ripening in Buffalo. Well now we know. Matt Harvey needed every last inning in Buffalo to prepare for what he did Thursday night in Arizona.Crazy like foxes, these Met front office types. Eh?Matt Harvey, in his first start ever in the major leagues, became the first pitcher...
I think it's safe to say the Dog Days have arrived – that all-too-familiar time when one day runs into the next and it seems like no one has any energy. People get edgier this time of year, tempers shorten and frustration lengthens. If you're a fan of the Mets, the Dog Days started just before the All-Star Game. Talk about being edgy and frustrated… The Mets have returned...
PHOENIX (AP) -- Matt Harvey dazzled in his major league debut, holding Arizona to three hits and striking out 11 over 5 1-3 innings in the New York Mets' 3-1 win over the Diamondbacks on Thursday night. Scott Hairston hit a two-run double and Andres Torres tripled and scored for the Mets, who snapped a six-game losing streak. New York won for only the second time in 13 games...
MLB News

Delivered to your inbox

You'll also receive Yardbarker's daily Top 10, featuring the best sports stories from around the web. Customize your newsletter to get articles on your favorite sports and teams. And the best part? It's free!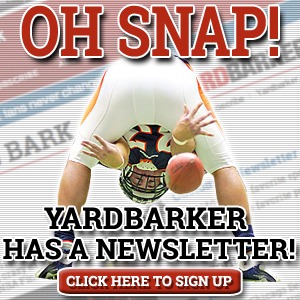 Latest Rumors
The Backyard

Today's Best Stuff

For Bloggers

Join the Yardbarker Network for more promotion, traffic, and money.

Company Info

Help

What is Yardbarker?

Yardbarker is the largest network of sports blogs and pro athlete blogs on the web. This site is the hub of the Yardbarker Network, where our editors and algorithms curate the best sports content from our network and beyond.