Found April 06, 2013 on Sliding Into Home:
Jon Heyman is reporting that Derek Jeter, Mark Texieira and Curtis Granderson could all be back by May 1st:Yankees people are mentioning May 1 as potentially the key date in their season. The team's medical people are suggesting, at least in behind-the-scenes conversations, that May 1 could be a target date for the return of three of their missing stars: Derek Jeter, Mark Teixeira and Curtis Granderson. May 1 might be optimistic, and a Yankees person suggested that date may assume no more setbacks. Jeter still needs to go through several steps before he can return, starting with taking grounders. The first time he began taking grounders this spring it was still a few weeks before he appeared in a spring game. Understandably, the Yankees plan to proceed cautiously with their iconic shortstop. He is eligible to come off the disabled list Saturday, as they had hoped he could make it back by the end of the first week of the season even after opening day was ruled out.The way things are going with this team, I wouldn't be surprised if all three were not on the field for that Astros series, but keep your fingers crossed. As for Eduardo Nunez, he may be sidelined for a little while after getting him on the arm in yesterday's game:This is how Eduardo Nunez's day ended at Comerica Park yesterday. As his teammates filed out of the visiting clubhouse after their 8-3 loss to the Tigers, the Yankees shortstop struggled to put on his jacket. Finally, after several frustrating tries, catcher Chris Stewart had to come over and help Nunez slide his aching right arm into the sleeve of his coat. It's bad enough when older Yankees are injured, but it's really bad when young Yankees get hurt. Nunez was hit in the right biceps by an 88-mph fastball from Tigers starter Doug Fister in the fourth inning and Nunez fell to the ground in terrible pain. He eventually had to be helped off the field. X-rays were negative and the injury is being labeled a bruise. "I was scared, I thought it was broken, I felt pain all down my arm,'' Nunez said. "The pain was so bad. I felt much better when I heard the X-rays were negative, and now we'll see how it feels.'' Nunez said he does not expect to be sidelined long, but considering the trouble he had putting on his jacket, don't expect him to play today against the Tigers. Finally, some actual decent news, Phil Hughes will be activated today:Phil Hughes will be activated from the disabled list this afternoon. It's one of those rare moments when a player coming off the DL earlier than expected isn't necessarily good news. It's not necessarily bad news – Hughes is healthy, was just expected to get one more tune up — but the move has more to do with an overworked pitching staff than overwhelmingly dominant pitcher.
Original Story:
http://feedproxy.google.com/~r/Slidin...
THE BACKYARD
BEST OF MAXIM
RELATED ARTICLES
The New York Yankees are fresh off a disastrous spring. As they move on, they are awaiting the return of their leader Derek Jeter who is still fighting with his ankle issue. Yankees manager Joe Girardi stated on Friday that Jeter needs a full "reset" before moving forward. Please click here to read this story. The post Derek Jeter is not set to return in the near future appeared...
Phil Hughes will return earlier than expected, as he will board a plane soon and head to Detroit according to Wallace Matthews of ESPN New York. Hughes was in line to return on April 11 at Cleveland, but instead will start tomorrow. Hughes last pitched in extended Spring Training on Monday, going seven innings, and said he felt "really good." He was scheduled to start in a...
Yankees outfielder Curtis Granderson could resume throwing next week as part of his rehabilitation program for a broken right forearm. Granderson said Saturday he will have follow-up X-rays Tuesday. He also hopes to be cleared to start swinging a fungo bat. The slugger, who led New York with 43 homers last season, broke an arm when he was hit by a pitch from Toronto's J.A....
Curtis Granderson plans on making the most of an off day in his rehabilitation from a broken right forearm. The injured Yankees outfielder flew to New York and intends to take students from a Brooklyn high school to a screening of the Jackie Robinson movie ''42'' on Monday. The school's athletic fields were damaged by Superstorm Sandy. Granderson showed up in...
New York Yankees infielder Eduardo Nunez was hit by a pitch in yesterday's contest against the Detroit Tigers, forcing him to exit the contest early. He's since been diagnosed with a bruised right biceps, and he won't play today, according to Wallace Matthews of ESPN New York. Following the game, Nunez told reporters that he was hit by the pitch in the area...
Derek Jeter has resumed fielding activities. The Yankees shortstop started the season on the disabled list but is hopeful to return by the beginning of next month. Jeter took 40 grounders on Saturday at the Yankees training complex. He has already been cleared for hitting drills as well. Eduardo Nunez has been playing shortstop for the Yankees in Jeter's absence.
In a surprising turn of events, New York Yankees right-hander Phil Hughes will be activated from the disabled list prior to today's game so that he can take the mound and start against the Detroit Tigers, the team has announced. Hughes was slated to make a minor league rehab appearance today, meaning he wasn't expected to return from the DL for at least another...
Phil Hughes will make his first start of the season today, as the Yankees will take on the Tigers from Comerica Park in Detroit. Hughes was originally going to start for Triple-A Scranton/Wilkes-Barre today, but the Yankees need arms – David Phelps will become the long-man out of the pen. Manager Joe Girardi will go with the same lineup as yesterday, except Vernon Wells will start...
The New York Yankees have activated pitcher Phil Hughes from the disabled list to start against the Detroit Tigers. To make room on the roster, the Yankees sent right-handed reliever Cody Eppley to Triple-A Scranton/Wilkes-Barre. Hughes originally was scheduled to start for Scranton/Wilkes-Barre on Saturday, but had his outing shifted to Detroit. While on the DL with a back injury...
photo credit: bleacherreport.com The analysts, experts, baseball fans, and maybe science itself don't think the Yankees will be good this year. With the massacre of injuries and both an April starting lineup and starting rotation, with an average age of about only 33 years old (you'd think it would be higher, I know) and a couple of old guys, one would say the 27-time-Champion...
New York Yankees 4 — Detroit Tigers 8   Yankees were out-hit in today's 8-4 loss to the Detroit Tigers.   Phil Hughes was brought in to make his first start of the regular season. An error by Eduardo Nunez's replacement, Jayson Nix, opened the game, a tell-tale sign of bad things to come. Former Yankee Austin Jackson would score on a sacrifice fly in the first inning. The...
I don't want to be negative. I really don't. But when the tire blows, the spare is missing, the cell phone doesn't work, and as you walk the dark and deserted road, it starts to sleet - well - don't you just want to - I don't know - do something crazy... like play Youkilis at shortstop?Yeah, that's right. It's as if you're telling God: "Screw...
MLB News

Delivered to your inbox

You'll also receive Yardbarker's daily Top 10, featuring the best sports stories from around the web. Customize your newsletter to get articles on your favorite sports and teams. And the best part? It's free!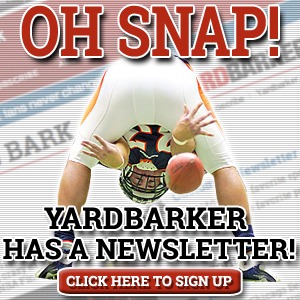 Latest Rumors
Best of Yardbarker

Today's Best Stuff

For Bloggers

Join the Yardbarker Network for more promotion, traffic, and money.

Company Info

Help

What is Yardbarker?

Yardbarker is the largest network of sports blogs and pro athlete blogs on the web. This site is the hub of the Yardbarker Network, where our editors and algorithms curate the best sports content from our network and beyond.