Found February 08, 2013 on NESN.com:
Curt Schilling never mentioned Jed Hoyer or Theo Epstein when making his bold claims on Thursday, but Hoyer decided to clear the air before fingers start getting pointed. Schilling claimed during an appearance on ESPN Radio on Wednesday that he had been approached about using PEDs while recovering from an injury by someone working for the Red Sox in 2008. Schilling said those who approached him no longer work for the organization, which immediately sent plenty of people on a witch hunt. Hoyer and Epstein were among those bound to come up in speculation, simply because they were prominent members of the organization in 2008 who have since moved on. However, Hoyer made it clear during an interview with 670 The Score in Chicago on Thursday that he had no knowledge that such an incident may have occurred, and that if it did, he and Epstein were in no way involved. "The first I ever heard of that was this morning when I saw it, so clearly, no, it didn't ring true to me at all," Hoyer sai...
Original Story:
http://nesn.com/2013/02/jed-hoyer-res...
THE BACKYARD
BEST OF MAXIM
RELATED ARTICLES
Curt Schilling rocked the baseball world when he claimed a member of the Red Sox organization encouraged him to use performance-enhancing drugs back in 2008. Among those surprised was Red Sox president Larry Luchino, who responded to the news on Thursday. "Certainly [the allegation] is something to look into, but it came from out of left field, to use a baseball cliche," Lucchino...
Curt Schilling is not holding back his feelings this week at all. On Wednesday he reached out to ESPN and discussed the Boston Redsox and in doing so made some allegations regarding PEDs. On Thursday he fired it up again with ESPN and took aim at Alex Rodriguez. Please Click Here To Read This Story The post Curt Schilling rips Alex Rodriguez for failing to be genuine. appeared...
While much of the attention around Curt Schilling's recent ESPN interview is on what Schilling said about his Red Sox days, those weren't the only comments the pitcher made about baseball's performance-enhancing drug culture. Schilling, who turned quite a few heads by talking about PEDs and the Red Sox this week, also had thoughts about the recent fall of Alex Rodriguez. The...
Well, you never know...Curt Schilling opened up on the Church of Fenway yesterday, telling a radio show that 2008, when his arm was turning into sauerkraut, some unnamed Redsock officials suggested he get a shot in the caboose from the Fountain of Youth. So I guess it's not just Yankees.And it's not just players.And who knows, maybe it's not just isolated private trainers...
Never being one to shy away from the media spotlight or keep his damn mouth closed, Curt Schilling made headlines once again on Wednesday when he told ESPN Radio that in 2008 "former members of the [Red Sox] organization" told him performance-enhancing drugs were an option to help him get healthy and extend his career. From ESPN.com: Schilling, who had signed a one-year contract...
So, this Biogenesis scandal is really getting out of hand, and Curt Schilling added more fuel to the fire with his comments today that the Red Sox encouraged him to use PEDs. When the original details of Anthony Bosch's anti-aging clinic were released a couple weeks ago, we saw names that weren't surprising, such as Bartolo Colon, Melky Cabrera, and Yasmani Grandal. There were...
Say what you will about Curt Schilling and his blowhard attitude, but at the time being we have no reason to believe he wasn't one of the clean guys during a tainted generation. Schilling dominated throughout much of his career and had his fair share of injuries toward the end, but his name has not been linked to steroid use. According to the three-time World Series champion, it...
From WEEI:Curt Schilling, in a Wednesday interview on ESPN Radio, said toward the end of his tenure with the Red Sox he was encouraged to use performance-enhancing drugs by "members of the organization." "At the end of my career, in 2008 when I had gotten hurt, there was a conversation that I was involved in in which it was brought to my attention that this is a potential...
Former major league baseball player Curt Schilling missed the whole 2008 season with a shoulder injury.  Schilling reportedly wanted to have surgery, but the Red Sox wanted him to rehab and fight through it. Now more has come out about the season and everything that took place.  Schilling recently did a radio interview with WEEI, and according to Deadspin, Schilling says the Red...
The Buntfest is returning!  This time, with a twist: This spring, the Cubs will have their second bunting tournament, with a slight tweak. The front office will compete for a spot in the field of 64, and Theo Epstein was expected to square off against GM Jed Hoyer in their first round match. David DeJesus won the tourney last year. There are a number of other staffers in the new...
Curt Schilling loves stirring the pot. That much is definitely true. But occasionally, his pot stirring ends up having some merit. So you can't completely roll your eyes when he gives us his opinion on certain matters. Now Schilling giving his opinion on a matter is one thing, but him discussing something that supposedly happened to him personally is another. And that's what...
ESPN's 2013 Baseball Tonight Goodyear Express Tour will begin its journey through MLB Spring Training sites in Arizona and Florida on Monday, Feb. 11, with a visit to the defending World Champion San Francisco Giants in Scottsdale, Ariz. Each visit includes player and manager interviews, in-depth perspective on the team's camp and discussion of off-season storylines in advance...
MLB News

Delivered to your inbox

You'll also receive Yardbarker's daily Top 10, featuring the best sports stories from around the web. Customize your newsletter to get articles on your favorite sports and teams. And the best part? It's free!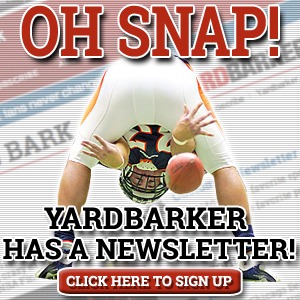 Latest Rumors
Best of Yardbarker

Today's Best Stuff

For Bloggers

Join the Yardbarker Network for more promotion, traffic, and money.

Company Info

Help

What is Yardbarker?

Yardbarker is the largest network of sports blogs and pro athlete blogs on the web. This site is the hub of the Yardbarker Network, where our editors and algorithms curate the best sports content from our network and beyond.