Found July 01, 2012 on StraitPinkie.com:
PLAYERS:
Johnny Cueto
,
Tony La Russa
,
Jason LaRue
,
RA Dickey
,
Matt Cain
,
Gio Gonzalez
,
Stephen Strasburg
,
Cole Hamels
,
Clayton Kershaw
,
Tim Lincecum
,
Felix Hernandez
TEAMS:
Cincinnati Reds
,
St. Louis Cardinals
,
New York Mets
,
San Francisco Giants
,
Washington Nationals
,
Philadelphia Phillies
,
Los Angeles Dodgers
,
Seattle Mariners
Did Tony LaRussa hold a grudge in snubbing Cueto? Or is this choice actually justified?
On Sunday afternoon, when the All-Star rosters were announced, rapid reactions came pouring in trying to decide which players were snubbed from playing in the Midsummer Classic. The scrutiny, like everything these days, began instantaneously. Whispers, screams, and angry tweets flooded baseball's mainstream, spitting cases for rejected players that deserved a trip to Kansas City. One name seemed to ring loudest among experts and fans alike: Reds' ace Johnny Cueto.
Already, there are speculations that Tony LaRussa's choice to leave Johnny Cueto off the All-Star roster might go deeper than his play on the field. LaRussa may be retired, but he hasn't forgotten the animosity between his beloved Cardinals and division rival Reds. Cueto's role in their now infamous brawl, in which a panicked moment led him to kick Jason Larue in the head, didn't earn him many friends in the city of St. Louis. It was an ugly scene…a scene that has some people wondering today if its lingering effects kept LaRussa from penciling "Cueto" into one of the National League pitching slots.
But, for a second, let's put the conspiracies aside. On its surface, this decision appears asinine in its dismissal of a first-place team's ace in favor of seven other starting pitchers. Cueto has been a key piece to the Reds' early season run, as perhaps their only symbol of consistency not named Votto. How could he not be an All-Star? This is clearly a snub, right?
The answer isn't so simple. It seems like LaRussa may have a legitimate case for leaving Cueto off the roster. At the least, it's close –very close.
LaRussa had an embarrassment of riches in choosing from this year's National League pitchers. As I recently wrote about, the league has entered the Era of the Pitcher, and as a result, several guys are posting games and numbers worth rewarding this season.
The list of All-Star starters may have unfairly omitted Cueto's name…but it isn't a list on which you will find any scrubs. All of these guys are having seasons that not only stuff the stat sheet, but also have put their teams in position to contend.
Just take a look at the stats:
Name (W-L) ERA Shutouts WHIP* Innings WAR* Ks/9 IP
RA Dickey
12-1
2.15
2
.
885
113
3.8
9.2
Matt Cain
9-3 2.53
2
.950
113.7
2.4 9
Gio Gonzalez
10-3 2.78 0 1.081 90.2 2.5 10.7
Stephen Strasburg
9-3 2.81 0 1.078 93 2.3
11.8
Cole Hamels
10-4 3.08 0 1.099 111 2.2 9
Clayton Kershaw
5-4 2.74 1 1.043 108.1 2.5 8.6
Lance Lynn
10-4 3.62 0 1.247 97 1.3 9.1
*WHIP=Walks plus Hits/Inning Pitched, WAR=Wins Above Replacement
Some of these choices are obvious All-Stars. R.A. Dickey, for example, has to be on anyone's Cy Young Leaderboard (as George wrote about recently). He's at the top or close in almost every statistical category, he's thrown back-to-back one-hitters, and he's the ace on a relevant Mets team. There's no disputing his worthiness. And the same goes for Matt Cain. Not only did he pitch a perfect game, one of this season's best highlights, but he's eating innings and winning games for a Giants team that's fighting back for first place in the West. While Tim Lincecum has struggled from the start, Cain has been a pillar for consistency. And Strasburg does more than strike out a lot of guys –his game and the attention he draws transcends stats. He draws crowds and excitement (Chapman might be the only other pitcher in the NL with similar hype and excitement paid to his pitches). Even if he doesn't rank high in every category, he's a star. It's as simple as that. The people want to see him pitch.
And Cueto is not exactly blowing the rest of these names out of the water. Looking at these pitching categories, he wouldn't finish first on this list in any of them. Here's the breakdown of his season:
2012: 9-4 (tied 5th on this list), 2.26 ERA (2nd), 0 shutouts (tied 4th), 1.142 WHIP (7th), 107.2 innings pitched (5th), and a 3.4 WAR (2nd).  
When added to this list of seven All-Stars, that's an average position of 4.7 out of eight across all of these pitching categories. Compared to the pitchers LaRussa selected, that's hardly setting himself apart.
Pitcher Average Position (out of
R.A. Dickey 1.4 Matt Cain 3.1 Gio Gonzalez 4.1 Clayton Kershaw 4.6 Johnny Cueto 4.7 Stephen Strasburg 4.7 Lance Lynn 5.7
As the statistics point out, Cueto is by no means a snub in the sense that he belongs on the top of this list of pitchers. He's been great, yes, but so have several others. If he is a snub, it's not as glaring as some are making it out to be –it's close; it's a matter of inches and innings, a strikeout here and a strikeout there, and perhaps, an ill-advised kick to the head.
But there is one glaring choice on this list. If Cueto is, indeed, a snub, then the obvious wrong choice is Lance Lynn. This only fuels fire to the accusations of LaRussa's bias. Lynn is a St. Louis Cardinal who debuted in LaRussa's final year as a manager. He is also, by far, the lowest performing pitcher on this list. His ERA is nearly six points higher than anyone else on this list, his WAR a point lower, his WHIP a point higher. He ranks at the bottom of four categories. His best category is the most overrated stat on this list –pitching wins. As Felix Hernandez proved in winning the Cy Young Award, sometimes, you can only win as many games as your offense allows you to win. Whether or not Cueto is an All-Star snub, it seems equally likely that Lynn was an All-Star reach.
It took only seconds for Sunday's All-Star selections to draw scrutiny and second-guesses. Immediately, the question that filled the airways and the twitter-verse was this: Did Johnny Cueto get snubbed? Did LaRussa let a baseball brawl strip a young man from the chance of a lifetime –to stand amidst the best of the best in Kansas City?
The answer cannot so simply and instantaneously be answered. The numbers show that Cueto, while currently having a great season, is no slam-dunk All-Star in this new era of pitching prominence. He's one of several men of the mound that deserve a shot. But there are only so many roster spots –only so many National League jerseys.
But there is one truth that should certainly elicit pause in considering LaRussa's choice. He has never given a (you-know-what) about advanced statistics or what the numbers tell you. He's old school, and it's unlikely that his decision on filling roster spots involved WHIP and WAR. It seems more likely that something else came into play –something beyond the stats.
R.A. Dickey's a great story, and an obvious choice. Matt Cain threw a perfect game. Stephen Strasburg is a phenom. Clayton Kershaw is defending a Cy Young Award. Cole Hamels is the head-of-the-class of Philadelphia's dream-team rotation. Gio Gonzalez has switched leagues without missing a beat. These are stories that go beyond the numbers.
But so is Cueto's. Cincinnati is relevant again in the world of baseball, much thanks to the work on the mound by the smiling Johnny Cueto. But that also might be part of the problem; Cincinnati is spelled across his chest. Across Lynn's, the stitches read St. Louis. LaRussa is a legendary coach that demands respect. But this decision certainly raised some eyebrows –and it's not because of the statistics.
It's because the supposed snub of Johnny Cueto may be a retribution two seasons in the making. With the choice of Lance Lynn, and the subsequent omission of Johnny Cueto, Tony LaRussa, from the shadows of retirement, may have just kicked back.
Original Story:
http://www.straitpinkie.com/featured/...
THE BACKYARD
BEST OF MAXIM
RELATED ARTICLES
Following up yesterday's post about the snub by Tony LaRussa of Johnny Cueto … [visit site to read more]
Johnny Cueto thought he had done enough this year to deserve an All-Star spot. The National League's manager, Tony LaRussa, thought otherwise, and the Reds are not happy about it. Cueto and Dusty Baker are both taking shot at LaRussa in the aftermath of Cueto's snub, point to a fight between the Reds and Cardinals last year, when LaRussa was still managing the Cards. &quot...
Another month of the season is in the books and with it comes the hope and promise of another. But before we look ahead to the sunny month of July, let's reflect upon the month of June by handing out the hardware for the Redlegs Review Players of the Month: Hitter of the month Joey Votto - Votto continues to be the front runner for NL MVP honors after...
Tony La Russa and Reds manager Dusty Baker have been involved in a back and forth over La Russa leaving Johnny Cueto and Brandon Phillips off the NL All Star team. Baker contends that the snub of Cueto and Phillips stems from La Russa holding a grudge from a 2010 brawl that Cueto and Phillips were at the center of. La Russa denies that he is holding a grudge and attempts to give...
Baseball had much to celebrate Sunday: Fan voting for the All-Star Game reached a new high, with an astounding 40.2 million ballots cast. Texas Rangers hero Josh Hamilton set a new single-season record with 11 million votes. Mike Trout, the Los Angeles Angels' rookie sensation, will make the first of what should be many All-Star appearances. Yet the most-talked-about person...
  Does this look like the face of guy who would allow a grudge to keep a deserving player off of the All Star roster?     Of course not. Tony LaRussa is a well respected manager and a lover of all. It's best showcased through his extensive work with animals.     Ever the consumant family man, LaRussa has made his wife a fellow founder of the Tony LaRussa Animal Rescue Foundation...
As far as controversies go, this one is benign. The Reds think the Redbirds don't like them. National League legendary manager Dusty Baker thinks former National League legendary manager Tony La Russa has it out for his team. And everybody is super ticked that their guys -- their incredible guys -- didn't make the All-Star team. But really, what is the big deal? Baker and...
With Lance Lynn's recent struggles, it will be hard for National League All-Star manager Tony La Russa to select him to the NL roster. - (Photo credit: Wikipedia) St. Louis Cardinals starting pitcher Lance Lynn started the 2012 season blazing and looked like a cinch to make the National League All-Star team in just his second season in the Major Leagues. But lately, Lynn...
Major League Baseball commissioner Bud Selig has weighed in on the great (and arguably stupid) All-Star Game roster debate between Tony La Russa and Dusty Baker. The commish is siding with the La Russa. Baker and La Russa have exchanged comments through the media over the past couple of days after La Russa, who is managing the National League All-Star team, left a couple of key members...
A number of words have been used to describe Bill Belichick over the past decade or so. When speaking strictly about football, most of those terms have been positive. However, most people do not think very highly of the Patriots coach as a person. Belichick seems to love every bit of the attention he gets for being an "evil genius" who has no patience with the media. Is he considered...
Fans,Tony LaRussa left Phillips in a place he's left many batters this season –unexpectedly out.   In recent years, there have been few certainties in Cincinnati. Seasons of low expectations transform into seasons of promise. Years of high expectations turn into years of shattered dreams. The team has been both close and distant in the chase. The roster has been reworked. Votto's...
MLB News

Delivered to your inbox

You'll also receive Yardbarker's daily Top 10, featuring the best sports stories from around the web. Customize your newsletter to get articles on your favorite sports and teams. And the best part? It's free!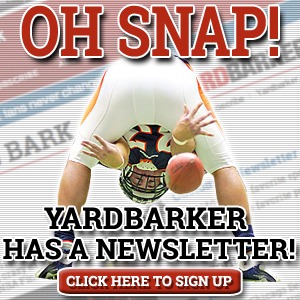 Latest Rumors
The Backyard

Today's Best Stuff

For Bloggers

Join the Yardbarker Network for more promotion, traffic, and money.

Company Info

Help

What is Yardbarker?

Yardbarker is the largest network of sports blogs and pro athlete blogs on the web. This site is the hub of the Yardbarker Network, where our editors and algorithms curate the best sports content from our network and beyond.