Found February 21, 2013 on Awful Announcing:
Jose Canseco has long drifted off into that Charlie Sheen wacko-celebrity-for-profitability territory with one key difference - Canseco has stayed there.  While Sheen has returned back to earth after his torpedo of truth tour fizzled out, Canseco is committed to his newfound life of talking about vampires, time travel, meteors, and basically any ridiculous subject in between.  While Canseco's lunatic rants aren't at their cultural height of a year ago, it's a testament to his staying power and zaniness that he's stuck around in this role for so long. This week Canseco shared his thoughts on gravity and the dinosaurs.  Sadly, his fun was spoiled by a real scientist - Bill Nye The Science Guy.  Here's Canseco's scientific thoughts (don't forget to read from the bottom up)... It's a legitimate question.  Why doesn't anything REALLY big exist in nature anymore?  Outside of Barry Bonds' head that is.  Could gravity have been weaker way back in the day?  How did those giant birds fly?  Who's going to Bonnaroo this year?  These are questions we all seek answers for and Canseco's theory about the core of the planet shifting has to be at least as good as any other crackpot scientific explanation.  Right?  According to one of my childhood heroes, Bill Nye "The Science Guy" the answer is no, of course not.  The famed scientist responded to Canseco's theories via The Huffington Post. "His nickname in Major League Baseball was "The Chemist," because he was so knowledgeable in the chemistry of performance enhancing drugs and making musculature go big. Reading his recent tweets about the remarkable size of the ancient dinosaurs ... it doesn't sound (read) as though he's especially fluent in physics. This fills me with either joy or dismay depending on what social media messages he provides us with next. Either he's in on the joke and is just throwing us all a curve ball with plenty of break, or we as a society have failed him completely with regard to the fundamentals of planetary science." Science talk and clever baseball puns?  What can't that guy do!  Once word of Nye's criticism reached the slugger, he sent this missle right back at Bill Nye. (That's right.  Jose Canseco was involved in a public spat with Bill Nye.  This is why I'm glad I live in this age and not one where roided up former baseball players' feuds with famous scientists went uncovered in social media.) Bill Nye @thescienceguy has not been relevant since the 90s #doesnotrecognizeancientgravity #headinthesandskeptic #arroganttwit #baddresser — Jose Canseco (@JoseCanseco) February 20, 2013 As far as hashtag use goes, that single 140 character message immediately vaults into the Twitter pantheon.  #doesnotrecognizeancientgravity is the greatest Twitter hashtag of all time.  No scientific evidence can convince me otherwise.  Go home you millions of other Twitter users.  There's no beating that.  Ever. As much as I would have loved to see this lead to an actual scientific debate between Canseco and Nye, Jose reflected on his stance and decided to bury the hatchet. hey Bill @thescienceguy just re-read your email to huffpost regarding my scientific theories and think I shouldnt have got so mad. hug for u — Jose Canseco (@JoseCanseco) February 20, 2013 Now let's hope they can work together to prevent another meteor from hitting earth.  Hug for u science. [Buzzfeed]
Original Story:
http://www.awfulannouncing.com/2013/f...
THE BACKYARD
BEST OF MAXIM
RELATED ARTICLES
You have to give the guy credit. He wants to play baseball! A few months back, Jose Canseco was under contract with the Worcester Tornadoes of the Can-Am League, and then left the team to join the Rio Grande Valley WhiteWings of the North American League.  That deal never came to fruition, but he's back in Texas and he's ready to play. The Valley Morning Star reported that...
And no, I'm not kidding. In probably the lamest feud of this decade, Jose Canseco and Bill Nye the Science Guy have exchanged words and arguments regarding — you guessed it — science. It all started when Canseco got to thinking about gravity. Canseco stated that "ancient gravity" was weaker than our current gravity. Ya know, 2013 gravity; that good stuff: Ancient gravity...
Well, well, well. Look who's reappeared onto the landscape. It's Jose Canseco!!   I thought I saw him doing an ad for some kind of supplement or exercise program or something, I think on late night TV when I was feeling especially insomniatic.   Now comes news that he's playing baseball again, and that there [...]
Note to Jose Canseco: We're laughing at you, not with you. A few days ago we brought you a string of tweets from the former roided-up baseball star, in which Canseco shared his theories on ancient gravity. We'll spare you all the details, but over the course of eight tweets, Canseco claimed that gravity in the time of the dinosaurs must have been much weaker, since "muscles...
You want to feel old?  Like really old?  Well 21 years ago today, Feb 20th 1992, The Simpsons provided FOX with their first ever prime time with the now classic episode "Home At The Bat", besting The Cosby Show and the Winter Olympics from Albertville.  It was a time where Jose Canseco was used unironically and Ozzie Smith, ahem, still had all his Gold Gloves...
MLB News

Delivered to your inbox

You'll also receive Yardbarker's daily Top 10, featuring the best sports stories from around the web. Customize your newsletter to get articles on your favorite sports and teams. And the best part? It's free!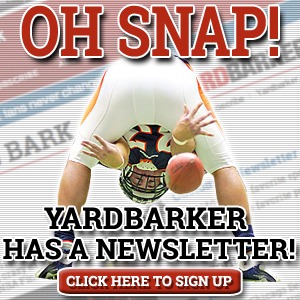 Latest Rumors
The Backyard

Today's Best Stuff

For Bloggers

Join the Yardbarker Network for more promotion, traffic, and money.

Company Info

Help

What is Yardbarker?

Yardbarker is the largest network of sports blogs and pro athlete blogs on the web. This site is the hub of the Yardbarker Network, where our editors and algorithms curate the best sports content from our network and beyond.