Found August 28, 2012 on NESN.com:
Josh Beckett's career with the Los Angeles Dodgers started the way his Red Sox career ended -- in [expletive] fashion. In fact, it only took two pitches for Beckett to find himself in trouble, as his second offering of the game was pounded by Rockies leadoff hitter Tyler Colvin into the second deck at Coors Field in Denver. It was the seventh home run that Beckett had allowed in 17 1/3 innings, but it did help Beckett lower his first inning ERA this season to 9.82. Beckett did actually settle down to pitch a few good innings, but as he...
Original Story:
http://www.nesn.com/2012/08/josh-beck...
THE BACKYARD
BEST OF MAXIM
RELATED ARTICLES
Josh Beckett was decent in his Dodgers debut. On this night, though, he needed to be dazzling. The right-hander tried to keep Los Angeles in the game until the team's recently obtained big hitters could come through at the plate. Only, it didn't go accordingly to plan. Jeff Francis and three relievers combined on a four-hitter as the Colorado Rockies beat Beckett and the...
John Lackey is good friends with Josh Beckett, but he still understands a change of scenary may have been in Beckett's best interest. "Honestly, I was happy for him," Lackey said of Beckett getting traded to the Dodgers, according to WEEI.com. "It had gone too far here for him. I don't think it would have ever come back." Beckett, of course, was the subject...
  "It's baffling to me people write things that don't even know the man. Guys write stuff who don't know Josh. He's a good guy. It's too bad it came to that. They write about Beckett Bowl, that we were partying and stuff, but they raised $300,000 for Children's Hospital that night. Throw something in there positive."     -John Lackey...
The Red Sox have been around for over 100 years, and a team around that long is sure to make a couple of franchise-altering moves along the way. They appear to have made such a move this past weekend, when the Sox shipped Adrian Gonzalez, Josh Beckett, Carl Crawford and Nick Punto the Los Angeles Dodgers in exchange for James Loney and four prospects. The deal is historic in its...
Squawker Jon and I were at dinner Friday night when I got the following alert from the Boston Herald on my iPhone "Red Sox working on trading Adrian Gonzalez, Carl Crawford, Josh Beckett and Nick Punto to LA Dodgers." I couldn't believe it -- I was thinking for a second that the Herald got hacked or something! What a jaw-dropper!That's the type of trade idea you...
Laughter and giddiness, excitement and joy. Those are typical behaviors of a fan whose team just swung the biggest deal of their lifetime. The only thing is, that was MY reaction when I heard the Blue Bastards were on the verge of landing one star player and two former star players. I wasn't the only one overjoyed. Giants fans all over the place were rejoicing over the possibility...
Adrian Gonzalez, Josh Beckett and Nick Punto were all smiles as they boarded a flight to Los Angeles in the wake of the Red Sox' blockbuster trade with the Dodgers. But at least a little part of Punto was disappointed. Punto is seen as a throw-in in the megadeal that alleviated the Sox of over $250 million in bad contracts, but the veteran infielder admits he had big things on...
Wow, what a weekend to be a Dodgers fan, huh?  And what a weekend I chose to be up in my family's remote cabin, away from most technology.  But I couldn't resist logging in and sharing a few thoughts on this weekend's developments. First up, like all Dodger fans, I'm beyond thrilled that Vin is returning for his 63rd season.  It's a remarkable accomplishment, and something...
What is: a headline you perhaps never thought you would read? Well, its is true for today anyway. The screeching over the Red Sox continues with now talk turning to media-on-media crime. LA columnist TJ Simers has become a hero to some here locally because of his childish attempt to rile up Josh Beckett after his start on Monday. CSNNE had a segment last night -  Beckett finally...
The Boston Red Sox and Las Angeles Dodgers made history on Friday night when the Red Sox sent Adrian Gonzalez, Carl Crawford, Josh Beckett, and Nick Punto to the Dodgers for James Loney and four minor leaguers. It's the most money to go another way in big league history. For almost the past century, the Red Sox and Dodgers have defined near misses and almost glory...
By SBRForum.com And we thought the Dodgers were already all-in on this season. After adding Hanley Ramirez and Shane Victorino and Joe Blanton and a few others, LA made one more big (some would say "crazy") move over the weekend, bringing in Adrian Gonzalez, Josh Beckett, Carl Crawford (who's useless for this year) and Nick Punto, and their contracts, of course, from Boston...
MLB News

Delivered to your inbox

You'll also receive Yardbarker's daily Top 10, featuring the best sports stories from around the web. Customize your newsletter to get articles on your favorite sports and teams. And the best part? It's free!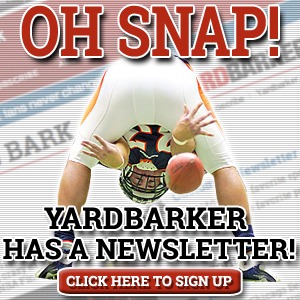 Latest Rumors
Best of Yardbarker

Today's Best Stuff

For Bloggers

Join the Yardbarker Network for more promotion, traffic, and money.

Company Info

Help

What is Yardbarker?

Yardbarker is the largest network of sports blogs and pro athlete blogs on the web. This site is the hub of the Yardbarker Network, where our editors and algorithms curate the best sports content from our network and beyond.