Found January 28, 2013 on Fox Sports Detroit:
PLAYERS:
Rick Porcello
,
Justin Upton
,
Ken Rosenthal
,
Randall Delgado
,
Nick Ahmed
,
Drew Smyly
,
Casey Crosby
,
Jacob Turner
,
Jim Leyland
,
Torii Hunter
TEAMS:
Detroit Tigers
,
Atlanta Braves
,
Arizona Diamondbacks
,
Baltimore Orioles
,
Texas Rangers
,
Seattle Mariners
,
Miami Marlins
,
San Diego Padres
,
Seton Hall Pirates
DETROIT -- Detroit Tigers pitcher Rick Porcello has spent the offseason on the rumor mill. The Tigers nearly made the Justin Upton trade between the Arizona Diamondbacks and Atlanta Braves a three-team deal by involving Porcello, according to Ken Rosenthal of FOXSports.com. Now the Diamondbacks have lost interest in Porcello after picking up Randall Delgado from the Braves. And the speedy, defensive shortstop Detroit had interest in, Nick Ahmed, who played Single-A ball last season, went from the Braves to the Diamondbacks. Porcello also has been connected to trade talks with the Baltimore Orioles, San Diego Padres, Texas Rangers and Seattle Mariners. How has Porcello dealt with the constant speculation? Im still a Tiger the last time I checked, Porcello said. Im ready to go down to Lakeland (Fla.) and earn a spot in the rotation. I wouldnt be doing my job if I let this stuff get to me. If Im traded, I will adjust accordingly at that time. But with the Tigers, there has never been a year where I have taken a job for granted. Porcello will compete for the No. 5 spot in the rotation with lefthander Drew Smyly, who was 4-3 with a 3.99 ERA in 23 games and 18 starts as a rookie in 2012. Porcello was 10-12 with a 4.59 ERA in 31 starts. I understand trading from your strengths to improve your weaknesses, but unless the Tigers acquire a proven closer or a differencemaker shortstop in a Porcello deal, I dont like it. Frankly, it's doubtful Porcello will bring either of those commodities unless hes part of a multiplayer deal. There's also this to consider: Should Porcello be dealt and somebody in the rotation goes down, Detroit doesn't have a farmhand its itching to give a chance. Would you feel comfortable with Casey Crosby or somebody else as the No. 5 starter for more than a couple weeks? There's not a Jacob Turner or Andy Oliver down on the farm any more, and for all the anticipation those two prospects created, they didn't excel either when called upon and have since been dealt away. Rick Porcello is a member of our team right now, Tigers manager Jim Leyland said, and I like having Rick Porcello as a member of our team ... I love Rick Porcello and I like Drew Smyly. Those who have lost confidence in Porcello accentuate his reliance on ground-ball outs -- on a team with shoddy infield defense -- and high earned-run average (4.59 last season). Those who believe Porcellos best days are ahead of him point to his 48-42 record at age 24 and his improving his fastball speed, which is up to 95 mph. His strikeouts per nine innings have risen each season, too, up to 5.5 in 2012. If Porcello can command his slider and quit relying on his sinker, he could easily become a strong middle-of-the-rotation starter. He was with a 14-9 record and 3.96 ERA as a rookie in 2009. This guy was the premium (high school) talent coming out in the draft, Dombrowski said of his 2007 first-rounder. Hes just struggled with consistency with his breaking ball. "His fastball is up to 95 and he has a good sinker. His changeups been there at times. I think hes going to be a very good major-league pitcher. Dombrowski mentioned a funk in Porcellos delivery, something pitching coach Jeff Jones is smoothing out. Were working on the finish in his delivery and keeping a bent front leg to keep him moving forward," Jones said. "And were also working on smoothing out his take-away with the ball from his glove. "What you have to remember is that if Rick went to college, hed probably just be coming up to the majors. After giving his No. 48 to new teammate Torii Hunter for a donation to Hurricane Sandy relief, Porcello will once again be wearing the No. 21 he had as a dominant pitcher at Seton Hall Prep in West Orange, N.J. Were trying to find a foundation where all of its assured to go to relief on the Jersey shores, Porcello said. We lost power for two weeks where I live and a lot of trees went down. But it was not nearly the same as what happened down on the shores and the Rockaways (beaches in New York)." So the young veteran who has made 31 professional starts in four consecutive seasons will wear his old number while searching for the great promise he showed in high school. Leyland said he plans to use the odd-man-out in the Porcello-Smyly competition in the bullpen. My job is to do whatever Skip tells me to do, Porcello said. And Im prepared to do my job to the best of my ability. "Internal competition will push both of us to get better, and I am looking forward to that.
Original Story:
http://www.foxsportsdetroit.com/01/28...
THE BACKYARD
BEST OF MAXIM
RELATED ARTICLES
From the moment the Detroit Tigers re-signed right-hander Anibal Sanchez to an $80 million, five-year contract this offseason, Rick Porcello has had a lot to prove. The top four spots in Detroit's rotation are now set, with Justin Verlander, Max Scherzer, Doug Fister and Sanchez locked in. That leaves Porcello and Drew Smyly as candidates for the last opening. Porcello is a...
DETROIT -- Torii Hunter Jr. might be ready to play for Notre Dame next season after all. Speaking at TigerFest Saturday, Torii Hunter Sr. said his son is progressing ahead of schedule after breaking his left femur during practice for the U.S. Army All-American Bowl at the beginning of January. "He's doing a lot better," Hunter Sr. said. "He's on crutches...
Dave Dombrowski realizes the offseason is never over until opening day. That was certainly the case last year, when the Detroit general manager brought slugger Prince Fielder to the Tigers in late January. This offseason has been quieter in Detroit, but Dombrowski keeps his ears open for possible acquisitions even now, with spring training set to start in a couple weeks. The biggest...
Welcome to part 2 of my 'burning questions' segment as the Detroit Tigers offseason moves toward spring training. For part 1, published last Friday, click here. On to the questions and answers: Can another AL Central team overtake Doug Fister and the Tigers? Who will challenge the Tigers for the AL Central crown? The Twins are still in a rebuilding mode and are already out of...
The 2011 and 2012 American League Most Valuable Players, Justin Verlander and Miguel Cabrera, were two of four Tigers players who rode around in luxury cars during North American International Auto Show this past weekend. After the parading around completed, Cabby, JV, Phil Coke and Torii Hunter took the stage for a little Q&A with Fox Sports Detroit's Rod Allen. The highlight...
Detroit Tigers ace Justin Verlander recently stated that he would like to spend his entire career in the Motor City and earn Hall of Fame honors in the process.  What is the likelihood of this happening? According to baseballreference.com career leaders for WAR (wins above replacement), of the Top 50 pitchers of all-time only Walter Johnson, Bob Gibson, Carl Hubbell, Jim Palmer...
Tim Stauffer The Padres have announced they agreed to minor league contracts with Tim Stauffer, Freddy Garcia, and LHP Arturo Lopez. Tim Stauffer is working his way back from elbow surgery and is reportedly only two weeks behind schedule.  Stauffer was selected by the Padres, fourth overall in the 2003 draft.  Following his breakout 2010 campaign, Stauffer set career highs in...
MLB News

Delivered to your inbox

You'll also receive Yardbarker's daily Top 10, featuring the best sports stories from around the web. Customize your newsletter to get articles on your favorite sports and teams. And the best part? It's free!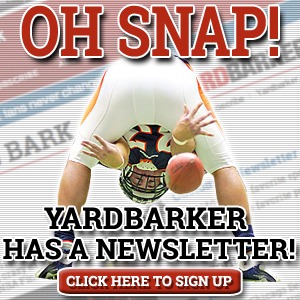 Latest Rumors
The Backyard

Today's Best Stuff

For Bloggers

Join the Yardbarker Network for more promotion, traffic, and money.

Company Info

Help

What is Yardbarker?

Yardbarker is the largest network of sports blogs and pro athlete blogs on the web. This site is the hub of the Yardbarker Network, where our editors and algorithms curate the best sports content from our network and beyond.