Posted April 07, 2012 on AP on Fox
PLAYERS:
Tim Lincecum
,
Ian Kennedy
,
Chris Young
,
Paul Goldschmidt
,
Ryan Roberts
,
Pablo Sandoval
,
JJ Putz
,
Buster Posey
,
Melky Cabrera
,
Scott Cousins
,
Bruce Bochy
,
Willie Bloomquist
,
Kirk Gibson
,
Justin Upton
,
Miguel Montero
,
Angel Pagan
,
Aubrey Huff
,
Brandon Belt
,
Ryan Theriot
,
Brandon Crawford
,
Jason Kubel
,
Ryan Vogelsong
,
Angel Villalona
TEAMS:
San Francisco Giants
,
Arizona Diamondbacks
,
Miami Marlins
Tim Lincecum loses to Arizona and Ian Kennedy beats San Francisco. Those facts persisted through all of last season and carried over to the reigning NL West champion Diamondbacks' 5-4 season-opening victory over the Giants on Friday night. Chris Young and Paul Goldschmidt hit first-inning home runs, then Ryan Roberts' two-run double broke a sixth-inning tie as Arizona defeated Lincecum (0-1) for the fourth time in a row. ''I left a floating change-up up there in the middle of the plate and a fastball that wasn't executed well,'' Lincecum said. ''With the exception of that first inning I settled down pretty well and did all right, but all right isn't good enough on opening day.'' Kennedy (1-0) allowed three runs on nine hits in 6 2-3 innings to beat the Giants for the fourth straight decision. Lincecum had said this week that this could be a ''statement'' game between two teams that expect to contend for the division title. With 161 games to play, it probably says no more than that Arizona is 1-0 and San Francisco 0-1. But the way it was accomplished reminded a lot of the capacity Chase Field crowd of last year's surprising worst-to-first run by the Diamondbacks. ''It's good to see everybody pick up where they left off,'' Roberts said. ''It's been a long spring but to come out today and have everybody have success up and down the lineup is nice.'' Pablo Sandoval's RBI double with two outs in the ninth pulled the Giants within a run, but J.J. Putz got Buster Posey on a grounder to earn the save. Melky Cabrera hit a two-run homer in his first game for San Francisco after coming over in a trade with Kansas City. Posey, the 2010 NL Rookie of the Year, singled twice. The young star catcher also walked in his first game back after the brutal left leg injury sustained in a home plate collision last May 25 with Florida's Scott Cousins. ''Buster looked fine,'' Giants manager Bruce Bochy said. ''He is not showing any ill effects of what happened, so that is behind us.'' Kennedy had just three strikeouts and two walks. ''I wasn't real happy with my command,'' he said. ''It wasn't the greatest. I'm just really happy how I battled all the way through against a good team.'' After watching the Diamondbacks celebrate their division crown with a clinching victory over San Francisco last Sept. 23 at Chase Field, the Giants waited through a pregame ceremony while Arizona unveiled a big letter ''A'' sign designating the title. Then the Diamondbacks got to Lincecum in a hurry. Willie Bloomquist led off with a single and Young, who hit .400 this spring with five home runs, hit a 2-2 pitch into the left-field seats. Young hadn't batted No. 2 in the order all season, but that's where he saw his name when he arrived at the park on Friday. Manager Kirk Gibson doesn't reveal his lineup to his team until the day of the game. ''I wouldn't be surprised to be hitting second one day, to be hitting fifth the next day and leading off the other day,'' Young said. ''As long as you show up ready to go, it really won't catch you off guard.'' Lincecum struck out Justin Upton and Miguel Montero, but Goldschmidt's towering home run to left on a 3-1 pitch made it 3-0. It was Goldschmidt's third home run in 10 at-bats against the two-time NL Cy Young Award winner. ''I don't know,'' Goldschmidt said. ''I was able to get a good hitter's count 3-1 today and get a fastball to hit. As with any pitcher, you try to get a good pitch to hit. It's only been a few ABs, so hopefully they'll be a lot more to come.'' San Francisco got close in the fifth when Angel Pagan led off with a double, and Cabrera's line drive to right bounced off the top of the fence in right and over for a home run. The Giants tied it at 3 in the sixth after singles by Aubrey Huff and Brandon Belt. Ryan Theriot advanced the runners with a sacrifice bunt, and Huff scored on Brandon Crawford's groundout. But Arizona regained the lead its next time up. Upton doubled and advanced to third on a deep fly out by Montero. Goldschmidt walked and Jason Kubel reached when Posey couldn't handle his spinning hit in front of the plate. With the bases loaded, Roberts lined a double into the left-field corner for a 5-3 lead, ending Lincecum's evening. NOTES: Young hit his second career opening day HR. The first was in 2008. ... Giants RHP Ryan Vogelsong threw three innings in a rehab start in the opener for Triple-A Fresno Thursday night, allowing no runs on three hits in four innings, striking out six and walking three. ... The Giants and Diamondbacks met in a season opener for the first time. ... San Francisco 1B prospect Angel Villalona's option to Class A San Jose was canceled because of his continuing visa problems in the Dominican Republic. The Giants say Villalona was placed on the Major League Baseball restricted list pending further developments. ... The attendance of 49,130 was the third-largest opening day crowd at Chase Field and fourth largest for any game there.
Original Story:
http://msn.foxsports.com/mlb/story/ar...
THE BACKYARD
BEST OF MAXIM
RELATED ARTICLES
PHOENIX -- Ian Kennedy knows how difficult it can be to win 20 games, having lived through it last year. So he limits his numerical goals to those more in his control, liking being in good enough condition to make every start and log 200 or more innings. Still ... "It is something you can build off," Kennedy said last week. The construction begins Friday, when Kennedy...
PHOENIX -- Diamondbacks teammates Paul Goldschmidt and Chris Young were both a little out of place in Friday's opening-day lineup against the San Francisco Giants. D-backs manager Kirk Gibson slotted Young, the center fielder, second in the batting order, a spot he hadn't hit in all spring and had hit in only once in 2011, exactly one year earlier. Goldschmidt, meanwhile...
Willie Bloomquist, who really shouldn't even be batting leadoff, hit a single off Tim Lincecum to get things going for the Diamondbacks. The next batter, Chris Young, hit a home run. And that pretty much set the tone for the game; Lincecum gave up a couple bombs in the first inning, and ultimately couldn't get through six innings. His fastball velocity sat around 90, topping...
I have to say that for all the complaints we Giants fans may have from time to time, I cannot say that management is incompetent. Cheap? Sometimes. Gunshy of big free agents? Yes. But inept? Absolutely not. With the group that reported to Scottsdale this spring, I really believe the best 24 came back to The City with the team."But Dodgerhater, isn't it a 25 man roster, not...
The Arizona Diamondbacks have not wasted any time scoring runs in the season's first two games to continue their recent success over the San Francisco Giants. Looking to sweep their opening series for the first time in 12 years, the Diamondbacks try for an eighth consecutive victory over the visiting Giants on Sunday at Chase Field. A big reason for Arizona's surprise run...
Because the Arizona Diamondbacks won the NL West in 2011, the road to the division crown in 2012 technically runs through them. But "technically" is about all the Giants, the D-backs' opponent on Opening Day, will concede. As they await their season opener Friday at Chase Field, the Giants acknowledge the D-backs' place as NL West favorites by default, but they...
Opening Day is finally here for the Giants and with it the first installment of my attempts to handicap how the series will play out. Normally for this I have the statistics from the season in progress to go off of when doing this but seeing as the season hasn't started yet, I will use the ZiPS Projections and the Baseball Musings Lineup Analysis tool with lineups...
Episode 72: We Are Young, So Let's Set the World on Fire is out! In the seventy-second episode, Thomas and Danny recap the final roster decisions and the new youth movement for the Giants, guess about Panda's catching future, Nate's lack of playing time and the Opening Day Second Baseman. Click on the image below to find it on iTunes: You can also find it on the RSS feed...
It's about damn time.  Why do the Giants have to wait so long to get their opening day?  This just means the Giants can't go wire-to-wire now. I'm ready.  Are you?
MLB News

Delivered to your inbox

You'll also receive Yardbarker's daily Top 10, featuring the best sports stories from around the web. Customize your newsletter to get articles on your favorite sports and teams. And the best part? It's free!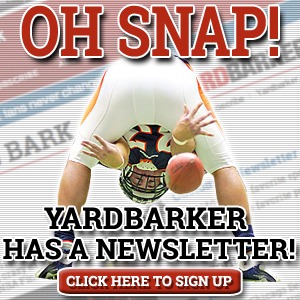 Latest Rumors
The Backyard

Today's Best Stuff

For Bloggers

Join the Yardbarker Network for more promotion, traffic, and money.

Company Info

Help

What is Yardbarker?

Yardbarker is the largest network of sports blogs and pro athlete blogs on the web. This site is the hub of the Yardbarker Network, where our editors and algorithms curate the best sports content from our network and beyond.