Found April 09, 2013 on Monkey with a Halo:
When the Angels signed Josh Hamilton I knew it was going to be tough. Tough on Hamilton to meet expectations. Tough on the front office to prove signing Josh was a smart decision. Tough on the fans to embrace a former enemy. Tough on me just to figure out how to deal with Hamilton's presence and all that comes with it. As a general rule, I try and keep my own personal opinion and beliefs of the non-baseball variety to a bare minimum on this blog. I even specifically tell all the other writers for the site that politics and religion are strictly off limits. After all, this is a baseball blog and it would seem stupid to alienate members of the audience over something that has nothing to do with baseball. Well, I think I'm probably about to do just that. In the months since the Angels signed Josh Hamilton and the one actual week that he has played in meaningful games for them, I've come to the conclusion that loving Hamilton and accepting him as one our own might just be impossible for me to do. But because he's an Angel for the next five years, I'm sure as hell going to try, but mostly out of obligation. While there is on rule that says we must unconditionally love every player on the roster, I feel like I'm not doing my job as a fan if I don't at least try. After all, there was a time long, long ago that I gave Jeff Mathis the benefit of the doubt and would jump to the defense of Vernon Wells. Now it is my chance to talk myself into liking Josh Hamilton. Thus far it isn't going well. It isn't going well at all. This isn't even a topic I ever really wanted to address in this space, at least not for a few months if ever. But the events of the last week have forced my hand. Part of that has to do with his play on the field, but a lot of it has to do with his behavior off of it. That and Ranger fans on Twitter keep asking me about it since I am apparently the de facto Angel blogger that Texas fans don't find to be a total troll. Back when Josh was still with Texas, I never really liked him. His inspirational story was great and all, but he was still the best player on the team that was the Angels' biggest rival. But this was more than guilt by association because I also didn't have the same kind of regard for his struggles with addiction that the mainstream media seems to want me to have. Yes, it is an amazing story that Hamilton overcame his substance abuse issues, revived his career and became an MVP. That is literally the thing movies are made of. It is also something I can't identify with at all. Addiction just isn't something that has affected my life in any real way. And I'd be lying if I didn't admit that there is part of me that wonders why we glorify someone who came inches away from throwing away his incredible baseball talent and entire life because of booze and drugs. But I try not judge him for that because there is always something that leads to substance abuse. The keyword there is "try." Sorry, I'm not perfect. None of this is to say that his fight against addiction isn't to be applauded. Just for me it is more of a golf clap. I'll save my standing ovations for the likes of Jackie Robinson when it comes to ballplayers overcoming adversity. Perhaps it is my opinion on his addiction issues that is influencing my opinion of Hamilton's on-field play at the moment. Much in the same way that I have a limited amount of sympathy for him nearly throwing away his tremendous gift because he was powerless against drugs and alcohol, it looks as if he is throwing away his talent all over again because he powerless against the basic principles of plate discipline. Being addicted to heroin and not being able to lay off a low and away slider in the dirt on 0-2 that everyone in the ballpark knows is coming are far from the same thing, but right now, it looks like the end result is not all that much difference when it comes to Hamilton's on-field play. If this was just a recent development, I wouldn't be too concerned, but really it goes back to June of last season, and he was never all that disciplined before that. Where as I do have some sympathy for his substance abuse plight, there will be no such condolences for Josh's free swinging ways. Frankly, I find it infuriating. You can blame the demon that is addiction for Josh's drug problems, but the his epic whiffing issues seem to be born out of ignorance and/or stubbornness. I want to like Hamilton, I really do, but until he reins in what appears to be a very fixable plate discipline problem, that won't be easy. What makes it damn near impossible though is how Hamilton deals with things off the field, specifically his comments on his own struggles. Now, this is the part where I might offend some of you, so I apologize in advance because that is not my intention. Not to put too fine a point on it, but all his Jesus talk is driving me crazy. For me, it is the straw that broke the camel's back, specifically when he recently compared his ability to cope with being vociferously booed upon his return to Texas to the trials and tribulations of Jesus Christ. In the interest of full disclosure, I am not a religious person, which you probably guessed. That actually undersells it. I'm actively anti-religion. I'm an atheist and I have a huge problem with people who feel the need to throw their faith in other people's faces and try to force their belief system on others. But this is not something I ever bring up in the blog because, well, I don't want to throw my beliefs in your face or force my value system on you. I only bring it up here to illustrate why Josh's pervasive habit of working the topic of his faith and Jesus into almost every single sound byte drives me up the wall. He is certainly not alone in that practice as Albert Pujols does the same thing to a slightly lesser degree but I suppose I am able to tolerate it more because his Jesus-speak doesn't sound quite as robotic and, let's be honest, Albert can actually hit the ball right now. I'm sure they are both very nice men and I don't have anything against spiritual people in general (my issues are mostly with religious institutions, not the people), I just am not going to be signing up to sit in the front row of any of their press conferences. It all combines to be a perfect storm with Hamilton. Fighting off years of being conditioned to not like him but having to do so in the face of him shooting himself in the foot on the field and irritating me off the field is just a lot to overcome. Having said all that, I realize that I am probably coming off as a callous asshole and maybe even as a bit intolerant. I don't want that to be the case but if it was, don't worry I promise I will never bring up the topic again. I am pulling back the curtain here so that I can explain why it is that I am having such a difficult time warming up to Hamilton and really to make it clear that I actually do want to like him even with as hard as he is making it for me to do so. I am sure that I am not alone in my sentiments though the details behind them might be different. Still, Hamilton is one of our own now and one way or another I'm going to keep trying to find a way to not only tolerate him but maybe even come to genuinely like him. Maybe. [follow]
Original Story:
http://www.monkeywithahalo.com/2013-a...
THE BACKYARD
BEST OF MAXIM
RELATED ARTICLES
ARLINGTON, Texas Fans in right field at Rangers Ballpark had a long weekend of heckling Josh Hamilton in his return to Rangers Ballpark. Hamilton said some of the fans crossed the line, but he also had fun with it too. He played like he was throwing a football in reference to his football town comments this spring. But did he take things too far by making an obscene gesture...
I would volunteer to be Josh Hamilton's publicist, except it's too late. I would have advised Hamilton to say all the right things about Dallas-Fort Worth, rather than question the region's merits as a "baseball town." I would have advised him to make peace with Rangers fans, rather than say, "I will never take back what I said until they show up here...
Is Josh Hamilton a keeper? He is a bust? Or is it too late to proclaim? If you have been following my fantasy baseball woes, I traded Ryan Braun for Steven Strasburg and Josh Hamilton before the season started. Sure, Braun was named the 2011 National League Most Valuable player. Strasburg was named the Opening Day starter and Josh Hamilton can hit homeruns in his sleep. Strasburg...
The DFW sports headlines from the weekend were likely all about Josh Hamilton — he had some interesting quotes Friday, requested extra security for his family on Saturday and made some gestures to the outfield crowd tonight — but he was pretty much a non-factor on the field.  He had three hits in tonight's game, but before that, he was hitless with four strikeouts.  Honestly...
Josh Hamilton's first series at the Ballpark in Arlington as a member of the Los Angeles Angels over the weekend went pretty much as scheduled. Texas Rangers fans booed him mercilessly and pretended to be reading newspapers while he was introduced. Then, there was reportedly an incident where Hamilton's wife and children needed to request additional security because some Rangers...
Johnny Manziel, the Heisman trophy winner, is at the Texas Rangers game against the Los Angeles Angels. He got to meet up with Josh Hamilton. Hopefully we will get to see some after party shenanigans that we are used to with Manziel. Two of the best young athletes on the planet. Trout and Manziel. #angels twitter.com/EKayAngels/sta… — Eric Kay (@EKayAngels) April 7, 2013
The April 9th, 2013 edition of daily news for the Los Angeles Angels including Hamilton says he'd 'suck anywhere right now,' Weaver a giant red flag and much more... The Story: Josh Hamilton says "he'd suck anywhere right now." The Monkey Says: He's trying to deflect but the other quotes suggest he is still very bothered by all of this. He not...
This week Josh Hamilton was booed relentlessly in his return to the Texas Rangers where he had spent most of his baseball adult life.  He signed this off season with the Angels for $125 million.  On his exit from the franchise he said about the Rangers fans, "They just are not a baseball town."   In a Don't Mess with Texas return he strikes out at his first at bat.  ...
ARLINGTON, Texas The Texas Rangers may not have been able to answer the impossible question of whether or not they play in a baseball town this weekend. But they did find out that their offense can still put up runs despite the absence of Josh Hamilton. They did find out that their new bullpen has some strong arms, as Tanner Scheppers stole the show Sunday night. The question...
The big-budget Los Angeles Angels are off to another low-rent start, going 2-4 away from Anaheim in the first week of the season. The Angels all realize they've got to fix it before they fall into the same type of hole that doomed them last season. Los Angeles plays the AL's final home opener Tuesday night against the AL West champion Oakland Athletics. The Angels began...
By Tad Dixon, AngelsWin.com | STNTV  - The LA Angels opened 2013 with a win, but lost 4 of the next 5 after that. On the bright side, backstop Chris Iannetta put up the kind of numbers in a week that Jeff Mathis would take half a season to compile. Unfortunately the big bats came up small. When asked about his struggles against his two former teams (Red and Rangers) Josh Hamilton...
By Brian Waller, AngelsWin.com Staff Writer -  I personally could not have imagined a rougher start to the season for the Angels in 2013. Not only did they go 2-4 against the Reds and the hated Rangers but the team's big offseason addition, Josh Hamilton, was basically a flop against both his former teams. The cherry on top of this turd sundae however has to be the news that...
MLB News

Delivered to your inbox

You'll also receive Yardbarker's daily Top 10, featuring the best sports stories from around the web. Customize your newsletter to get articles on your favorite sports and teams. And the best part? It's free!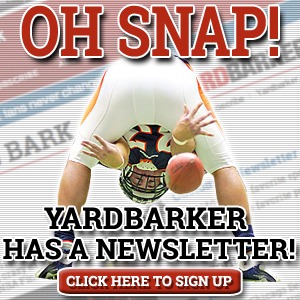 Latest Rumors
Best of Yardbarker

Today's Best Stuff

For Bloggers

Join the Yardbarker Network for more promotion, traffic, and money.

Company Info

Help

What is Yardbarker?

Yardbarker is the largest network of sports blogs and pro athlete blogs on the web. This site is the hub of the Yardbarker Network, where our editors and algorithms curate the best sports content from our network and beyond.