Found October 22, 2012 on Mike Silva's Sports Media Watchdog:
Steve Keane and I put a bow on the Yankees season. We debate Brian Cashman's performance and talk about the declining viewership on YES. Will we see hockey this year? Steve gives us an NHL lockout update. We give our thoughts on LA Kings writer Rich Hammond leaving to write about USC football for the Orange County Register. I think reporters should refrain from getting too close to the athletes they cover. In the case of ESPN sideline reporter Samantha Steele, she has made her relationship with Vikings' QB Chris Ponder public. Does this type of behavior cause other female reporters to lose credibility? Finally, hear our thoughts on John Feinstein joining the new CBS Sports Radio Network, as well as ESPN adding Bill Simmons to their NBA telecasts. CLICK HERE TO LISTEN DOWNLOAD THE MP3 If you like to listen to other radio shows and podcasts, check out the Sports Media Watchdog Radio Network
Original Story:
http://sportsmediawatchdog.com/2012/1...
THE BACKYARD
BEST OF MAXIM
RELATED ARTICLES
The New York Yankees are now focused on the 2013 season, and GM Brian Cashman has a ton of work to do this off-season.Like every other GM, Cashman's goal is to put a World Series caliber team on the field but the pressure he is under is much greater, as this franchise and its fan-base expect to win their 28th championship; or the season is considered a bust.The only difference...
TAKE MY 3B, PLEASE
Brian Cashman admits that Alex Rodriguez is no longer a superstar and that it would be incredibly difficult to deal the aging slugger, but he's certainly willing to give it a try.
From Dayn Perry:Pineda was initially expected back in spring training, however irrationally optimistic such a timetable was. Now, Yankees GM Brian Cashman says Pineda is not expected back until well into the 2013 season. "We have to keep him off our radar for now," Cashman, appearing on Ian O'Connor's ESPN New York radio show, said of Pineda. "We're...
Alex Rodriguez is no longer a superstar, and while a trade is "unrealistic," all offers for the high-priced slugger will be considered, Yankees GM Brian Cashman said Sunday. Cashman, speaking on "Sunday Morning with Ian O'Connor" on ESPNNewYork 98.7 FM, said there's "no doubt" in his mind that Rodriguez will be the Yanks' starting third...
Brian Cashman is going to get asked a lot of questions this offseason. Some will be about the New York Yankees' postseason struggles. Some will be about the future of Robinson Cano and a new contract. Some will revolve around the return of Andy Pettitte. Some will center around the health of C.C. Sabathia. But the majority of questions Cashman will be forced to deal with on a daily...
Obviously the Yankees have a a lot of work to do this off-season. Expiring contracts, options, and trade possibilities should give Brian Cashman and Company lots to do. I have some ideas about how they should proceed, starting with the outfield.  Here's what I would do:Brett GardnerCurtis GrandersonRaul IbanezAndruw JonesIchiro SuzukiNick SwisherOf course, Gardner isn't...
New York Yankees general manager Brian Cashman said during a radio interview on Sunday that trading Alex Rodriguez would be "unrealistic," and he expects Rodriguez to be the Yankees' starting third baseman next season. During his interview on ESPNNewYork 98.7 FM, Cashman admitted Rodriguez is no longer a superstar and also said he would listen to offers for Rodriguez...
Brian Cashman is going to have his hands full when he starts working the offseason phones this winter.  But, if it were up to New York Yankees fans, he could start by dumping Alex Rodriguez, Nick Swisher and Curtis Granderson right off the bat and nary a fan would cry — at least around 75% wouldn't. In two separate New York tabloid polls, The New York Post and the New York...
History's greatest unexplained mysteries include Easter Island, the disappearance of Amelia Earhart, and why the Yankees got swept in the ALCS. At least that's what Yankees president Randy Levine seems to be claiming. He told the New York Times that "there was a total collapse in the A.L.C.S. that was very surprising. Why did that happen? Nobody will ever know.&quot...
English: CC Sabathia (left) and Mark Teixeira (Photo credit: Wikipedia) Most baseball fans probably read this already either in the NY Daily News, NY Post or any national newspaper that New York Yankees fans ace CC Sabathia has an appointment with Dr. James Andrews this week. The doctor's visit is to get answers about why Sabathia's left elbow, the one that landed on the 15-day...
New York Yankees general manager Brian Cashman said Saturday that left-handed pitcher CC Sabathia will have his left elbow examined by Dr. James Andrews. Sabathia, 32, reportedly needs to have a bone spur cleaned out, an injury that occurred while played for the Cleveland Indians (2001-08), ESPN New York reported. He was placed on the disabled list in August after having elbow...
Yankees News

Delivered to your inbox

You'll also receive Yardbarker's daily Top 10, featuring the best sports stories from around the web. Customize your newsletter to get articles on your favorite sports and teams. And the best part? It's free!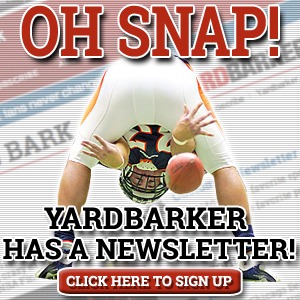 Latest Rumors
Best of Yardbarker

Today's Best Stuff

For Bloggers

Join the Yardbarker Network for more promotion, traffic, and money.

Company Info

Help

What is Yardbarker?

Yardbarker is the largest network of sports blogs and pro athlete blogs on the web. This site is the hub of the Yardbarker Network, where our editors and algorithms curate the best sports content from our network and beyond.