Found April 24, 2013 on Fox Sports North:
MINNEAPOLIS The early-season chills in the air have resulted in several Minnesota Twins games being postponed. The cold air has also been the possible culprit of another trend: a lack of home runs. Through Tuesday's doubleheader against Miami, the Twins have hit just nine home runs this season, the second-fewest in baseball aside from the Marlins' six homers. By comparison, the Atlanta Braves lead all of baseball with 29 long balls. Braves outfielder Justin Upton has hit 11 of those on his own, more than both the Twins and Marlins. Despite a lack of power, the Twins still boast a 9-8 record following Tuesday's split of the doubleheader. Home runs have not been a big part of Minnesota's offense in recent years, and the Twins are far from concerned about the lack of homers through the first 17 games. "We know we're a team that's going to score runs, going to hit home runs," said Twins third baseman Trevor Plouffe, who has two of Minnesota's nine homers. "We just really haven't had a chance to click yet, whether that be a cause of the cold weather, I don't know. We're not really worried about it. As long as we're winning games, that's all we care about." It's true that the Twins have played fewer games than the rest of the league, which is one reason why their overall home run total is lower. But entering the second game of Tuesday's doubleheader, Minnesota averaged 55.6 at-bats per home run, the sixth-worst ratio in baseball and fourth-fewest in the American League. (The Marlins, meanwhile, average one home run every 103.7 at-bats, by far the worst in the majors.) The Twins didn't rank any better in that category last year either, possessing the fifth-worst at-bat per home run ratio. But Minnesota homered every 42.5 at-bats in 2012, a more frequent rate than the first 17 games in 2013. "Home runs are something you can't really try for. It's going to come," said right fielder Chris Parmelee, who has one home run through Tuesday's games. "When they come, they come in bunches. You can't go up there and try to hit a home run because chances are you're not going to. We've got some guys on this team that can definitely put one out of the ballpark. Hopefully it starts warming up here and we can see some of them fly." Minnesota saw power surges by several players last season. Left fielder Josh Willingham hit a team-high (and career-high) 35 homers in 2012, his first season with the Twins. Plouffe also set a career high with 24 homers, as did Ryan Doumit with 18. Joe Mauer's 10 long balls were the most since his MVP season in 2009 and the third-most in his career. Still, home runs weren't a big part of the Twins' game, as their 131 homers were 27th-most in the majors and dead last in the American League a year ago. "We've got, I'd say, pretty much seven or eight guys in our lineup that can put it out of the ballpark," Parmelee said. "That's always a good thing, from the top to the bottom pretty much. We definitely have some power on this team, especially through the middle of the lineup." For whatever reason, the home runs aren't coming just yet for the Twins, but they got a big one against the Marlins. Rookie Oswaldo Arcia belted his first career homer in the first game of Tuesday's doubleheader, a three-run shot that put Minnesota up 4-2 in the fourth inning. The Twins held on to win 4-3, with Arcia's blast proving to be the difference. "Home runs are nice because they can get you back in a game with one swing," Plouffe said. "But we're more about winning and scoring enough runs. If we can win this year and we don't hit that many home runs, it doesn't really matter." Six of Minnesota's 10 home runs have come at Target Field. Three were hit in Kansas City (all in one game against the Royals), while one was hit in Baltimore. Pretty much everywhere the Twins have gone so far this year, the weather has been chilly. That included Tuesday's twin bill at Target Field, where the temperature at first pitch was 38 degrees. Minnesota certainly hasn't used the weather as an excuse for anything in the early goings, and that includes a lack of power. But the Twins are hopeful that as soon as the weather warms up, the bats will too. "We've got some people that can hit some home runs," said Twins manager Ron Gardenhire. "I think as it got a little hotter, the ball started flying here last year. I think it will here again this year as the weather warms up. We'll see. We've got people that can definitely hit some home runs." Follow Tyler Mason on Twitter.
Original Story:
http://www.foxsportsnorth.com/mlb/min...
THE BACKYARD
BEST OF MAXIM
RELATED ARTICLES
The American League Central is one of six divisions in Major League baseball. It was formed in the realignment in 1994, and all five of its member teams are located in the Midwestern United States. It is also the only division in Major League baseball in which all of its members have won the World Series at least once. One of the star teams of the Central Division, having won the...
MINNEAPOLIS Infielder. Outfielder. Emergency catcher. Drummer. Yes, Eduardo Escobar is comfortable playing nearly any position for the Minnesota Twins and even has enough versatility to show off his musical talents in the clubhouse. The 24-year-old Escobar is in his first full season with the Twins after being traded by the White Sox last year. In 12 games with Minnesota this year...
MINNEAPOLIS Mike Redmond was known for his infamous naked batting practice during his days as a player. But the veteran catcher and former Minnesota Twin was also known as a leader in the clubhouse and essentially another coach in the dugout. So it came as no surprise to anyone, especially in Minnesota's organization, when Redmond took a job as a manager in Toronto's minor...
MINNEAPOLIS The Minnesota Twins are tied for having the longest winning streak in the American League. In fact, they haven't lost in 10 days. Those numbers are a bit deceiving, obviously, as Minnesota has played just four games since April 13. Due to four postponements and a scheduled day off, there hasn't been much consistency in the Twins' schedule. After losing to...
MINNEAPOLIS Vance Worley is still looking for that elusive first win in a Twins uniform. The right-hander labored through five innings Thursday against the Texas Rangers and exited with his team down 2-0. Minnesota couldn't rally against Texas rookie Nick Tepesch, however, and Worley was hit with his third loss of the season as the Twins fell 2-1. Worley now 0-3 with a 6.38...
Oswaldo Arcia hit his first career home run and Kevin Correia gave up two runs in seven innings, leading the Minnesota Twins over the Miami Marlins 4-3 Tuesday in the opener of a day-night doubleheader. Arcia's three-run homer in the fourth backed Correia (2-1), who allowed five hits and struck out five. The Twins shrugged off yet another chilly day at Target Field to win their...
MINNEAPOLIS (AP) -- Oswaldo Arcia hit his first career home run and Kevin Correia gave up two runs in seven innings, leading the Minnesota Twins over the Miami Marlins 4-3 Tuesday in the opener of a day-night doubleheader. Arcia's three-run homer in the fourth backed Correia (2-1), who allowed five hits and struck out five. The Twins shrugged off yet another chilly day at Target...
MINNEAPOLIS (AP) -- Rob Brantly had three hits and a career-high four RBIs and the Miami Marlins' offense broke out of a season-long funk to beat the Minnesota Twins 8-5 on Tuesday night and earn a split in the day-night doubleheader. Brantly had two doubles and Ricky Nolasco (1-2) allowed two earned runs on six hits in five innings for the Marlins, who won for just the fifth...
MLB News

Delivered to your inbox

You'll also receive Yardbarker's daily Top 10, featuring the best sports stories from around the web. Customize your newsletter to get articles on your favorite sports and teams. And the best part? It's free!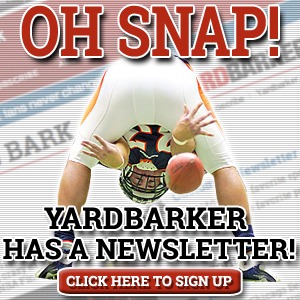 Latest Rumors
The Backyard

Today's Best Stuff

For Bloggers

Join the Yardbarker Network for more promotion, traffic, and money.

Company Info

Help

What is Yardbarker?

Yardbarker is the largest network of sports blogs and pro athlete blogs on the web. This site is the hub of the Yardbarker Network, where our editors and algorithms curate the best sports content from our network and beyond.