Found February 14, 2013 on Subway Squawkers:
I can't remember a spring training when I was this cynical about the Yankees' prospects for the season. World Series or bust? Really? More like $189M or bust.That's what happens when you have a disastrous offseason like this one. I mean, really -- what Brian Cashman moves, exactly, excited you this winter? Signing the injury-ridden ex-Boston Red Sox Kevin Youkilis for $12 million, way above what anybody else would pay him? Going with Francisco Cervelli and Chris Stewart as your catchers? Starting spring without a right-handed hitting outfielder?Then you have Hal Steinbrenner, who is so clueless that he told the Wall Street Journal he was "surprised" to hear of the fans' "anger." Really, Hal? Where have you been, exactly? Oh, I know. You've been worried about the evil StubHub, the real enemy.I know it's become a cliche to wonder "What would George Steinbrenner do?" when it comes to any new development in Yankeeland, but when the o...
Original Story:
http://subwaysquawkers.blogspot.com/2...
THE BACKYARD
BEST OF MAXIM
RELATED ARTICLES
CEREAL KILLER
In an effort to come into spring training in good shape, Yankees pitcher C.C. Sabathia claims that he once again attempted to do so by not eating Cap'n Crunch.
Mariano Rivera will always be know as the "Sandman," but will his theme song continue to play in Yankee Stadium after the 2013 season? Rivera announced to the media Wednesday that he has come to a decision on whether or not he will be returning to the Yankees roster following the 2013 season. But he didn't announce his decision just yet. "Yes, I have," Rivera said when...
TAMPA, Fla. — Yankees catcher Francisco Cervelli says he consulted with Biogenesis of America LLC after a foot injury, but did not receive any treatment from the facility. Cervelli said a recommendation to visit the clinic did not come from another player or an agent. He declined to name the person who gave the recommendation. "I checked with doctors, people, and somebody recommended...
It's been nearly nine months since Mariano Rivera tore his ACL shagging fly balls during practice in Kansas City and, if his injured right knee is as up to snuff as his attitude, fans need not worry about seeing No. 42 shattering bats again this season. Wearing a "small, light brace" over the knee, the future Hall of Famer showed off for reporters by throwing 25 bullpen...
$12 million for one season doesn't buy what it used to. Kevin Youkilis, who will make more in 2013 than David Wright will, made his New York Yankees debut Thursday. And he promptly announced his loyalties to his old Boston Red Sox team, saying "I'll always be a Red Sock." Oh, great.I couldn't stand Youk -- I call him Yuck -- as a Red Sock, and the fact that he...
Alex Rodriguez — who is already getting enough press for his alleged involvement with performance-enhancing drugs — is happy to know that a long awaited book about the New York Yankees slugger's  life has been shelved by its publisher. A source told The New York Daily News that A-Rod thinks it's great that a book about him, being written by Pulitzer Prize-winning author...
Good walk rate? Check. Good strikeout rate? Check. Solid line drive and infield fly rates? Check and check.Confused? Check.What the heck is going on with Mark Teixeira's batting average! I understand that the man is aging and I get that he's probably one of the slower sluggers in baseball, but Teixeira's .250ish batting average fails both the formula test and the eye test....
Kevin Youkilis' new teammates were waiting to razz him when the third baseman walked into the New York Yankees clubhouse.
It's no surprise on the day former Red Sox third/first baseman Kevin Youkilis reported to Yankees spring training the first words out of his mouth to the media were about the Red Sox. What may surprise you to know is that those words were spoken with high regard for his former organization. Youkilis spent 9 years with the Red Sox organization (2004-2012) and was a vital member...
This guy is a Yankee. And it's weird. (Photo courtesy of Flickr) Things in Tampa continue to heat up. Youk arrived yesterday and already stirred up the fan base by saying he will "always be a Red Sock." I think if we resist the knee-jerk reaction to overreact, we can understand where he's coming from, but it was still an interesting choice of words on his first day in pinstripes...
MLB News

Delivered to your inbox

You'll also receive Yardbarker's daily Top 10, featuring the best sports stories from around the web. Customize your newsletter to get articles on your favorite sports and teams. And the best part? It's free!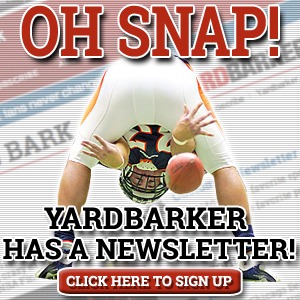 Latest Rumors
Best of Yardbarker

Today's Best Stuff

For Bloggers

Join the Yardbarker Network for more promotion, traffic, and money.

Company Info

Help

What is Yardbarker?

Yardbarker is the largest network of sports blogs and pro athlete blogs on the web. This site is the hub of the Yardbarker Network, where our editors and algorithms curate the best sports content from our network and beyond.