Found July 01, 2012 on isportsweb.com:
Talk about free falling. The Dodgers began the week as a team in control and ended it as a team in total disarray. The math is simple – they have been shutout five times in their last six games and have scored a whopping two runs in their last 57 innings.  The last home run hit by a Dodger was eight games ago on June 22nd.    The team batting average for the month of June was .212.   To quote Scotty, "Captain, we've got no power." The Dodgers are hoping the Astros Carlos Lee accepts the trade the two teams reportedly have in place. No question the Dodgers need to make a move now. Naturally, the first question is what positions need the most drastic improvement? The corners are a good place to start. First baseman James Loney, who seems to be the subject of trade rumors more often than the Kardashians date basketball players, continues to irk fans and management with his inconsistency. After batting .288 last season, including a torrid .348 in September, Loney has fallen off to .236 with two home runs in 2012. The Dodgers have a deal in place to obtain Astros first baseman/outfielder Carlos Lee (.285, 5 HR).  Lee , 36, is in the final year of a $100 million contract which includes the right for him to veto this trade.  ESPN is reporting the Dodgers will only have to part with one minor league pitcher but would be responsible for a large portion of the $8 million Lee is still owed this year.  As of Sunday morning,  July 1st, Lee is still mulling over his decision to become a Dodger. Third baseman Juan Uribe (.205, 1 HR, 3 RBI) has been hampered by a sore wrist all season and is 2 for his last 26 . The wrist may make a good excuse this season but this guy is working on becoming one of the worst Dodgers free agent signings since outfielder Andruw Jones took a $38 million deal in 2008 and paid back the team with  3 HR, 14 RBI, and a .158 batting average.   One third baseman who might be on the move is the Orioles Mark "The Strikeout King" Reynolds. The Orioles recently obtained Jim Thome to DH and Wilson Betemit has done a serviceable job (.275, 10 HR) at third. The knock on Reynolds, of course, has been his propensity to strike out. In 2012, he has struck out 67 times in 177 at bats.  In spite of that ration, his six home runs and 22 RBI represent a noticeable upgrade at third for the Dodgers. Although offense is obviously the number one priority right now, the Dodgers desperately need another starting pitcher and could use a left-handed relief pitcher.  Ted Lilly remains out and his replacement, Nathan Eovaldi, has been terrible as of late. In his last two starts, Eovaldi has given up 13 runs and 17 hits in 10.1 innings.  Chad Billingsley , who started the season as the number #2 starter is laying a number 2.  In his last three starts, Billingsley is 0-3 and has given up 13 runs and 27 hits in 17 innings.  The name Ryan Dempster of the Cubs has been bantered about for months now.  There are also rumors the Brewers may be shopping Zack Greinke and the Phillies are listening to offers for Cole Hamels.  Both pitchers become free agents after this season. The Dodgers have one lefty, Scott Elbert, in the bullpen. Elbert (0-1, 2.88 ERA) has been erratic this season but may be settling down a little bit. He has given up just two runs in his last 10 appearances. On the bright side is that Matt Kemp says he will return on July 13th and Andre Ethier, who is battling a strained oblique, does not have to go on the DL and remains day to day. And another bright note can be found in going back to 1988.  In September of that year, the Dodgers batted a woeful .202 as a team. They finished the year hoisting the World Series Championship trophy.
Original Story:
http://feedproxy.google.com/~r/isport...
THE BACKYARD
BEST OF MAXIM
RELATED ARTICLES
Look, I understand the Dodgers are struggling right now. They've lost six games in a row, Matt Kemp is still on the disabled list, Andre Ethier could end up there and the they've scored a grand total of 15 runs in their last 11 games. Still, that's no reason to panic. That's no reason to trade valuable assets for Carlos Lee. As I'm sure you've heard...
Matt Kemp was voted in by the fans and Clayton Kershaw was selected by National League Manager Tony LaRussa to represent the Dodgers at the 83rd All-Star Game in Kansas City in a couple weeks. Kemp, despite not playing since May 30, was voted in by the fans, capturing nearly 5.5 million votes. At one point, he was the leading vote-getter in the league. He edged out Ryan Braun...
James Loney had two RBI, and the offensively challenged Los Angeles Dodgers parlayed three errors by the New York Mets into six unearned runs to help Clayton Kershaw win 8-3 on Sunday night and avoid a sweep. Kershaw (6-4) allowed three runs (one earned) and five hits over seven innings with nine strikeouts and three walks. Last year's NL Cy Young winner, named to the All-Star...
Andre Ethier will not take part in the 2012 Home Run Derby, and the right fielder might also be headed for the disabled list as he deals with a strained left oblique. Ethier has missed the last four games after injuring his oblique on a check swing in San Francisco on Wednesday. Manager Don Mattingly has been weighing the options of waiting for Ethier's return before the All...
LOS ANGELES--Prior to the Dodgers' run-scoring explosion that broke a seven game losing streak and gave them an 8-3 win over the New York Mets Sunday night, manager Don Mattingly wasn't sure what else he could do to get his team a run--let alone a win. "You're almost at the point where all you can do is laugh and just crank it up again and get ready for the next...
Even though it has very little to do with baseball, Star Wars seems to be all the rage at MLB stadiums these days. Last month, Arizona Diamondbacks FOX Sports announcers Mark Grace and Daaron Sutton dressed up as Stormtroopers to promote the team's "Star Wars Night" at Chase Field. And Monday evening, the Dodgers hosted a similar fan event at Dodger Stadium, only this...
LOS ANGELES -- Clayton Kershaw found out before Sunday's game that he had been selected to the National League All-Star team for the second consecutive season. On Sunday night, the Los Angeles Dodgers ace showed why in an 8-3 victory over the New York Mets at Dodger Stadium. The win snapped a season-high, seven-game losing streak for the Dodgers, who remain one game behind...
National League captain Matt Kemp of the Dodgers announced Sunday night that Giancarlo Stanton of the Marlins, Carlos Beltran of the Cardinals and Carlos Gonzalez of the Rockies will join him as the National League's four participants in the Home Run Derby on Monday, July 9, at Kauffman Stadium in Kansas City. Although Kemp has been sidelined since May 30 with a strained left...
Dodgers outfielder Matt Kemp has asked Carlos Beltran, Carlos Gonzalez and Giancarlo Stanton to join him on the NL side for the All-Star home run derby. Kemp made the invitations Sunday. The rosters for the All-Star game July 10 in Kansas City were announced earlier in the day. Kemp is on the disabled list because of a strained left hamstring. He is unlikely to play in the game...
Dodgers outfielder Matt Kemp has asked Carlos Beltran, Carlos Gonzalez and Giancarlo Stanton to join him on the NL side for the All-Star Home Run Derby. Kemp made the invitations Sunday. The rosters for the All-Star Game July 10 in Kansas City were announced earlier in the day. Kemp is on the disabled list because of a strained left hamstring. He is unlikely to play in the game...
LOS ANGELES (AP) -- Rookies Devin Mesoraco and Todd Frazier each drove in three runs and the short-handed Cincinnati Reds beat the Los Angeles Dodgers 8-2 Monday night. The Reds scored all of their runs after rookie shortstop Zack Cozart was hit in the helmet by a pitch from Chad Billingsley in the fifth inning. Cozart held his head with both hands while lying on his stomach for...
Dodgers News

Delivered to your inbox

You'll also receive Yardbarker's daily Top 10, featuring the best sports stories from around the web. Customize your newsletter to get articles on your favorite sports and teams. And the best part? It's free!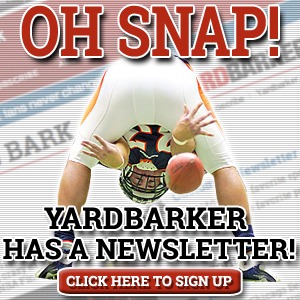 Latest Rumors
Best of Yardbarker

Today's Best Stuff

For Bloggers

Join the Yardbarker Network for more promotion, traffic, and money.

Company Info

Help

What is Yardbarker?

Yardbarker is the largest network of sports blogs and pro athlete blogs on the web. This site is the hub of the Yardbarker Network, where our editors and algorithms curate the best sports content from our network and beyond.