Found March 01, 2013 on Fox Sports:
Mike Lowell grew up in Miami, helped the Marlins win a World Series and knows all too well about the franchise's tradition of humble payrolls and modest crowds. Back in uniform this week as a special instructor, Lowell says the team can win again and win back fans, but it will take time. And he sympathizes with South Floridians angry the Marlins this season will be near baseball's basement in payrolls -- again. The return to a tight budget comes after a brief spending binge and only one year in the long-sought new ballpark that was supposed to transform the franchise. ''You just had so much hope,'' Lowell said. ''You've been wanting for this for 15 years and you get it, and it seemed like it didn't last very long. ''But it's not my team. It's not my money. They have the right to do what they want. But there's going to be a consequence.'' While the Marlins' latest payroll purge will keep disenchanted fans away, Lowell said it might also deter future free agents from considering Miami. All-Stars Jose Reyes, Mark Buehrle and Heath Bell signed free-agent deals before the 2012 season, and all have already been traded. ''Players read contracts and see that Jose Reyes and Mark Buehrle got traded in the first year of a long-term deal,'' Lowell said. ''They're going to think twice about it. It'll definitely be an issue.'' Owner Jeffrey Loria ordered a roster shake-up after the Marlins finished last in NL East with a $90 million payroll, so Reyes, Buehrle and Josh Johnson were traded to Toronto. ''I understand the team lost a lot of games,'' Lowell said. ''But I think it would be hard to say they lost a lot of games because of Jose Reyes, Mark Buehrle and Josh Johnson.'' Even so, Lowell's rooting for the Marlins, in part because his close friend Mike Redmond is the new manager. They were Marlins teammates for six seasons after the `97 World Series champions were dismantled. Lowell was a rookie in 1999, the roster was the youngest in the majors and the Marlins lost 98 games. Four years later many of the same players -- including Lowell and Redmond -- celebrated a World Series championship. Redmond envisions the same sort of development in the next few years, and he invited Lowell to spend a few days with the team. ''I just want him to be around to be a sounding board for some of our young players who have this opportunity,'' Redmond said. ''Mike got an opportunity because of getting rid of a lot of the players in `97. It was the same opportunity as now. He made the most of his opportunity, and look what he accomplished.'' Lowell spent 12 years in the majors and was a four-time All-Star third baseman. He was the World Series most valuable player in 2007 when he led Boston's memorable title run, and he wore a Red Sox uniform while visiting their camp earlier this week. But he's still a Marlin. Lowell attended about a half dozen games in their new ballpark last season, and he'll be back for more this year -- unlike many others. While it seems fan ire has never been higher in South Florida, Lowell predicted attendance will rise again if and when the team is successful. ''Winning cures everything,'' he said. ''And there's good talent here. It's just, when does the talent pan out? Two years? Five years? One year? The fans want it to pan out now, which is normal.''
Original Story:
http://msn.foxsports.com/mlb/story/mi...
THE BACKYARD
BEST OF MAXIM
RELATED ARTICLES
Mike Lowell grew up in Miami, helped the Marlins win a World Series and knows all too well about the franchise's tradition of humble payrolls and modest crowds. Back in uniform this week as a special instructor, Lowell says the team can win again and win back fans, but it will take time. And he sympathizes with South Floridians angry the Marlins this season will be near baseball...
Javier Vazquez will not pitch for Puerto Rico in the World Baseball Classic. Agent Seth Levinson said Thursday that the 36-year-old right-hander had surgery to repair a torn meniscus in his right knee. Levinson says Vazquez still plans to travel with the team, which plays the Dominican Republic, Spain and Venezuela in Group C starting March 7. Vazquez last pitched in the major...
The hope was that Clay Buchholz would pitch two innings in his spring training debut on Saturday. He didn't accomplish that feat, but all was not lost in the right-hander's effort. Buchholz was lifted in the second inning after throwing 40 pitches, 22 of which were strikes. He had to battle on a number of occasions, and he gave up a hit and walked two batters, so it was far from...
Despite the headline, it really isn't breaking news. Allen Webster is a damn good prospect. Sadly, not everyone knew that heading into spring training 2013. From Pete Abraham of Boston.com: "Webster in two appearances this spring: 5 IP, 3 H, 1 R, 1 ER, 1 BB, 6 K. He has been 95-99 with his four-seam fastball and shown an an excellent changeup along with a two-seam...
Jon Lester has been nothing short of magnificent so far this spring training. He has started 2 games and has a 2-0 record. In his most recent outing, Friday night against the Pittsburgh Pirates he pitched 3 scoreless innings, had 2 strikeouts, one walk and one hit. Lester increased his workload since his first start, this time throwing 46 pitches, 28 of them for strikes. Lester said...
Mike Napoli aced every test slapped on his desk on Friday night. Napoli, making his spring training debut for the Red Sox, made a few plays in the field, contributed an RBI single to kick off Boston's scoring and left no doubt that he's healthy with Opening Day exactly one month away. Napoli was diagnosed with a hip condition known as avascular necrosis during the offseason,...
"The Flyin' Hawaiian" should bring much needed energy to the top of the Red Sox lineup The Red Sox had a ready-made replacement for former right fielder J.D. Drew as his contract expired after the 2011 season in Josh Reddick.  Unfortunately the Sox had to use Reddick as a chip to acquire reliever Andrew Bailey.  That left the Sox with a gaping hole in right field for the...
Will Middlebrooks' injury dominated the headlines following Wednesday's game against the Orioles, but he wasn't the only member of the Red Sox who came away from the spring training contest a little banged up. Jonny Gomes banged into the outfield fence and cut his knee, which required three stitches, according to manager John Farrell. The minor injury presumably occurred when...
Bloomberg would sh*t if the Mets did this.
Tonight the Boston Red Sox will host a split-squad from the Pittsburgh Pirates at JetBlue Park at Fenway South. First pitch is scheduled for 7:05 p.m. The game will be televised in the Red Sox television market on NESN. You can also listen to the game on WEEI in the New England area. If you have the MLB At-Bat app, you can listen to the game on there or if you got an RSN Membership...
Eventually the whole "he said, she said" charade that is going on between Jose Reyes and Miami Marlins owner Jeffrey Loria will fizzle out, but for now it would appear that Reyes is not content to just let it go. Earlier this month, Reyes claimed Loria encouraged him to buy a home in Miami just days before trading him to the Toronto Blue Jays. Loria fired back by saying that...
MLB News

Delivered to your inbox

You'll also receive Yardbarker's daily Top 10, featuring the best sports stories from around the web. Customize your newsletter to get articles on your favorite sports and teams. And the best part? It's free!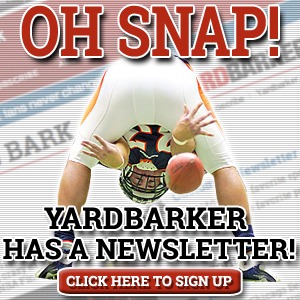 Latest Rumors
The Backyard

Today's Best Stuff

For Bloggers

Join the Yardbarker Network for more promotion, traffic, and money.

Company Info

Help

What is Yardbarker?

Yardbarker is the largest network of sports blogs and pro athlete blogs on the web. This site is the hub of the Yardbarker Network, where our editors and algorithms curate the best sports content from our network and beyond.