Found November 21, 2012 on Pirates Prospects:
LUIS SANZ RIGHT HANDED PITCHER Born: November 19, 1987 Height: 6'1″ Weight: 173 Bats: Right Throws: Right Signed: Int'l Free Agent, 2005 (Tigers) How Acquired: Minor League Free Agent Country: Venezuela Agent: N/A WTM'S PIRATE PLAYER PROFILES Sanz signed with Detroit out of Venezuela.  He throws in the upper-80s to low-90s, with a curve and a fringy change.  He's never been regarded as a prospect and made his way up very slowly, sticking in full season ball only at age 24.  He's generally had mediocre walk and K rates, and is not a groundball pitcher.  The Pirates signed him to a minor league deal for 2013. 2006 VSL:  2-3-5, 5.33 ERA, 1.70 WHIP, 27.0 IP, 4.0 BB/9, 5.0 K/9 Sanz pitched mainly as a closer in his debut season and didn't get very good results. 2007 VSL:  6-3-0, 3.58 ERA, 1.38 WHIP, 73.0 IP, 3.9 BB/9, 5.1 K/9 The Tigers moved Sanz to their VSL rotation and he pitched better, although still with a low K rate. 2008 R:  5-3-0, 3.66 ERA, 1.16 WHIP, 51.2 IP, 3.3 BB/9, 8.4 K/9 Sanz continued to improve as a starter in rookie ball, with solid walk and K rates. 2009 A-:  5-4-0, 3.27 ERA, 1.29 WHIP, 82.2 IP, 3.8 BB/9, 6.6 K/9 A:  0-1-0, 8.64 ERA, 1.74 WHIP, 16.2 IP, 4.3 BB/9, 5.4 K/9 Sanz pitched mostly as a starter in short season ball and regressed a little, mainly in the for of a low K rate.  He struggled in limited action out of the bullpen in low A. 2010 A-:  3-0-0, 0.56 ERA, 1.13 WHIP, 16.0 IP, 3.9 BB/9, 8.4 K/9 A:  4-7-0, 5.38 ERA, 1.56 WHIP, 87.0 IP, 4.4 BB/9, 6.4 K/9 Sanz again split his time between short season ball and low A, this time mostly the latter, where he served as a swing man.  He didn't get good results, with poor walk and K rates. 2011 A-:  6-4-0, 2.81 ERA, 1.08 WHIP, 83.1 IP, 2.5 BB/9, 8.2 K/9 A+:  0-0-0, 4.50 ERA, 1.33 WHIP, 6.0 IP, 3.0 BB/9, 4.5 K/9 The Tigers sent Sanz back down to short season ball.  He pitched very well in 14 starts, but that's hardly a sign of progress considering that it was his sixth professional season.  He made one start in high A. 2012 A:  1-0-0, 0.00 ERA, 0.94 WHIP, 5.1 IP, 3.4 BB/9, 6.8 K/9 A+:  11-3-0, 3.46 ERA, 1.29 WHIP, 114.1 IP, 3.1 BB/9, 7.2 K/9 Sanz finally spent a year in high A and had a good season, although the pitcher-friendly environs of the Florida State League probably helped.  He made 16 starts and seven relief appearances.  His K rate was below the league average of 7.4. Sanz doesn't look like more than minor league depth.  The Pirates won't have much talent advancing from Bradenton to Altoona, so they'll probably have a need for pitchers (and hitters) in AA.  Sanz could pitch in the rotation or in relief for the Curve, or most likely both. STATS Baseball Reference–Minors Fangraphs MiLB.com CONTRACT INFORMATION 2013: Minor league contract PLAYER INFORMATION Signing Bonus: N/A MiLB Debut: 2006 MLB Debut: N/A MiLB FA Eligible: 2013 MLB FA Eligible: N/A Rule 5 Eligible: Eligible Added to 40-Man: N/A Options Remaining: 3 MLB Service Time: 0.000 TRANSACTIONS December 12, 2005: Signed as an international free agent by the Detroit Tigers. November 3, 2012: Became a free agent. November 21, 2012: Signed as a minor league free agent by the Pittsburgh Pirates.
Original Story:
http://feedproxy.google.com/~r/Pirate...
THE BACKYARD
BEST OF MAXIM
RELATED ARTICLES
There probably couldn't be a worse year in recent memory for the Detroit Tigers to be seriously considering an upgrade to their shortstop position. There is a large pool of people out there who feel that the Tigers re-signed Jhonny Peralta to his $6M option year so that they could move him in a trade and upgrade the shortstop position along the way. Peralta came to the Tigers at...
Go and get the tissue box Tiger fans, Ryan Raburn has been released. The announcement of Raburn's outright release came Tuesday afternoon as the Tigers made adjustments to their 40 man roster. The veteran utility man who was good for 45 home runs and 156 RBIs between 2009-2011 was set to make $2.1 million through the arbitration process. This obviously wasn't at all worth it...
The Ryan Raburn era in Detroit came to a quiet end Tuesday afternoon. In a press release announcing that the Tigers had added pitching prospects Melvin Mercedes and Bruce Rondon to the 40-man roster, along with shortstop Dixon Machado, there was a quiet mention that the Tigers had released Raburn. Raburn played seven seasons for the Tigers, playing six positions, but none of them...
– According to Danny Knobler of CBSSports, the Arizona Diamondbacks are interested in short stop Jhonny Peralta, but they won't trade him until they find a better short stop than him. – The Detroit Tigers released utility player Ryan Raburn reports Brian Britten, the Tigers' Director of Media Relations. A move that clears a spot on the 40-man roster towards the Rule-5...
The Detroit Tigers have released outfielder Ryan Raburn. Raburn started the 2012 season as a big part of Detroit's plans, but the 31-year-old hit just .171 in 66 games. The Tigers also purchased the contracts of right-handers Bruce Rondon and Melvin Mercedes, and shortstop Dixon Machado from Triple-A Toledo. Detroit sent right-hander Tyler Stohr outright to Toledo. The 21...
Dan and Torii Hunter were discussing Hunter's athletic son this morning when the new Tigers right fielder dropped an "incognegro." Priceless morning radio/TV show history right here. [@dpshow] Filed under: Video
DETROIT What now for the Tigers? Signing right fielder Torii Hunter was a great start, but my guess is that there will be at least two more significant deals or signings. Deciding what to offer pitcher Anibal Sanchez -- whose interest will heighten after top pitcher free-agent Zack Greinke signs -- and making at least one significant starting lineup move appear to be in the offing...
Ryan Raburn was released by the Detroit Tigers on Tuesday, putting an end to Raburn's roller-coaster run in the Motor City. Continue reading →
Late Tuesday afternoon, a second interesting clue was released as to the possible next offseason move of the Detroit Tigers. First, it was reported that the Arizona Diamondbacks were interested in Jhonny Peralta. A short time later, the Tigers were … Continue reading →
According to CBS Sports' Jon Heyman, free agent short stop Stephen Drew is drawing interest from several clubs including the Detroit Tigers who just exercised a $6 million dollar team option on infielder Jhonny Peralta for the 2013 season. Drew became a free agent this offseason after the A's declined their half of a $10 million dollar mutual option though according to MLBTradeRumors...
BROOKS BROWN RIGHT HANDED PITCHER Born: June 20, 1985 Height: 6'3″ Weight: 210 Bats: Left Throws: Right Drafted: 1st round, 34th overall, 2006 (Diamondbacks) How Acquired: Minor League Free Agent College: University of Georgia Agent: N/A WTM'S PIRATE PLAYER PROFILES Brown was a supplemental first round pick of Arizona in 2006 on the strength of a fastball...
Yes, Miguel Cabrera won the AL MVP and deservedly so. But that doesn't mean that Mike Trout didn't also deserve to win the award. This year's award is more important than who came in first. This year marks the beginning of a war. A war on WAR, or Wins Above Replacement, a new sabermetric statistic that is supposed to more thoroughly express a player's all around impact on...
MLB News

Delivered to your inbox

You'll also receive Yardbarker's daily Top 10, featuring the best sports stories from around the web. Customize your newsletter to get articles on your favorite sports and teams. And the best part? It's free!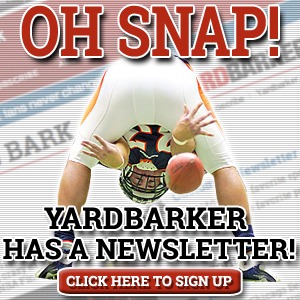 Latest Rumors
Best of Yardbarker

Today's Best Stuff

For Bloggers

Join the Yardbarker Network for more promotion, traffic, and money.

Company Info

Help

What is Yardbarker?

Yardbarker is the largest network of sports blogs and pro athlete blogs on the web. This site is the hub of the Yardbarker Network, where our editors and algorithms curate the best sports content from our network and beyond.