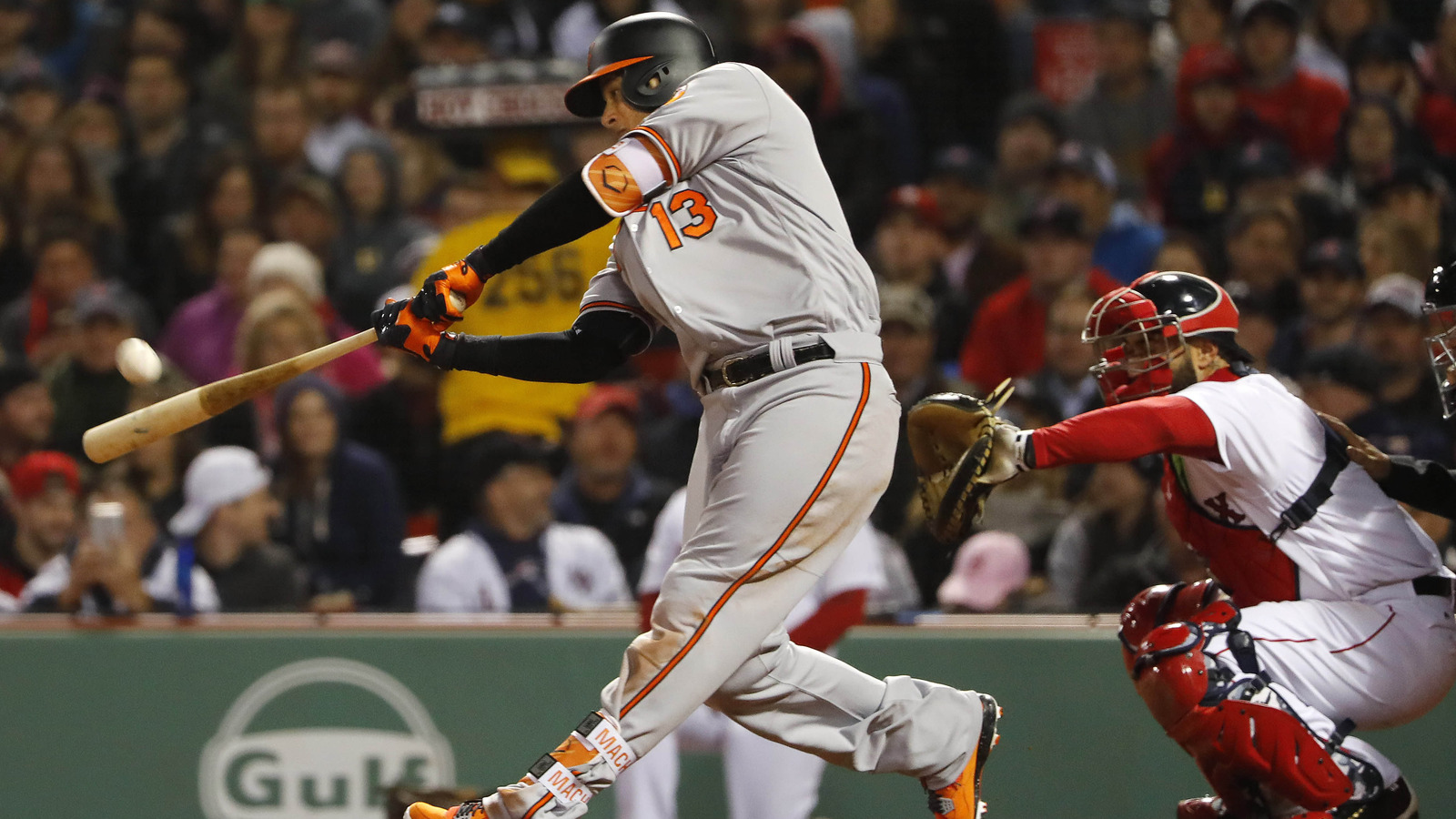 Orioles third baseman Manny Machado (13) hits a home run against the Boston Red Sox during the sixth inning at Fenway Park.
Winslow Townson-USA TODAY Sports
Manny Machado had a fantastic game in a 5-2 win over the Boston Red Sox Monday night, both at the plate and in the field. And when he belted a solo home run to give the Baltimore Orioles a 2-0 lead in the sixth inning, it certainly felt like he was sticking it to the fans at Fenway Park while rounding the bases.
Not so, says the three-time All-Star.
Although it took him 29.2 seconds to make his way around the base paths (one of the most deliberate trots of his career), Machado insists the victory jog was no different.
"I mean, that's normal. Nothing different," he said, per Roch Kubatko of MASN Sports. "I see the ball like I always do and I start running the bases."
You can see a video of Machado's home run trot here.
Of course, the timing is what made it seem intentional. In last week's Red Sox-O's series, Machado slid hard into Dustin Pedroia and injured his ankle. Red Sox reliever Matt Barnes seemingly retaliated by throwing a pitch near Machado's head two games later, and Pedroia actually grabbed Machado's back in an incredibly bizarre sequence of events.
Machado claims those incidents did not give him any additional motivation.
"I mean, it's been over. It's been over. We're just here trying to play baseball," he said. "I know both teams are going to try to win a pennant, and we just have to go out there and just keep playing baseball like we've been doing and not worry about those things. Those things are, like I said before, it's short-term memory. We leave it in the past and move forward."
No matter what he says, blasting a home run over the green monster had to have felt just a little bit better this time around. The Red Sox and Orioles feel like they are on the verge of a fiery rivalry.
MORE FROM YARDBARKER
MLB News

Delivered to your inbox

You'll also receive Yardbarker's daily Top 10, featuring the best sports stories from around the web. Customize your newsletter to get articles on your favorite sports and teams. And the best part? It's free!