Found October 17, 2012 on NESN.com:
After the Cardinals' Matt Holliday wiped out Giants second baseman Marco Scutaro with a hard slide in Monday night's San Francisco win, the Giants were emphatic in saying they thought Holliday was out of line. Holliday slid all the way across second base and pulled Scutaro down in a near tackle when trying to break up a double play. While Holliday said after the game that he didn't mean any harm, the Giants were upset and called the slide illegal. Scutaro had to leave the game with a hip injury (although he did get some revenge with a timely hit -- through Holliday's legs -- before leaving). Going into Wednesday night's Game 3, the question is whether the Giants will take their gripes onto the field and give the Cardinals some payback for roughing up their second baseman. Giants manager Bruce Bochy denied any retaliation Tuesday, saying the team hopes to have Scutaro back and will move on from the Game 2 incident, according to Andrew Baggarly of Comcast Sport...
Original Story:
http://www.nesn.com/2012/10/matt-cain...
THE BACKYARD
BEST OF MAXIM
RELATED ARTICLES
Listen, I understand why Giants manager Bruce Bochy is upset. The Cardinals' Matt Holliday slid late into Giants second baseman Marco Scutaro, injured Scutaro's left hip, forced him to eventually leave the game. If Scutaro is unable to return for Game 3, this issue will only become bigger, and the hostilities might only grow. That said, all those livid with Holliday should...
'MY BAD'
Your browser does not support iframes.Matt Holliday went out of his way to wish Marco Scutaro well before the Giants and Cardinals played Game 3 of the NLCS, ending what appeared to be some bad blood over a harsh takeout slide in Game 2.Holliday slid well beyond second base on Monday in an attempt to take out the Giants second baseman and prevent a double play. Scutaro stayed in...
During the playoffs, you often see teams and players step it up a notch.  Pitchers usually throw one or two miles per hour faster.  Hitters usually are locked in and more patient at the plate.  Base runners usually run just a little bit harder. St. Louis Cardinals outfielder Matt Holliday was running especially hard in Game Two of the National League Championship Series against...
Gotta love the mind games of the post season.  Nothing like facing the same team for up to seven games to try to get in their head.  Or is he?  Beat writer Andrew Baggarly Tweeted that Cain will throw inside on Holliday, under the guise of getting him out.  But if one gets away… Cain said he won't be timid about throwing inside to Holliday, but only as part of plan to get...
Marco Scutaro answered Matt Holliday's hard takeout with a big hit of his own to help the San Francisco Giants end their home slide. Scutaro hit a two-run single in San Francisco's four-run fourth inning to help the Giants get their first home win this postseason, 7-1 over the St. Louis Cardinals on Monday night that tied the NL championship series at one game apiece. The...
ST. LOUIS Kyle Lohse has made the most of these moments. They come like gold nuggets in a season-long dig: An efficient start here, a clutch postseason showing there, more signs of growth from the seasoned 34-year-old, more proof that he has placed himself in prime position for whatever comes after this contract year. The moments occur in a vacuum for the St. Louis Cardinals&...
Until last night I wasn't particularly going full jihad on the St. Louis Cardinals even though they stand in the way of the San Francisco Giants making the 2012 World Series. The reasons for that are several and straightforward.First, there's the lingering legacy of Tony La Russa around the Red Birds and I have always admired La Russa's respect for the game and its history...
BEHIND YOU!
San Francisco Giants pitcher Matt Cain was photobombed by teammate Sergio Romo during a live interview from the dugout with the FOX television broadcasting crew during Monday night's NLDS Game 2. It happened in the bottom of the fourth inning as Cain was talking with Joe Buck from the dugout. Romo positioned himself behind Cain, but ducked out of camera view, and started making...
It appears that San Francisco Giants pitcher Sergio Romo is doing his best to photobomb others during the National League Championship series. Back on Monday, it was Fox Sports reporter Erin Andrews and last night, Giants pitcher Matt Cain was his latest victim: Your browser does not support iframes.
The Giants with runners in scoring position last night were abysmal. The Giants put a bunch of guys on base and then decided that it would be rude to their hosts to drive them in. For those that want to take a stroll through the nightmare I am going to go through each at bats the Giants had taking a detailed look at each one. Top of the 2nd: Brandon Belt walks, Gregor Blanco...
Game 3 of the NL championship series resumed Wednesday night after a 31/2-hour rain delay with the St. Louis Cardinals leading the San Francisco Giants 3-1 in the seventh inning. There were puddles on the warning track when play restarted and the temperature was 57 degrees, down 8 degrees from the first pitch. During the delay, Game 4 of the AL championship series between the New...
MLB News

Delivered to your inbox

You'll also receive Yardbarker's daily Top 10, featuring the best sports stories from around the web. Customize your newsletter to get articles on your favorite sports and teams. And the best part? It's free!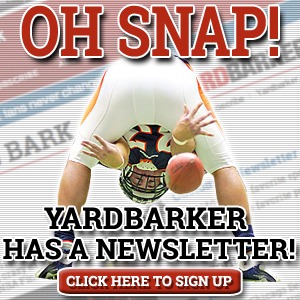 Latest Rumors
Best of Yardbarker

Today's Best Stuff

For Bloggers

Join the Yardbarker Network for more promotion, traffic, and money.

Company Info

Help

What is Yardbarker?

Yardbarker is the largest network of sports blogs and pro athlete blogs on the web. This site is the hub of the Yardbarker Network, where our editors and algorithms curate the best sports content from our network and beyond.