Found April 22, 2013 on Mets Fan Club:
TweetIt's hard to predict good things when the Mets get together to play the reigning NL East champions, regardless if the games are home or away. So when you look at Mets/Nationals with pitching matchups of Harvey/Strasburg, Hefner/Gonzalez, and Gee/Zimmerman, you can't logically expect a series win. Or even just one win (although that's really becoming the case with Harvey on the mound). But the Mets did just that, defying logic on so many levels to take two out of three at Citi Field. Based on his last couple of outings, can the Mets logically expect Dillon Gee to throw shutout ball for almost six innings? He did exactly that in yesterday's impressive 2-0 win. But even more so, can anyone logically expect a bullpen of Hawkins, Lyon, Rice, and Parnell to hold the lead against one of the best hitting teams in baseball? That's why they play the game. We've all seen players start off the season strong, but can we logically expect lifetime hitting .236 John Buck to continue pounding the ball almost into May? After hitting another dinger yesterday, Buck now has 7 homeruns and 22 rbi for the year so far. Travis d'who? And we've also seen the results of that Bobby Parnell closing experiment over the past few years and it has not been pretty. How can you logically expect him to close games this year? But he has, and gained his second save of the year yesterday, striking out two and pitching to a 1.35 era. This makes no sense! But we Mets fans of course will take it. Does it make any sense that a light hitting team would smack 4 dingers in a game started by Stephan Strasburg? (even though 2 of them where hit in the 8th inning after Strasburg had left the game). Ike Davis going yard twice with his struggles? And Lucas Duda of all people hitting .308 with 5 homeruns already? Better enjoy it while it lasts. And finally, when you put a young hard-throwing pitcher in a bases loaded, no out situation in the seventh inning of a close game, you can't logically expect him to get out of it unscaled. That's what Matt Harvey faced in the Mets 7-1 win Friday night. He bore down, struck out Kurt Suzuki on a slider off the plate, got pinch-hitter Roger Bernadina on a popup and forced a ground out from Denard Span. He then walked off the mound to a standing ovation. Whether his name is Matt Harvey or not, you have to be impressed by this kid's composure, proving once again any team's tired starting pitcher, regardless of his pitchcount, flu like symptoms, headache, or shoulder pain is STILL BETTER than any of the team's best middle reliever in the bullpen. Your bullpen is your bullpen for a reason – the pitchers aren't good enough to start or close – which is why automatically going to your bullpen for the seventh, eighth, and ninth innings completely defies logic as well. "Peyton, you played a great game, but we're putting in the backup quarterback for the final two minutes of the game because he's left-handed." You see how ridiculous that sounds? Yet major league managers use that logic all the time with their bullpens. How much sense does that make? Yet the Mets took two this weekend somehow. Bring on the Dodgers and Kershaw! Share on Facebook
Original Story:
http://metsfanclub.com/mets-defy-logi...
THE BACKYARD
BEST OF MAXIM
RELATED ARTICLES
"Harvey Day" is something many of us have been celebrating since Matt Harvey's very first start last season and the idea has taken on a life of it's own. With that in mind, I came up with this poem on a whim Tuesday night. It is set (obviously) to the rhythm and tone of "Twas the Night Before Christmas" and should be read as you tucked your kids into bed on Harveve. I...
Whenever a player does well in April, any seasoned baseball fan will be quick to point out that it is still early. The Mets might not be very good this year, but Matt Harvey seems to be grabbing all the attention as an ace in the making. The question is, how good can he be? Through four starts this season, Harvey has gone 4-0 with a 0.93 ERA. Batters are hitting just .108 against...
Tom Seaver. Mike Mussina. Roger Clemens. Dwight Gooden. Matt Harvey has been compared, whether it be stuff, demeanor or franchise history, in some way has been compared to them all. Yes, it is not fair. Yes, it places unreasonable pressure. But, that's the nature of covering and following sports. Managers, general managers and players all do it, too. HARVEY: Keeps burning. (AP...
The hard-throwing, 24-year-old Matt Harvey has quickly become a must watch when he toes the rubber for the Mets. Called up in late July of last year, Harvey and his blistering fastball (94.6 average velocity) currently sport a 31.3% strikeout rate and an ERA- of 25 — no, not 75, 25. In 2013, Harvey has made four starts, lasting at least seven innings in each appearance. He has...
As the early season gives us frauds, it also gives us the real deals. Many believe that Matt Harvey is the real deal and that Jackie Bradley, Jr. might have been brought up too soon. Which trends are believable and which ones will turn out to be like Saved By The Bell – just not that good in retrospect? Here are some that I believe will continue as the season progresses.  P.S...
New York Mets baseball is in full swing and for a lot of us that means fantasy baseball season is also well underway.  Matt Harvey, David Wright, John Buck and the rest of the Mets have helped bring some newfound excitement to Queens, giving fans hope for what many thought would be a 'lost' 2013 season.  That same hope may or may not be in tact for your fantasy baseball team...
Starting Lineup Ruben Tejada – SS Daniel Murphy – 2B David Wright – 3B John Buck – C Ike Davis – 1B Marlon Byrd – RF Lucas Duda – LF Juan Lagares – CF Matt Harvey – RHP Game Notes Jon Niese is expected to throw a scheduled side session tomorrow, but remains on target to make his next start according to Terry Collins, although he'll feel a lot better when he...
Matt Harvey is currently speaking to Mike Francesa on WFAN. To listen to his live interview, click here.
John Buck hit his seventh home run of the season, Dillon Gee earned his first win and the New York Mets beat the Washington Nationals 2-0 on Sunday to take two of three games from the NL East champions. Coming off a pair of poor starts, Gee (1-3) pitched three-hit ball for 5 2-3 innings and New York finally got a strong effort from its struggling bullpen, which entered with the...
The New York Mets (9-8) bounced back from a disappointing 7-6 loss to the Washington Nationals on Saturday, and took the series with a convincing 2-0 win this afternoon at Citi Field. The team is once again, a game over .500 for the year. Dillon Gee bounced back from a couple of brutal starts and tossed 5.2 innings, allowing just three hits and three walks while striking out six...
Baseball is such a great sport. There is something for everyone, offense, defense, strategy, statistics, history and pitching. I'll take a well pitched game over a slugfest any day. When you look at the Washington Nationals starting rotation, you just got to love what you see: Stephen Strasburg, Gio Gonzalez (one of my favorites), Jordan Zimmermann, and Dan Haren. This is a team...
Starting Lineup Jordany Valdespin – CF Daniel Murphy – 2B David Wright – 3B Ike Davis – 1B John Buck – C Lucas Duda – LF Mike Baxter – RF Ruben Tejada – SS Dillon Gee – RHP Game Notes John Buck drove in his 21st run yesterday. Twelve other Mets have finished April with at least 20 RBI, with Jeff Kent holding the franchise record of 26. Buck is tied for the major...
MLB News

Delivered to your inbox

You'll also receive Yardbarker's daily Top 10, featuring the best sports stories from around the web. Customize your newsletter to get articles on your favorite sports and teams. And the best part? It's free!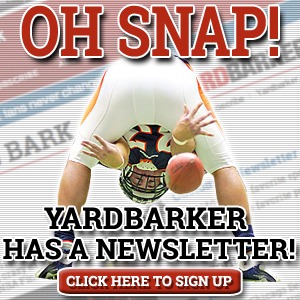 Latest Rumors
The Backyard

Today's Best Stuff

For Bloggers

Join the Yardbarker Network for more promotion, traffic, and money.

Company Info

Help

What is Yardbarker?

Yardbarker is the largest network of sports blogs and pro athlete blogs on the web. This site is the hub of the Yardbarker Network, where our editors and algorithms curate the best sports content from our network and beyond.