Found March 22, 2013 on Taking Bad Schotz:
PLAYERS:
Josh Hamilton
,
Billy Beane
,
Mike Trout
,
Ervin Santana
,
Danny Haren
,
Joe Blanton
,
Jason Vargas
,
Tommy Hanson
,
Mike Napoli
,
Jurickson Profar
,
Leonys Martin
,
Jed Lowrie
,
John Jaso
,
Chris Young
,
Felix Hernandez
,
Carlos Pena
,
Chris Carter
,
Yu Darvish
TEAMS:
Los Angeles Angels
,
Texas Rangers
,
Oakland Athletics
,
Kansas City Royals
,
Washington Nationals
,
Boston Red Sox
,
Seattle Mariners
,
Houston Astros
Stop me when this sentence sounds familiar, "The Angels made the big splash of the offseason." It was like déjà vu, only this time they stole Josh Hamilton from division foe Texas Rangers. Did the Rangers do enough to compete after losing Hamilton? Nah. Did last year's division winning Oakland Athletics do enough to repeat? Probably not, but let's not under estimate Billy Beane. Division Winner: Los Angeles Angels of Anaheim Even though I absolutely hate the contracts the Angels signed in the long term, I think that it will most definitely pay off this year. I think the addition of Josh Hamilton will push them past the Rangers and the A's. Also, I think the subtractions from the Rangers will make it easier for the Angels to win the division this year. This might sounds scary, but Mike Trout might get even better this year after a year in the bigs. But the Angels will need to do all they can to keep Trout from having the typical "Sophomore Slump." The Angels pitching worries me a little because they traded Ervin Santana and released Dan Haren. Those two were replaced by Joe Blanton, Jason Vargas and Tommy Hanson. I am worried about the Angels because of their age and pitching, but I don't have much confidence in the Rangers after losing Hamilton and Mike Napoli. Also, I do not think that the A's will be able to repeat the run they made at the end of the last season to lead them to the playoffs. Other Possible Playoff Teams: Texas Rangers- Hey, you never know. Nobody would have thought the Angels would miss the playoffs and the A's would make it last year. So maybe the Rangers can fill in the losses of Hamilton, Napoli and Michael Young by using some young prospects like Jurickson Profar, Mike Olt, and Leonys Martin. The only question will be whether the pitching can hold up over the course of the season. Oakland A's- They did win the division last season, and were surprisingly a fan team to watch. I thought the A's made a great addition when they added Jed Lowrie to man third base, and adding John Jaso and Chris Young can't hurt (although Young will be just a 4th or maybe even 5th outfielder). The A's have a very young  and promising pitching staff but once again there unpredictable, and on paper the AL West crown seems unlikely. The Rest: Seattle Mariners- Fans in Seattle rejoice, the Mariners will most likely move out of the AL West basement this year! No it's not because of anything special they have done, but really because the division added the Houston Astros. They have Felix Hernandez, but the offense still lacks even with the additions of Michael Morse and Kendrys Morales. Houston Astros- The change of divisions is not going to do them any favors. For a team that lacked depth in the lineup, the new DH spot almost seemed scary at first, but the team adjusted and grabbed at least a little power in Carlos Pena and Chris Carter. Having said that, it doesn't really change anything.  Not only do I expect them to finish last, I will forever hold a grudge against the Astros because I absolutely hate the idea of having Interleague Play all throughout the year. MVP: Mike Trout If Trout can produce even close to how he produced last season, he will probably win the AL MVP. Trout put up historic numbers last year as a rookie and needs to get over the typical "Sophomore Slump." Trout should still hit over .300 and play great defense even with learning a new position. Trout  has the scary capability to be a 40-40 player in the future, but for this year he could be 30-30 and win the MVP. Cy Young: Yu Darvish If not for Mike Trout, Yu Darvish could have been the AL Rookie of the Year. Darvish put up great numbers in his first year in the States and should just get better after spending a year in the Majors and learning the ropes. Darvish won 16 games with an era just under 4. Darvish should be able to improve on his era this year and pick up a few extra wins. If Darvish can lower his era to about a 3.40-3.55, and win 18-19 games, he will be the best pitcher in this division. -Goldberg
Original Story:
http://www.takingbadschotz.com/?p=12998
THE BACKYARD
BEST OF MAXIM
RELATED ARTICLES
For the entirety of Josh Hamilton's major league career, he's been regarded as an elite fantasy option. For a player with only a little stolen base potential, I find it interesting that he's earned this reputation despite some non-stellar power totals. That changed last year as Hamilton hit 43 homers, 11 more than his previous [...]
There is very little doubt that Josh Hamilton is going to be booed when the Los Angeles Angels travel to Arlington this season to face the Texas Rangers. His career in Texas ended on fairly sour terms, and Rangers fans probably became even more irritated with him when Hamilton said Dallas is not a true baseball town. Hamilton will get the reception out of the way early, as the Rangers...
By Rob Goldman - AngelsWin.com Staff Writer In eight seasons with the Angels Nolan Ryan had helped lead the team from obscurity to serious contention. And he had conducted himself with the utmost class, professionalism and dignity. The fans, press and ownership loved him unconditionally, so even though Ryan was without a contract heading into the 1979 off-season, there was little...
Josh Hamilton knows there will be some boos when he returns to Arlington the first week of the season. If he performs the way he did during his first game against Texas on Thursday night, they will be well earned. Hamilton hit one of four home runs for Los Angeles in the top of the fourth inning off Derek Lowe, but the Angels lost 10-9 to the Rangers. ''The guys already...
TEMPE, AZ, March 16, 2013 — AngelsWin.com talks with Joe McDonnell (FOXSportsWest.com and; FoxSports.com), Jeff Fletcher (Orange County Register), Alden Gonzalez (MLB.com), and Victor Rojas (Fox Sports) about the highs and lows of their jobs, their favorite sports moments, and their best and toughest interviews. Moderated by David Saltzer, the Senior Writer for AngelsWin.com...
TEMPE, Ariz. (AP) -- Garrett Richards threw 6 1-3 innings in the longest outing by an Angels pitcher this spring, leading Los Angeles' split squad over the Milwaukee Brewers 5-1 Saturday. Richards allowed one run and three hits in his fourth spring appearance and second start. He struck out five. Richards went 4-3 with the Angels with a 4.69 ERA in 2012 in 30 games, including...
Join host Geoff Stoddart as he welcomes in AngelsWin.com's Founder, Chuck Richter, and Seinor Advisor, Bruce Nye, to discuss the site's 2013 Spring Training Fanfest. The event welcomed Angels legend, Tim Salmon, General Manager, Jerry Dipoto and a round table media discussion from Joe McDonnell (FOXSportsWest.com; FoxSports.com), Jeff Fletcher (Orange County Register...
Think fast! Tell me something Mike Trout isn't very good at. If you said "winning Most Valuable Player awards", you're not wrong. If you said "ice hockey" you're also not wrong, probably. But in terms of on-field baseball skills, Trout is across-the-board outstanding. There are, of course, some things he's better at than others, and one notes that he just had twice...
Ah, the story of Mark Trumbo and the wild ride that was his 2012 season.  For those who did manage to grab Trumbo, their apparent genius was rewarded handsomely… at first. Trumbo started heating up in May and carried that through July, looking like the fantasy steal of 2012. From May through July, Trumbo socked 24, count 'em, 24 home runs! Trumbo added 61 RBIs and also...
Last year I did this little exercise to demonstrate how much bang the Angels got for their buck payroll-wise. It was a look back at how on a WAR basis, the Angels' various investments paid off. Folks seemed to like it, so I thought I'd do it again. As with last year, the big caveat is that this is a valuation model of about $4.5 million per WAR. That amount is essentially...
The March 22nd, 2013 edition of daily news for the Los Angeles Angels including 'dead arm' no longer troubling Weaver, wondering whether Trout or Harper have a higher ceiling and much more... The Story: Jered Weaver threw nearly 90 pitches with an 89 MPH fastball in an intrasquad game yesterday. The Monkey Says: His annual dead arm phase is now behind him and Weaver...
Garrett Richards threw 6 1-3 innings in the longest outing by an Angels pitcher this spring, leading Los Angeles' split squad over the Milwaukee Brewers 5-1 Saturday. Richards allowed one run and three hits in his fourth spring appearance and second start. He struck out five. Richards went 4-3 with the Angels with a 4.69 ERA in 2012 in 30 games, including nine starts. Brewers...
MLB News

Delivered to your inbox

You'll also receive Yardbarker's daily Top 10, featuring the best sports stories from around the web. Customize your newsletter to get articles on your favorite sports and teams. And the best part? It's free!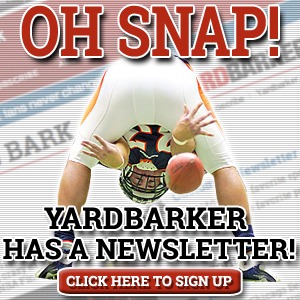 Latest Rumors
Best of Yardbarker

Today's Best Stuff

For Bloggers

Join the Yardbarker Network for more promotion, traffic, and money.

Company Info

Help

What is Yardbarker?

Yardbarker is the largest network of sports blogs and pro athlete blogs on the web. This site is the hub of the Yardbarker Network, where our editors and algorithms curate the best sports content from our network and beyond.