Found August 20, 2013 on Sports Blog Talk:
Irony is never a stranger to Major League Baseball.  Boston Red Sox starter Ryan Dempster was suspended five games for plunking controversial New York Yankees slugger, Alex Rodriguez, with a pitch. Major league pitchers start every five or six games, depending on team off days, so in reality Dempster won't miss any starts. Dempster was not ejected after hitting Rodriguez in the second inning of the game.  The MLB ruled that Dempster should have been ejected from the game by home plate umpire, Brian O'Nora. In the opinion of Major League Baseball, Dempster intentionally hit Rodriguez. After the game, ARod had this to say, "Whether you like me or hate, that was wrong,  That was unprofessional and silly. It was kind of a silly way to get someone hurt on your team as well.  You can't start throwing at people," MLB senior vice president Joe Garagiola, Jr. made the announcement the announcement Tuesday afternoon.  Yankees manager, Joe Girardi, was also fined by the league. The post MLB S...
Original Story:
http://feedproxy.google.com/~r/Sports...
THE BACKYARD
BEST OF MAXIM
RELATED ARTICLES
According to Joel Sherman of the New York Post, Major League Baseball is investigating the hit-by-pitch incident in last night's Red Sox-Yankee game. Specifically, MLB is determining whether Ryan Dempster intentionally hit Alex Rodriguez and, if so, whether the pitcher should be suspended.
Boston Red Sox right-hand pitcher, Ryan Dempster, was suspended by MLB for five games and fined an undisclosed amount on Tuesday for hitting New York Yankees third baseman, Alex Rodriguez, with a pitch on Sunday at Fenway Park. Dempster was the first pitcher to be accused of throwing at A-Rod following his 211 game suspension in the Biogenesis scandal. Dempster denied it was intentional...
Sam Galanis Contributing Writer There's still a lot of talk swirling around Ryan Dempster's five-day paid suspension. Obviously the Yankees don't think it's harsh enough. And before the suspension was dealt, John Farrell didn't even think it was going to happen. But as it turns out, Demspter's suspension is pretty standard. Writer Marc Normandin of Over the Monster...
Ryan Dempster you lose. ESPN is reporting that Red Sox pitcher Ryan Dempster has been suspended five games for throwing at Alex Rodriguez over the weekend. Ryan Dempster five-game suspension for throwing at A-Rod. #yankees #redsox — Adam Rubin (@AdamRubinESPN) August 20, 2013 Ryan Dempster of course was mad about Rodriguez juicing and still being allowed to play while suspended...
Ryan Dempster plunked Alex Rodriguez during the Yankees vs Red Sox game. Joe Girardi was not happy at all, eventually being tossed from the game.
Major League Baseball let Boston Red Sox pitcher Ryan Dempster know they'll handle Alex Rodriguez's punishment on their own with no need for vigilante acts suspending Dempster five games for intentionally hitting the New York Yankees slugger Sunday night. Dempster who was also fined an undisclosed amount was not ejected from the game Sunday after hitting Rodriguez in the...
Red Sox pitcher Ryan Dempster wasn't ejected from Sunday night's game against the Yankees, even after he appeared to throw at Alex Rodriguez multiple times before plunking the Yankees third baseman on a 3-0 pitch. Dempster wasn't as lucky, however, when it came to discipline from the league. Major League Baseball announced Tuesday that Dempster has been suspended five games...
Who said the Yankees/Red Sox rivalry was dead? Alex Rodriguez led off the second inning for the Yanks, and Ryan Dempster wasted no time in throwing behind the slugger with his first pitch. The right-hander followed with two more balls inside before nailing A-Rod with the fourth pitch of the at-bat — much to the enjoyment of the Fenway Faithful. Home plate umpire Brian O'Nora...
I rarely post anything that isn't Mets related, but I hope people had a chance to watch yesterday's game between the Yankees and Red Sox in Fenway Park. Another chapter was written into one of the most storied rivalries in sports. In the second inning, Alex Rodriguez walked to the plate engulfed in a tidal wave of boos to face Ryan Dempster. Fans started chanting "You're...
With the Tampa Bay Rays just one game behind the Red Sox, the boys from Boston can't stand to lose any unnecessary ground. The Red Sox-Yankees rivalry hit a fever pitch Sunday when embattled Yankees star Alex Rodriguez stepped up to the plate against Ryan Dempster. The Sox pitcher did his best to send a message to A-Rod, tossing one ball behind him, two inside and one eventually...
In an era of increasing intolerance for users of performance-enhancing drugs in baseball Alex Rodriguez has been the target of sharp criticism from his peers and on Sunday a fastball at his midsection from Boston Red Sox pitcher Ryan Dempster. A-Rod has maintained that not everyone's against him and an unexpected figure rose to his defense Wednesday. Red Sox slugger David Ortiz...
The latest entry in the long-running series in which Brian Cashman discusses the current state of the New York Yankees. With his headwarmer. Cashman: I've been thinking a lot about Dempster hitting A-Rod. Headwarmer: Thinking? That's not like you, Bri. Cashman: It just doesn't make sense to me. A-Rod has been living in his own reviled bubble for so long. Why would the Sox want...
Red Sox News

Delivered to your inbox

You'll also receive Yardbarker's daily Top 10, featuring the best sports stories from around the web. Customize your newsletter to get articles on your favorite sports and teams. And the best part? It's free!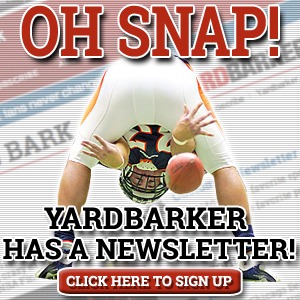 Latest Rumors
Best of Yardbarker

Today's Best Stuff

For Bloggers

Join the Yardbarker Network for more promotion, traffic, and money.

Company Info

Help

What is Yardbarker?

Yardbarker is the largest network of sports blogs and pro athlete blogs on the web. This site is the hub of the Yardbarker Network, where our editors and algorithms curate the best sports content from our network and beyond.