Found January 04, 2012 on The Hardball Times:
The Hall of Fame results will be announced next week, and the subject of Jack Morris continues unabated. I admit that it's hard for me to take the Morris Hall of Fame campaign seriously, but Chris Jaffe predicts he'll get 65% of the vote. That's astonishing to me. A lot of people have written a lot about Morris, and I'm not going to repeat it all here. But one of the things I've heard from a Morris defender is this: Now that Bert Blyleven's in the Hall, Morris should be, too. I'd like to put that notion to rest. First, there are the surface stats: Blyleven pitched 4,970 innings, struck out 3,701 batters and had a 3.31 ERA. When you compare his ERA to his contemporaries (and adjust for ballpark), his ERA+ is 118. That means that the adjusted league-average ERA was 18 percent higher than his. Morris pitched 3,824 innings, struck out 2,478 batters (5.8 per nine innings vs. Blyleven's mark of 6.7 per nine innings) and had a 3.90 ERA. His ERA+ w...
Original Story:
http://www.hardballtimes.com/main/blo...
THE BACKYARD
BEST OF MAXIM
RELATED ARTICLES
With the Hall Of Fame election announcement coming on January 9, 2012, it is time to review the ballot, go over the names, and decide who belongs in the Hall Of Fame. There are twenty seven men on the ballot this year and we will take a look at each one individually prior to official announcements.  You can find all of the profiles in the I-70 Baseball Exclusives: Cooperstown Choices...
If you've read any baseball-related news over the past couple of weeks, then you know that it is Hall of Fame season. Writers, voters, and fans alike have been talking about the upcoming election all month, telling who they feel belongs in the Hall, who they voted for, why the other voters are idiots, how the Hall is overrated these days, why steroids have ruined baseball, why...
The 2012 HOF class will be announced January 9th live on the MLB Network. This year's class of eligible pitchers are less than stellar.  There are only four pitchers listed on the BBWAA official ballot: Jack Morris, Lee Smith, Brad Radke, and Terry Mulholland. RHP Jack Morris is best known for pitching a 10-inning masterpiece in Game 7 of the 1991 World Series against the Atlanta...
Barry Larkin? No doubt. Tim Raines, Fred McGriff, Jeff Bagwell? Yes. Jack Morris? Wait until next year. Tom Verducci explains his Hall of Fame ballot and why he voted 'no' on Morris.
Again the debate rages on about who should be in the MLB Hall of Fame.  If I had a chance to cast a ballot only two players would receive my vote; Rafael Palmeiro and Barry Larkin.  I have seen multiple posts and articles with writers saying they would vote for Barry Larkin, Alan Trammel, and Jack Morris.  It seems like nowadays we are so enamoured with numbers, WAR, eqA, ERA...
Much like last year, I'm going to create my own Hall of Fame ballot, even though I obviously don't get an official vote.My 2011 ballot:Roberto Alomar*Bert Blyleven*Barry LarkinTim RainesAlan Trammell*- 2011 inducteeHere's my 2012 Hall of Fame Ballot (percent of 2011 vote in parenthesis, 75 percent required for election):Jeff Bagwell (41.7)- Bagwell was one of the most...
After missing Hall of Fame induction by a combined 13 votes in 2010, Roberto Alomar and Bert Blyleven got the numbers they needed a year later to get enshrined in 2011.And I think we can all agree...whether you're a metrics guy, a black/gray ink guy or something else, it's the numbers that make you a fan.4192 hits, 56 games and 61* (or for that matter 70...maybe 73?) home runs all...
MLB News

Delivered to your inbox

You'll also receive Yardbarker's daily Top 10, featuring the best sports stories from around the web. Customize your newsletter to get articles on your favorite sports and teams. And the best part? It's free!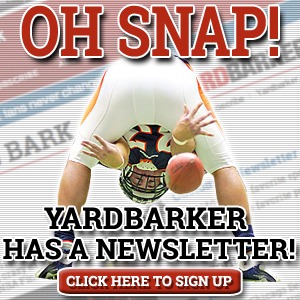 Latest Rumors
Best of Yardbarker

Today's Best Stuff

For Bloggers

Join the Yardbarker Network for more promotion, traffic, and money.

Company Info

Help

What is Yardbarker?

Yardbarker is the largest network of sports blogs and pro athlete blogs on the web. This site is the hub of the Yardbarker Network, where our editors and algorithms curate the best sports content from our network and beyond.