Found April 06, 2013 on The Nats Blog:
The Washington Nationals had a rough series opener against the Cincinnati Reds on Friday night losing 15-0, which was the worst loss in team history since 2005. The Nats looked to come in to recover from that beating on Saturday afternoon behind Ross Detwiler, and they did just that, even if it did come off the rails a bit in the late innings. Speaking of Detwiler, he had quite the first start of the season as he validated his "best fifth starter in baseball" moniker. He threw six innings of one run, six hit effective baseball. He threw just 82 pitches, most of which were fastballs, and he found ways to get out of a few minor jams throughout the game. Detwiler's performance seemed like a totally different game from what happened from the eighth inning on, though. The Nats bullpen had a 5-1 lead when Detwiler left the game, and Tyler Clippard threw a dominant seventh inning to keep that going. The eighth and ninth inning with Drew Storen and Rafael Soriano, respectively, were less great. Storen was throwing pretty well, actually, but he couldn't have possibly had worse luck. Ian Desmond and Bryce Harper each had an error on the same play that allowed a run to score, which put the Reds within two runs of the Nats who, at one point, had a commanding four run lead. As unlucky as Storen was, Soriano was just as bad. He missed spots, threw wild pitches, and allowed a home run. It was his first blown save of the season. Soriano looked incredible in his appearance on Opening Day, but none of that pinpoint precision showed up in today's game. It's certainly not a long term concern on April 6th, but he was incredibly ineffective against a very good Reds lineup. Craig Stammen's performance was a different story. He came in in the 10th and 11th innings and totally dominated, mostly as a result of his slider. He did allow two hits and an earned run, but his performance was exactly what kept the Nats in the game. His slider has always been his best pitch, and he controlled it extremely well and confused batters all the way until the end of the game. Stammen has the unique ability to have dynamic secondary pitches and also throw well for several innings, if necessary. His value can sometimes be understated. Outside of the pitching stories that evolved in today's game, the offense also made its appearance after a rough start to the series. They hit five home runs: Harper, Ramos, Werth, Desmond, and Ramos again. Desmond was able to recover from his two errors with his 11th inning blast, but it was Ramos' second home run of the game that gave the Nats the runs to put them over the top. According to FP Santangelo on the broadcast, the Nats hit 2,044 feet of home runs at a hitter friendly ballpark. Just about all of the Nats home runs would have left almost every ballpark in the country. As an aside, I don't like to criticize umpires any more than necessary, but it appeared there were some very questionable calls by the men in blue today. Detwiler has two hit-by-pitches from today's game, and it didn't look like either of them actually hit the batter. The one on Joey Votto really wasn't close, and the one with Shin-Soo Choo seemed to barely (maybe?) graze his jersey. The third base ump blew a check swing on Votto in the 11th inning that almost came back to haunt the Nats, but it didn't end up mattering in the final result.
Original Story:
http://www.thenatsblog.com/2013-artic...
THE BACKYARD
BEST OF MAXIM
RELATED ARTICLES
Is now the time for this man to wear these colors full-time? The Redlegs Review roundtable returns for another edition and after weeks of blubbering about what might happen when the season began, we have real baseball to discuss this week! Joining the panel this time around are Jimmi Adair (@Redlegs_Review), Scott Eddy (@scotte97), Jesse Welte (@RedlegsWriter) and Jon...
Louisville lost 3-2. Box Score Billy Hamilton went 1-4 with a triple and a run. Corky Miller went 2-3 with a solo HR (1) Pedro Villarreal allowed 2 runs in 7 innings with 6 strikeouts. Mark Prior threw 1.2 shutout innings with 2 strikeouts. Game Notes Billy Hamilton hit a triple to dead center field and then scored on a hard grounder to third that was fielded on the infield grass...
Jayson Werth hit a home run in the seventh inning of Saturday's Nationals-Reds game, but that's not the story here. No, the important thing to take away from this highlight would be that the fan who caught Werth's blast did so with one hand — while carrying a baby with his other. In a sequence of events sure to be a home run with the child's mother, the man was able to...
Billy Hamilton dove back into the bag on a pick off and appeared to have injured his shoulder. He was checked by the trainer and then left the game. I will update this post when more is known.   C. Trent Rosecrans just tweeted this: Initial reports from Louisville are the Billy Hamilton injury is "nothing serious." Will be re-evaluated after the game.
While Bryce Harper is tearing up the MLB, his older brother Bryan and his unbelievable mustache are dominating at life.
Dan Haren's terrible first start with the Washington Nationals calls into question his offseason signing.The post Haren's First Start a Major Concern for the Nationals appeared first on Nationals Outsider.
Todd Frazier and Zack Cozart each homered twice, and the Reds hit six in all -- including Xavier Paul's pinch grand slam -- while sending the Washington Nationals to a 15-0 defeat Friday night, their first loss this season and their worst loss since returning as a team. It was their most lopsided loss since baseball returned to Washington in 2005, topping a 15-1 defeat to Detroit...
Cincinnati and Washington each won their respective divisions last season and both came up short in their playoff series. This season, the Reds and...
Mike Costanzo was living the dream when the Phillies took him in the second round of the 2005 Draft. Things didn't work out for him in the Phillies organization, but he did reach the majors last season with Cincinnati and he's still fighting his way back for a return visit.
by: Dan Howard Staff Writer YEEEEAAAAHHH BABY!!! Dat's what I'm talkin' bout! Dat's what "swag" looks like! In case you don't know that's what's called takin' a team to the woodshed, also known as a butt whuppin'. The Nationals are heading to their team hotel with some Big Red welts on their backsides! Hey all you so called experts, those stone tablets...
by Adam JenkinsFantasy EditorTodd Frazier, Photo: Andrew Mascharka, Flickr.comDaily Fantasy Baseball Value Hitter of the Day- Todd Frazier, Cincinnati RedsFrazier is red-hot right now, going 4-5 on Friday against the Dan Haren and the Washington Nationals. Those four hits included two home runs and Frazier is now hitting .471 on the year. Frazier and the Reds will be hosting Ross...
MLB News

Delivered to your inbox

You'll also receive Yardbarker's daily Top 10, featuring the best sports stories from around the web. Customize your newsletter to get articles on your favorite sports and teams. And the best part? It's free!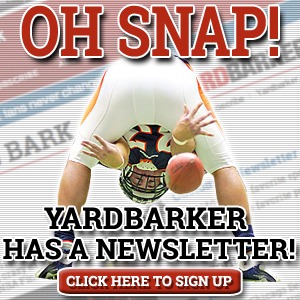 Latest Rumors
Best of Yardbarker

Today's Best Stuff

For Bloggers

Join the Yardbarker Network for more promotion, traffic, and money.

Company Info

Help

What is Yardbarker?

Yardbarker is the largest network of sports blogs and pro athlete blogs on the web. This site is the hub of the Yardbarker Network, where our editors and algorithms curate the best sports content from our network and beyond.