Found June 10, 2013 on StraitPinkie.com:
This Father's Day will be a very special one for Nick Swisher. He and his wife were blessed with their first child, a daughter they named Emerson this past month in May. In talking with Nick you can tell he is proud to be a dad. He spoke with me about his Father's Day memories he has with his father. To put an exclamation point for Nick he has teamed up with Dick's Sporting Goods to celebrate Father's Day with a great campaign. Nick and a few other athletes will show how they celebrate Father's Day. Art Eddy: I have to say congratulations to you and your wife.  This past month you became a father with the birth of your daughter Emerson. Tell me what it is like to be a dad? Nick Swisher: I am just the luckiest human being on the planet. I got two of the greatest girls on my arm the all day, my wife and my little daughter. I am just so excited and a little nervous, but I really, really think I am going to enjoy this fatherhood thing. AE: What type of lessons are you looking to pass down from your dad to your daughter? NS: My dad was amazing when it came to raising me. He was a baseball player for ten years. That was the one thing in his life that he knew. He always told me 'I don't care what you are going to do in this world, but whatever you are going to do you are going to work to be the best at it.' That is the approach that I have kind of taken with it. I am kind of going to twist that off a little bit and just tell my little girl whatever you want to do baby just be awesome at it. Have fun with it. You got to be you. You really do. I am just so excited to have this little one and try and teach her a few things here and there. AE: In the past few weeks has being a dad changed you in any way? NS: There are so many things that are running through my head right now that we could have a half hour sit down to tell you all of these great things that I have been going through. My wife has been my absolute rock star. She is just the most amazing person I have ever known. Just to have her along with our little daughter I don't stress at all when I have her by my side. AE: Tell me about the great promotion you are working with Dick's Sporting Goods for Father's Day. NS: It is such an amazing thing for me to be a part of, especially with as close as my father and I are. The greatest gift that you can give someone is spending time with that individual. Nowadays people think that they can just buy their way out of it. The one thing that I know is that definitely being a professional athlete being on the road all the time, not being home, not being able to spend as much time with your family as you like. For me just to be able to spend that Father's Day with my father to enjoy every second that we can spend together is just absolutely awesome man. That's why I am so happy and proud to be a part of this. AE: You are now playing for Cleveland. How was the transition from playing in New York with the Yankees to now with the Indians been for you? NS: It is absolutely just been awesome. Everyone around here has treated my wife and I just absolutely amazingly. Everyone has been so nice to us. We are just excited to be part of the organization. Proud to be part of the city. Like I tell the guys in that locker room, let's be part of that resurrecting class that brings this organization to where it belongs. We are trying to do our best right now. We are sitting pretty good where we are, but there is always room for improvement. AE: I am guessing that when you were with the Yankees the Boston Red Sox games got you pumped up. What teams do that for you now that you are playing in Cleveland? NS: Playing the Reds has been awesome. It is that instate rivalry. When we were in Cincinnati we had some monster crowds. We had a really good crowd last night. I would probably say that the number one rivalry for us right now is someone like the Detroit Tigers. That's who we are chasing. That is the team that we got to beat if we want to get to that Promised Land. They got a pretty good squad so we got our work cut out for us. AE: Speaking of the Promised Land. What stands out the most to you as you look back on winning the World Series in 2009? NS: I just think that it is a whole year. There are so many things that have to go into that. You need a little bit of luck. You got to have a lot of skill. I was just so excited and so proud to be part of that squad. That was an amazing year. I met my wife that year. We won the World Series. Everything was going good for me that year. I learned a whole lot especially from the veterans that they had over there. I am just excited to bring that over here in Cleveland and to do my best to be the best leader I can. AE: What inspired you to create the "Believe" album? BS: They came to me with that opportunity. I said to myself when am I ever going to get the chance to do this again? We had a blast with it. We made a lot of money for some charities around. It was so much fun. It will be something that I will never forget. AE: What type of music do you listen to before a game that gets you hyped up? NS: It just kind of depends on the day. When you are running that DJ booth in the locker room you got to have a lot of different songs going on there. Guys get sick of songs real quick. We might have like a Bob Marley Monday, a techno Tuesday. We just try to mix it up in there. We try and keep it fresh. To listen to the interview click here.
Original Story:
http://www.straitpinkie.com/sports/ni...
THE BACKYARD
BEST OF MAXIM
RELATED ARTICLES
  Lonnie Chisenhall: 3B, Columbus Clippers: 3-for-5, 3 R, 2 2B, 4 RBI: Psssst. Terry Francona. Have you noticed this kid Chisenhall? He's a third baseman, and he's played big league baseball before. It was even this year. He struggled, and got sent down to Columbus. Since that day, Chisenhall has hit in 19 of 21 games, including a 16 game hit streak that was ended on Saturday...
  Around the Farm takes a quick look at some of yesterday's performances by Indians prospects throughout the system. The positions listed below are where the player was playing in yesterday's game. ***Special Note: Due to a monsoon that apparently crossed the nation, the only game played tonight was by the Columbus affiliate. Tim Fedroff: LF, Columbus Clippers: 3-for-3, 2 R...
Cleveland Indians right-hander Carlos Carrasco has had his suspension for throwing at a hitter reduced from eight to seven games. He began serving it Sunday. Carrasco was initially suspended for eight games in April for ''intentionally throwing'' at New York's Kevin Youkilis but was able to keep pitching because an appeal was pending. Carrasco was sent to the...
DETROIT (AP) -- Cleveland Indians right-hander Carlos Carrasco has had his suspension for throwing at a hitter reduced from eight to seven games. He began serving it Sunday. Carrasco was initially suspended for eight games in April for "intentionally throwing" at New York's Kevin Youkilis but was able to keep pitching because an appeal was pending. Carrasco was sent...
From the Bait Shop: It's awesome when a plan comes together. Well, it's almost always awesome when a plan comes together. The Carolina Mudcats have been that enigmatic team that has been able to hit the ball, but haven't been able to hit the ball when it counts. Combine that with a struggling pitching staff, and you have a team that has the worst record in the Carolina League...
The Indians' road trip from hell (or has it been TO hell, in the form of multiple cities?) reached its final stop Monday, as the Indians traveled to Texas for three. Their lone left-handed starter pitched well, and they received the kind of clutch hit they've been so desperately searching for. But none of that is enough when you're going as poorly as this team is.&quot...
ZEBULON – After rain postponed the series opener, the Carolina Mudcats and Potomac Nationals played a double header on Tuesday.  Carolina broke their six-game losing streak with an 11-3 victory in game one, but dropped game two 3-1 to split the doubleheader.  Both games were seven innings. This was the fourth doubleheader played by the Mudcats this season. Carolina now has a...
Your browser does not support iframes. Detroit Tigers pitcher Jose Alvarez did not allow a hit until the fifth inning against the Cleveland Indians on Sunday, at which point Ryan Raburn spoiled the party. Raburn's solo home run was the first hit of the day for Cleveland, and one of his former teammates was not [...]
The 2013 draft is now complete. Here is the Cleveland Indians full list of selections along with some notes about the draft. Rnd Overall Player Pos 1 5 Clint Fraser 3B/OF 3 79 Dace Kime RHP 4 ...
Someone has been doing some good work to keep Chief Wahoo's Wikipedia page up to date, with significant edits having been made last week. The page does an especially good job of tracking public statements on the Jim Crow/Third Reich relic made by the Cleveland Indians organization as well as critics of the symbol and other notables. There's also reference to some polling results...
In the midst of his home run trot on Sunday afternoon, Indians utility man Ryan Raburn took a wad of gum from the hand of Detroit Tigers' third baseman Miguel Cabrera. Raburn's home run effectively ended Tigers' pitcher Jose Alvarez' bid for a no-hitter in the fifth inning. Raburn, a former Detroit Tiger, cracked a smile before stepping on the bag. The Tigers cracked even...
DETROIT -- The day started with a starting pitcher placed on the disabled list. It continued with a pitcher facing a suspension getting lit up in his return from the minors. And it ended with another loss.Saturdays was 6-4 to the Tigers, the Indians sixth in a row and fourth in a row to Detroit.Except in this one the Indians showed signs that they just might be moving toward getting...
MLB News

Delivered to your inbox

You'll also receive Yardbarker's daily Top 10, featuring the best sports stories from around the web. Customize your newsletter to get articles on your favorite sports and teams. And the best part? It's free!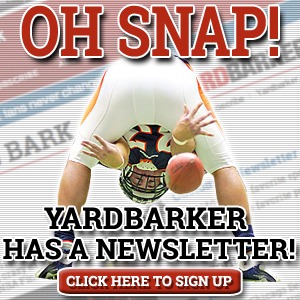 Latest Rumors
Best of Yardbarker

Today's Best Stuff

For Bloggers

Join the Yardbarker Network for more promotion, traffic, and money.

Company Info

Help

What is Yardbarker?

Yardbarker is the largest network of sports blogs and pro athlete blogs on the web. This site is the hub of the Yardbarker Network, where our editors and algorithms curate the best sports content from our network and beyond.