Found October 29, 2012 on The Daily Rival:
I remember back when I was a youngin' growing up a stone's throw from Lake Merritt in Oakland, former Giants closer Robb Nen was just as much my favorite baseball player as Rickey Henderson was (by then Rickey was on his final stint with the A's). I also remember giddily celebrating the triumph of The Catch II while an out-of-date and faded Jeff Hostetler Raiders jersey hung in my closet. They're times I look back at with rosy cheeks. I was a punk kid with few inhibitions who freely roamed both sides of the Bay Area sports landscape and didn't really give a second thought about it. Everything in the Bay Area was cool, the Yankees sucked, Michael Jordan was God, John Stockton was abnormally hairy, and if you mentioned Real Madrid I would have assumed you were talking about a car. That was about the extent of my sports ideology back then. Nine-year-old me would have ******* loved Sunday. A decisive Raiders victory followed by the Giants sweeping the Tigers for their second World Series in three years? Holy ****. I would have been so excited I probably would have asked my mom if I could stay up later than 9 o'clock. But somewhere between then and now I decided to pick a side in the San Francisco/Oakland sports dynamic and stick with it for all eternity. I guess I realized it was too easy to treat my sports fandom like I was in a buffet line, freely choosing things without consequence as they went by because they looked cool or tasted good or because I was supposed to have some emotional investment in the banana pudding because I grew up in the same area the bananas used in the pudding were grown. OK, that last part makes no sense, but we'll come back to that later. You didn't see Luke Skywalker flip-flopping between the Empire and the Jedi whenever it was convenient for him ('Sup, Mitt?). (Lando, on the other hand… well, at least in the end he made up for his betrayal, and that's why Lando is still the coolest brotha in the galaxy.) There's a wealth of options in the Bay Area when it comes to professional sports. (The premise of this column of course excludes the Warriors and Sharks, who are the only true Bay Area teams. OK, fine, I guess the Earthquakes qualify, too. Wondo!). How's it fair that we in the Bay have four teams to choose from while people in, say, Kansas City are stuck with the ****** Chiefs and the ****** Royals? Life's not supposed to be so easy. Rooting for sports teams isn't supposed to be easy. That's what makes it so gratifying when your team (note: singular form) finally does win. The side I picked was a no-brainer. I decided to roll with the city in which I was born, where I called home for the first half of my life. The teams who played (and embarrassingly still do) in the decrepit stadium I've most frequented in my life. The teams who call home the side of the Bay on which I still live. The Oakland A's. The Oakland Raiders. Town bizness. I made my decision and moved on, assuming that's how all, if not most, people went about their love of sports in the Bay. A line drawn between Oakland and San Francisco. No straddling. Your reasons for supporting your team or teams are perhaps different than mine and that's totally fine. I'm not going to hold it against you. (I realize also there are people who support a San Fran team in one sport and an Oakland team in the other. These people are weirdos who I assume also eat their fish sticks with custard rather than vinegar, tartar sauce or any other condiments remotely considered normal. But I can dig it. Point is, they still side with one team for each sport.) But then 2010 happened. The Giants made the World Series and suddenly those ironclad, tried-and-true loyalties I thought existed were being overtly and shamelessly obliterated in the name of what was more or less being called "Bay love." Friends and acquaintances whose favorite team I knew for a fact was the A's were suddenly gung-ho over the A's regional rival's grand accomplishment. I was shocked, saddened, and, honestly, quite appalled. The A's and Giants are rivals, as are the 49ers and Raiders. Granted, they don't play each other very often. They're not rivalries inherently infused with malice like Giants-Dodgers or Raiders-(enter AFC West team here) are. But they're still regional rivals, nonetheless. It's called the Battle of the Bay, not the Accord of the Bay. You wouldn't see Yankees and Mets fans supporting the other team in the World Series. Or, to put a local spin on it, Cal fans would never cheer for Stanford and vice versa. I'm not trying to endorse a message of hate here. Far from it. I'm not saying go kick a Raiders fan's ass in the parking lot at the next Raiders-49ers game if you're a 49ers fan (seriously, violence at Raiders and 49ers games needs to stop). I look at it as more of a call to stay loyal to your allegiances. In 2010 and now, people were also saying it's great national publicity for the Bay Area that the Giants are in the World Series. That's why we should rally around them! It's a great source of pride for the Bay Area, dontcha see?! I'm sorry, no. Too $hort is a great source of pride for the Bay Area. Apple is a great source of pride for the Bay Area. Bill Russell is a great source of pride for the Bay Area. The 60′s are a great source of pride for the Bay Area. "Mrs. Doubtfire" is a great source of pride for the Bay Area. Nancy Pelo—OK maybe that's taking it too far. But the Giants playing in and winning the World Series (now twice) is a great source of pride for San Francisco, not the Bay Area. Are the Giants going to cruise down Broadway in Oakland or through Downtown San Jose with the World Series trophy during their parade on Wednesday? Didn't think so. I love the Bay Area immensely. This is the place where I hope to grow old and die (even if it will likely bankrupt me. Have you seen the cost of living lately?? I mean, really, housing market!). This place is probably why any offspring I may spawn will have "hella" as part of their vernacular, even if we were living in New York or Montana. I consider it a badge of honor that I have never visited Alcatraz once in my life. And I'm so grateful that BART is infinity times more easy to use than public rapid transit lines in other cities (totally looking at you, NYC). But when it comes to baseball and football, it's only about The Town. Good for the Giants, I guess. Cool for Barry Zito. I can objectively say the Giants were by far the better team in the World Series. But don't expect any celebrating or congratulating from this A's fan. Were it the A's winning the World Series, I wouldn't expect anything other the same from Giants fans. Photo via.
Original Story:
http://thedailyrival.com/2012/10/29/o...
THE BACKYARD
BEST OF MAXIM
RELATED ARTICLES
LIVING MAS
The fine folks at Taco Bell pledged to serve up a free taco nationwide if any player successfully stole a base during the World Series. Luckily for America, San Francisco Giants outfielder Angel Pagan answered the call when he swiped one during the eighth inning of Game Two. Pagan made sure to claim his when he attended a Bay City area Taco Bell restaurant on Tuesday. What better...
Timothy Burke, the video and screen-grab genius over at Deadspin, somehow caught this gem of a screenshot. The image features CSN Bay Area interviewing Matt Cain following the San Francisco Giants World Series sweep, while Ryan Theriot is in the background using the urinal to relieve himself.  Not much else needs to be said here. via Mocksession Article found on: Cosby Sweaters
The Giants' championship formula is a familiar one, just with new faces two years later. Stellar starting pitching was backed by a shut-down bullpen, a late-season surge and a manager making all the right moves. San Francisco captured its second World Series title in three seasons with a stunning sweep of the Tigers, and only catcher Buster Posey was in the lineup for the Game...
Giants catcher Buster Posey had a two run home run down the left field line at Comerica Park during Game 4 of World Series.  This lucky fan was right in the line of the hit and unfortunately for his face, misjudged the path of the ball. I'm sure next time this guy will remember to bring his glove.
The MVP - Most Valuable Panda - sat in the interview room and smiled. A trophy, another World Series ring and the best nickname in baseball all were his. Pablo Sandoval, the Kung Fu Panda, was voted World Series MVP following the San Francisco Giants' sweep of Detroit. He hit .500 with three home runs, a double and four RBIs in 16 Series at-bats. ''I was ready for...
It's over, and it's done. The 2012 MLB season is in the books, and the San Francisco Giants are World Champions. -Giants 4, Tigers 3 (ten innings) Well, where do we go from here? The offseason is now officially upon us, and before we go fully into offseason mode, we're going to reflect on the Giants World Series victory, with five observations from the series...
Thank God we didn't have to play the Giants. It would have taken them two games to sweep us in four. We wouldn't have gotten a hit - not one - and the Giants would still be batting in game two. The lead would be something like 104 to 0, and Nick Swisher would be pitching for us. Girardi would still be keeping A-Rod on the bench - resting him for the critical moment - and...
NBC Sports Baseball Analyst Darryl Hamilton joins Fox Sports Tonight to recap the San Francisco Giants World Series victory.
The Giants may have won the World Series last night, but this Tigers fan stunner took home Yump of the Game honors. You may have recalled seeing her and thinking to yourself, "Yep, I would" or "Uh, yump". You also may have thought she had hair similar to a lioness like some idiots I know. But, the bottom line is this lil yump has a cute as hell face and I would have loved...
It became official in the second game of the series: Angel Pagan stole a base, thereby requiring Taco Bell to make good on its promise to give everyone in America a taco, which was the basis for its "Steal a Base, Steal a Taco" campaign. Today's the day: if you would like to brave the madhouse for your $0.89 value, show up at a participating location between 2 p.m. and 6 p...
MLB News

Delivered to your inbox

You'll also receive Yardbarker's daily Top 10, featuring the best sports stories from around the web. Customize your newsletter to get articles on your favorite sports and teams. And the best part? It's free!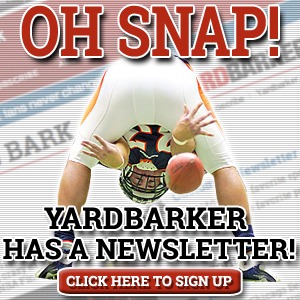 Latest Rumors
Best of Yardbarker

Today's Best Stuff

For Bloggers

Join the Yardbarker Network for more promotion, traffic, and money.

Company Info

Help

What is Yardbarker?

Yardbarker is the largest network of sports blogs and pro athlete blogs on the web. This site is the hub of the Yardbarker Network, where our editors and algorithms curate the best sports content from our network and beyond.