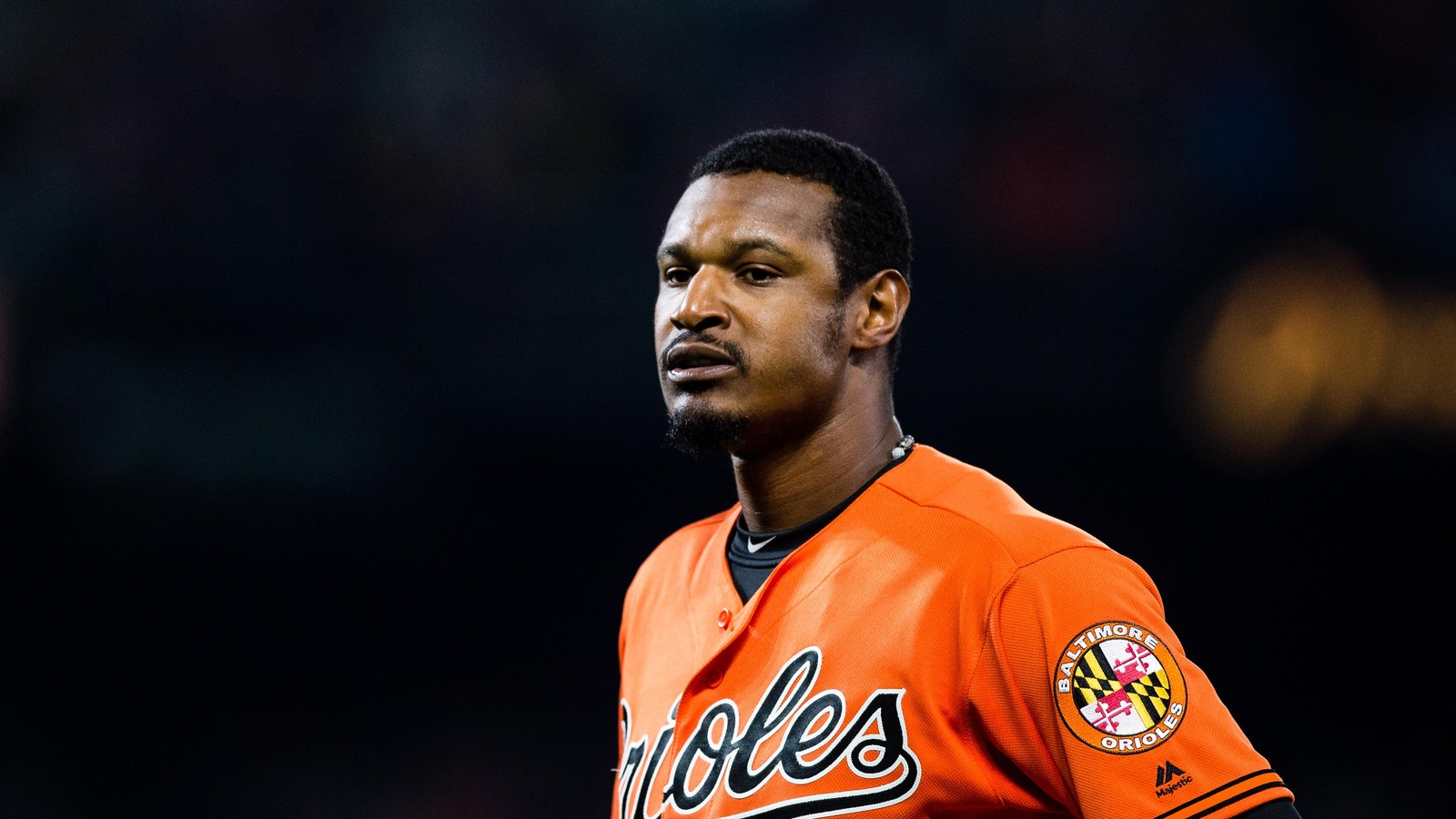 Apr 22, 2017; Baltimore, MD, USA; Baltimore Orioles center fielder Adam Jones (10) reacts in the sixth inning during a game against the Boston Red Sox at Oriole Park at Camden Yards. The Orioles defeated the Red Sox 4-2. 
Patrick McDermott-USA TODAY Sports
Baltimore Orioles outfielder Adam Jones was subjected to racial taunts during a recent trip to Fenway Park to play the Boston Red Sox. It was a situation that caught the attention of the baseball world and shocked unassuming bystanders in the process.
The entire situation was part of a series with the division-rival Red Sox that became extra heated the longer it drew on.
Now, almost two weeks removed from the ugly scene, Jones himself has decided to take to charity as a way to help progress the larger national community beyond these racially charged times.
Kudos to Adam Jones for donating $20,000 to Negro League Baseball Museum and covering admission cost for kids from a KC nonprofit program.

— Bill Shaikin (@BillShaikin) May 12, 2017
This is an awesome gesture from Jones. Not only does it put a better spin on the incident that made him a central figure early in the baseball season, it helps underprivileged children in the process. Much respect to Jones for this. And we're pretty sure the Negro League Baseball Museum is thankful as well.
QUIZ: Name every major Negro League team
Black baseball professional leagues existed since 1885 until the inclusion of African-Americans into Major League Baseball in 1947. During that span of time, the Negro Leagues hosted a number of franchises, some amateur, barn-storming teams, some minor leagues, and some the equivalent of majors.
In all, seven leagues have been considered as major league caliber: Negro National League (1920-31; listed as NNL1 here), Eastern Colored League (1923-28, and later as the American Negro League, which shut down in 1929; ECL here), East-West League (1932; EWL), Negro Southern League (1932; NSL), Negro National League (the second incarnation, 1933-48; NNL2), and the Negro American League (1937-50; NAL).
Because the fortunes of individual leagues and franchises waxed and waned until integration, many of the teams listed appear in more than of seven leagues. Nicknames are acceptable as answers.
NNL2 (1934-48); NAL (1949-50)
NNL2 (1935-36, 1939-48); NAL (1949-50)
NAL (1938; 1941-42; 1939-40)
NAL (1938; 1939; 1940-41)
NAL (1942; 1943-48; 1949)
NAL (1943; 1944-45; 1946-50)
MORE FROM YARDBARKER
Orioles News

Delivered to your inbox

You'll also receive Yardbarker's daily Top 10, featuring the best sports stories from around the web. Customize your newsletter to get articles on your favorite sports and teams. And the best part? It's free!