Found May 12, 2012 on isportsweb.com:
Vance Worley of the Philadelphia Phillies is the youngster in the rotation. How do other young divisional studs match-up with him? The Apocalyptic Horsemen Stats are in my recent coverage linked below. TAL'S HANDY STATS   WELCOME, NEWCOMERS: I am alternating a game-day 2012 ERA For The NL East and a 2012 ERA For The MLB 5. See link section below. In each publication, the number after the title will be based on the quantity of outcomes played by the Phillies. Top Performance Last Night: Mark Buehrle Delivers In The 2nd At Home Against The Mets   REASONING For The Stats: These numbers are a glimpse over the pitching coach's shoulder, because they warn of difficulty ahead. The rule of thumb is that the bullpen load should be no more than 33.3%, which is a 6-complete average per scheduled outing. That is why going a distance into the game is 6.1 frames or more, which is 70.4%. The added detail of 1 out per contest is 54 innings over the long summer's course. This also shows the mound masters that give the relievers a well deserved night off, but there is a rust factor due to lack of backend chances. If there are any questions, please ask.   Note:  All old ERA tables are automatically updated. STARTING & RELIEF PITCHING: CLUBSP INNSP ERSP ERASP PERRP PERRP INNRP ERRP ERA Phillies217.2753.1073.5%26.5%078.2475.38 Braves189.0974.6263.9%36.1%107.0443.70 Fish207.1703.0471.2%28.8%084.0343.64 Nats198.0502.2867.9%32.1%093.2363.46 Mets183.1864.2264.6%35.4%100.1423.77   TOTAL PITCHING & STARTS OF 6.1 INNINGS OR MORE: CLUBINNERERAARMSCONVGMSPER Phillies296.11223.715173351.5% Braves296.01414.296123336.4% Fish291.11043.215203262.5% Nats291.20862.655133240.6% Mets283.21284.065113234.4%   KEYS: ABRVS.MEANING ARMSPitchers With 6.1 Innings Plus CONVConverted Start Of 6.1 Innings Or More LastLast Conversion ResultOutcome Of Last Start UpdateNext Start Or Status Change Note:Listing is in order of conversion, including time of day. SESeason Ending   STARTERS WITH OUTINGS OF 6.1 INNINGS OR MORE: NOTE:  Click entries button to open more than the visible 10. CLUBHURLERCONVLASTRESULTUPDATE 01PHLHalladay6 of 75/07 Night 02ATLBeachy5 of 65/06Night 02MIASanchez5 of 65/08 02MIABuehrle5 of 75/11CONV 05WASZimmermann4 of 65/01 Night 05PHLBlanton4 of 65/08 07NYMGee3 of 64/28 07ATLMinor3 of 74/30Short 07WASGonzalez3 of 75/05 Short 07NYMDickey3 of 65/06 2:44 PMDay 07MIANolasco3 of 65/06 5:59 PMDay 07PHLHamels3 of 65/06 10:03 PM 07MIAZambrano3 of 65/07 07MIAJohnson3 of 75/09CONV 15PHLLee2 of 44/18 15WASStrasburg2 of 74/28 15PHLWorley2 of 74/30Short 15NYMSantana2 of 75/05Short 15WASJackson2 of 65/08 20NYMNiese1 of 64/14 20NYMPelfrey1 of 34/21 3:07 PMSE DL'ed 20ATLHanson1 of 74/21 9:53 PM 20ATLDelgado1 of 65/03 1:29 PM 20WASDetwiler1 of 55/03 8:51 PM 20ATLHudson1 of 35/09CONV   LINK-UP BELOW: There are previews–time permitting–of my next storyline at Tal's Handy Caps on Facebook.  Join for notification of future glimpses, which will be almost daily.  You'll also know immediately when my isportsweb post goes up.  It might be worth your while because there are delays of 2 hours on most feeds. Check out my previous publication (The Open Gate) and the 46 storylines–so far–for 2012 on the Phillies page or my author archives, where there is an excerpt photo. Tal's Handy Stats is daily coverage. I am alternating the 2012 ERA For The NL East and the 2012 ERA For The MLB 5. Thank you, to all who bookmarked the Phillies page. TAL'S HANDY LINKS     TAL'S HANDY CAPS at Facebook Philadelphia Phillies storyline: more and less Philadelphia Phillies storyline: trade debate (Horsemen stats) Philadelphia Phillies Tal Venada Philadelphia Phillies: 2012 ERA for the MLB 5 at game 32  
Original Story:
http://isportsweb.com/2012/05/12/phil...
THE BACKYARD
BEST OF MAXIM
RELATED ARTICLES
Mayberry and Ruiz were a 1-2 punch on Friday. (AP)The Phillies opened up their series with the worst team in the National League and calmly dispatched them with a solid all-around showing, winning game one of the series, 7-3.WORLEY NOT BAD -The line: 6 innings, 6 hits, 3 runs (all earned), 2 walks, 9 strikeouts (93 pitches/58 strikes). Overall a very good outing.-His trouble spot...
PHILADELPHIA -- An extra day off didn't affect Cole Hamels.  The two-time All-Star left-hander threw seven strong innings in his first start back from suspension, Jimmy Rollins ended a long homerless drought and the Philadelphia Phillies beat the San Diego Padres 3-2 on Sunday.   Hamels (5-1) allowed one run and five hits, striking out five. The 2008 World Series MVP was suspended...
PRESS THE PLAY BUTTON TO LISTEN! IT'S ONLY TEN MINUTES! The reign of T- Money continues and again I want to thank you for taking your precious time to listen to my thoughts. I have made the show more accessible to you by limiting the podcast to ten minutes or less. If you like what you hear the only thing I ask is for you to continue to spread the word to your friends...
Falling behind fast in the NL East, the Phillies were more than due for a team shake up which began on Thursday. Over the course of almost 3 days here is who is in and who is out: COMING IN FROM LEHIGH VALLEY: LHP Jake Diekman, 25 years old (no major league experience), LHP Raul Valdes, 34 years old (2 years in majors, 6 in minors), Third baseman Hector Luna, 32 years old (parts...
Cole Hamels has been a bring spot for the Phillies this season.Cole Hamels finished off the week with his fifth win in a row and leads the Phillies staff with those five wins.  Hamels is the third guy in a rotation behindRoy Halladay and Cliff Lee, but its the lefty thats been confusing hitters all season.Hamels recent domination has people talking; and calling.  Fox Sports'...
Carlos Ruiz went 3-for-3 with a homer and three RBIs and John Mayberry Jr. homered and drove in three runs to lead the Philadelphia Phillies to a 7-3 win over the San Diego Padres on Friday night. Vance Worley (3-2) allowed three runs on six hits, striking out nine, in six innings to help the Phillies snap a three-game losing streak. Placido Polanco had a pair of doubles for Philadelphia...
Before Friday's opening of a three-game series with the San Diego Padres, Phillies manager Charlie Manuel was asked what it would take for Carlos Ruiz to become an all-star. "If Chooch keeps hitting the way he is and catching the way he is, I think he stands a good chance of the all-star game," Manuel said. Good observation. In a season sapped by a struggling offense, Ruiz...
The Red Sox have acquired some outfield help in the form of Scott Podsednik. Podsednik has been acquired by the Red Sox from the Philadelphia Phillies in exchange for cash, according to the team. While it's unclear whether Podsednik will join the Red Sox or remain in the minor leagues, the speedster will help shore up an outfield looking for help while Jacoby Ellsbury and Carl...
PHILADELPHIA -- Cole Hamels threw seven strong innings in his first start back from suspension, Jimmy Rollins ended a long homerless drought and the Philadelphia Phillies beat the San Diego Padres 3-2 on Sunday. Hamels (5-1) allowed one run and five hits, striking out five. The two-time All-Star left-hander was suspended five games by Major League Baseball after admitting he intentionally...
Hunter Pence is mired in a difficult slump for a Philadelphia Phillies club that hasn't won consecutive games in two weeks. Facing his former team may help get him - and the Phillies - back on track. Philadelphia seeks its fifth win in the last seven meetings with the Houston Astros when it hosts the opener of a two-game set Monday night. Pence was acquired in a trade from...
After getting blown out in the first game, the Padres fought back and won beat one of the best pitchers in baseball to tie the series Saturday. But San Diego native and nemesis Cole Hamels pitched well enough in the rubber game to give the Phillies another series win over San Diego. The Padres saw a couple streaks end on Sunday when Jeff Suppan lost after winning his first two starts...
The Philadelphia Phillies are currently occupying last place in the NL East. Yesterday General Manager, Ruben Amaro Jr. said they could become sellers at the July Trade Deadline (via Jim Salisbury of CSNPhilly.com). "July is so far ahead," Amaro said. "We just have to get on track. But if July comes and we're playing like this, we'll be sellers. How we play now will...
MLB News

Delivered to your inbox

You'll also receive Yardbarker's daily Top 10, featuring the best sports stories from around the web. Customize your newsletter to get articles on your favorite sports and teams. And the best part? It's free!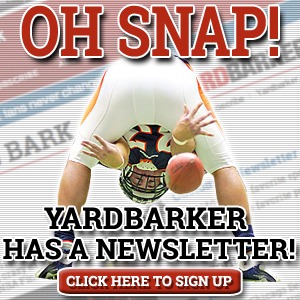 Latest Rumors
Best of Yardbarker

Today's Best Stuff

For Bloggers

Join the Yardbarker Network for more promotion, traffic, and money.

Company Info

Help

What is Yardbarker?

Yardbarker is the largest network of sports blogs and pro athlete blogs on the web. This site is the hub of the Yardbarker Network, where our editors and algorithms curate the best sports content from our network and beyond.