Found March 13, 2013 on Pirates Prospects:
PLAYERS:
Duke Welker
,
Jameson Taillon
,
Drew Maggi
,
Oscar Tejeda
,
Andrew Lambo
,
Matt Curry
,
Jeremy Farrell
,
Adalberto Santos
,
Jeff Larish
,
Brett Carroll
,
Gift Ngoepe
,
Mel Rojas
,
Jarek Cunningham
,
Stefan Welch
,
Andy Vasquez
,
Alen Hanson
,
Gregory Polanco
,
Willy Garcia
,
Francisco Aponte
,
Eric Avila
,
Taylor Lewis
,
Junior Sosa
,
Josh Bell
,
Luis Urena
,
Jin-De Jhang
,
David Bromberg
,
Zach Thornton
,
Zach Foster
,
Josh Smith
,
Cesar Lopez
,
Luis Heredia
TEAMS:
Pittsburgh Pirates
,
East Carolina Pirates
Jeff Karstens will throw two innings in minor league camp today. – Image Credit: Pittsburgh Pirates The first cuts from major league camp came today, and the first games in minor league camp start this afternoon. I'll be covering the home games at Pirate City, which will include the Triple-A and Double-A teams, and possibly an intra-squad game with the short-season players. For now, here's some notes. **I talked with Duke Welker after he arrived from major league camp. Welker mentioned that he had some stiffness in his shoulder the last few days. He will start throwing today after taking four days off. The shoulder isn't considered too serious, and the Pirates were being cautious giving him time off. He said that if it was the middle of the year, he'd be playing. **Jameson Taillon will be throwing a bullpen today at Pirate City. **Today is the first day of games at minor league camp. Jeff Karstens will be throwing two innings against the Philadelphia farm system. Karstens will be pitching for the Triple-A team today, going two innings. He will be followed by Brandon Cumpton, who will also be throwing two innings. **Here are the lineups for the home games today: Triple-A: Drew Maggi (6), Oscar Tejeda (DH), Andrew Lambo (9), Matt Curry (3), Jeremy Farrell (5), Adalberto Santos (4), Jeff Larish (7), Brett Carroll (8), Charlie Cutler (2), Justin Howard (DH) Double-A: Gift Ngoepe (6), Mel Rojas Jr. (8), Jarek Cunningham (4), Alex Dickerson (3), Stefan Welch (5), Andy Vasquez (7), Carlos Mesa (9), Chris Lashmet (DH), Elias Diaz (2), Benji Gonzalez (DH) **And the lineups for the road games: High-A: Alen Hanson (6), Walker Gourley (7), Gregory Polanco (8), Willy Garcia (DH), Francisco Aponte (4), Eric Avila (5), Jordan Steranka (3), Taylor Lewis (DH), Wyatt Mathisen (2), Junior Sosa (9) Low-A: Jimmy Rider (DH), Max Moroff (6), Barrett Barnes (8), Josh Bell (9), Stetson Allie (3), Eric Wood (5), Luis Urena (7), Dilson Herrera (DH), David Valesente (2), Jin-De Jhang (DH) **That's not a mis-print on those lineups. There are ten hitters in each game, with two designated hitters. **The Pitchers for today's game, with the innings they're scheduled to throw: Triple-A: Jeff Karstens (2), Brandon Cumpton (2), David Bromberg (2), Mike Colla (1), Jason Townsend (1), Philippe Valiquette (1) Double-A: Casey Sadler (2), Eliecer Navarro (1), Quinton Miller (2), Zach Thornton (1), Porfirio Lopez (1), Zach Foster (1), Josh Poytress (1) High-A: Adrian Sampson (2), Matt Benedict (2), Orlando Castro (1), Jordan Cooper (1), Josh Smith (1), Mike Jefferson (1), Robbie Kilcrease (1) Low-A: Clay Holmes (2), Joely Rodriguez (2), David Jagoditsh (1), Logan Pevny (1), Alex Lukashevich (1), Cesar Lopez (1), Isaac Sanchez (1) **I wouldn't read too much into the lineups and pitching orders. For the most part players will be playing on their 2013 teams. Alen Hanson and Gregory Polanco, for example, will both be in Bradenton this year, so they'll both be playing on the high-A team throughout camp. Some players might play up a level. A lot of those situations come as a result of what is happening in big league camp. As players get cut from major league camp, the rosters will start to shape up. I'd be extremely surprised if Wyatt Mathisen was playing on the high-A team this year, but he's there today. Same with Elias Diaz in Double-A. Right now it looks like all of the catchers are playing up a level, probably because the Triple-A catchers are still in big league camp. **The short-season teams might be playing an intra-squad game today. Luis Heredia is scheduled to throw, but I'm not sure if that's in the game or if it's just a bullpen.
Original Story:
http://feedproxy.google.com/~r/Pirate...
THE BACKYARD
BEST OF MAXIM
RELATED ARTICLES
Here are a few injury updates from major league camp, along with a non-injury update. **Chase d'Arnaud, who is dealing with a sprained thumb, is going to have an appointment for an MRI soon. He has been looked at here in Bradenton, but the Pirates and d'Arnaud wanted to get a second opinion. **Garrett Jones (oblique) took some swings in the cage today and played catch. He will...
The Pittsburgh Pirates have made their first cuts of Spring Training. So far they have cut four players today, with those players being Hunter Strickland, Vic Black, Matt Hague, and Clint Robinson. That could be all for now, but no word on that yet. I'll update this when more information becomes available.   UPDATE 8:00 AM: Add Duke Welker and Stolmy Pimentel to the list of cuts...
Marc Hulet of FanGraphs has released his top 100 list, with five Pittsburgh Pirates prospects making the cut. The five players are the usual suspects that have been on every other top prospect list that has been announced so far. Coming in at number six was Gerrit Cole. Only one pitcher was ahead of Cole, and that was Dylan Bundy, who came in at number four. Jameson Taillon came...
The fifth weekend of the college season is about to get under way. The Pirates have the #9 and #14 picks in the upcoming June amateur draft. Throughout the college/HS season, leading up to the draft, we will cover the interesting players that are being discussed in the Pirates draft range. There will also be daily notes on past picks by the Pirates who went unsigned. For a recap...
Keith Law has released his top 50 draft prospects for ESPN Insider subscribers. Some of the notable rankings: **Mark Appel is first overall. **The Pirates pick 9th and 14th. Law has Jon Denney at 9th, and Kohl Stewart 14th. Denney is a high school catcher, who Law calls "a good-throwing catcher who receives well, hits and hits for power." Stewart is a prep pitcher who throws...
Bucs right-hander Kyle McPherson pitched well in a 2-1 loss to the Phillies on Thursday. He allowed four hits, but otherwise had no problems in five scoreless innings. McPherson is vying for a spot in the Pirates' rotation and he took a step toward winning the job with his outing. PiratesDugout.com's George Von Benko caught up with McPherson after the game.
Today I got to see two pitchers for the first time. For the last year I've seen Wei-Chung Wang walking around in a red shirt as he recovered from Tommy John surgery. I also saw Hayden Hurst last year in the GCL after the 2012 draft pick signed. However, he didn't pitch in the GCL, so I didn't get to see him throw. Today, both pitchers were on the mound in the low-A game against...
Minor league baseball promotions are the best.The Triple-A affiliate of the Pittsburgh Pirates are offering fans the chance to decide how the grass will be cut for Opening Night.The Indianapolis Indians are set to host the Columbus Clippers on April 4 at Victory Field. How will the field look like that night? This important decision is apparently up to the fans.From their official...
According to a tweet from Rob Biertempfel, infielder Chase d'Arnaud's left thumb injury, which has kept him out of action since late last week, is a torn ligament that may require surgery.  This could keep d'Arnaud out for a considerably longer stretch at an inopportune time for him.  He's trying to regain prospect status after struggling to a 252/325/383 line in AAA last...
BEALYN CHOURIO SHORTSTOP Born: March 31, 1994 Height: 6'0″ Weight: 167 Bats: Both Throws: Right Signed: Int'l Free Agent, 2011 Country: Venezuela Agent: N/A WTM'S PIRATE PLAYER PROFILES Chourio is a relatively tall shortstop with a wiry build.  He missed the 2012 season due to arm surgery, but was in minor league camp in 2013.  He looked impressive in...
Sometimes I look at Wandy Rodriguez and think he is just a Hispanic Ron Perlman.  That picture is one of those times. I mean just throw a cut on him and imagine him presiding over the next SAMCRO meeting. Does anyone still watch Sons of Anarchy? Seriously.  After the whole cartel is actually the CIA…
MLB News

Delivered to your inbox

You'll also receive Yardbarker's daily Top 10, featuring the best sports stories from around the web. Customize your newsletter to get articles on your favorite sports and teams. And the best part? It's free!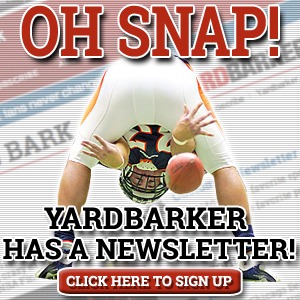 Latest Rumors
The Backyard

Today's Best Stuff

For Bloggers

Join the Yardbarker Network for more promotion, traffic, and money.

Company Info

Help

What is Yardbarker?

Yardbarker is the largest network of sports blogs and pro athlete blogs on the web. This site is the hub of the Yardbarker Network, where our editors and algorithms curate the best sports content from our network and beyond.