Found March 03, 2013 on Pirates Prospects:
Jose Tabata has three doubles and a homer so far in Spring Training. Spring Training usually means two things. One is that you'll hear a lot of stories about how a player is reviving their career. This comes in many forms. There's the "best shape of his life" talk. Sometimes it has to do with vision (Player A got contacts, while Player B skipped that all together and got Lasik surgery). Once the Spring Training games start, the talk stems from the second product of Spring Training: small sample sizes. We've got both of these things in full effect with Jose Tabata. People down here are starting to notice his production in the last week. It seems like every time I see him he's hitting a double, or he's showing some hustle. There's probably a good reason for that. I've seen him start two games in the last three weeks (plus one on MLB.tv, but we're not counting that for now), and in each game he had at least one double. So far this Spring he's hitting for a .308/.357/.769 line…in 13 at-bats. Having four hits in 13 at-bats is hardly something to get excited over. In the regular season that's a good three game series. But the truth is that Tabata has looked good. He looks stronger after working out with a new trainer in Miami over the off-season. He's hustling all over the field. And his four hits have been three doubles and a home run, which is encouraging since he has a career .372 slugging percentage in the majors, and a .101 ISO. Any sign of power, even in a small sample size, is going to be welcome. Tabata has drawn criticism from Pirates fans in the last year because of his play, but also because of the perception of how he plays. He's perceived as lazy, and a head case. Some of that stems from his time in the minor leagues, and some off the field incidents. He fell out of favor with the Yankees after leaving a game in the middle of a horrible season at the Double-A level. After joining the Pirates there was that crazy story about how his wife-at-the-time stole a baby, and was also twice his age. Whether fair or not, those helped mold the perception of Tabata going forward. The biggest contributor was his horrible season in 2012, and his injury issues. The amazing thing about stats is that when they're good, you forget the biggest of problems with the player. But when they're bad, the smallest of problems get blown up into huge issues. Pirates fans place a big focus on Tabata's mentality. Clint Hurdle talked about Tabata's Spring performance today, and noted that the success wasn't a mental thing. "This is not mental at all," Hurdle said. "This kid's moving around. He's playing well. The body's live again. He's looking real good — on the bases, in the outfield, everything he's doing just looks fresher, cleaner, more powerful." Tabata had a double with the bases loaded today, bringing in two runs. The real highlight for him came on the next play. Clint Barmes grounded to short with two outs. Houston shortstop Tyler Greene threw wide, the first baseman caught the ball, then dropped it trying to tag Barmes, and in that time Tabata raced from second to home, scoring easily. "There was no play whatsoever on him," Hurdle said. "He got a good, aggressive lead off second base. Soon as the ball is put in play, he is off and running. A clean turn around third and a strong finish home." Everything being said about Tabata is true. He's hitting well, he's hitting for some power, he's hustling all over the field, and he looks like a classic Spring Training revived player. The only problem is that all of this comes in a small sample size. That doesn't mean what Tabata is doing isn't legit. It just means we need to see this for a longer period of time before we can call Tabata legit. If he's still playing this way at the end of Spring Training, then it will still be a small sample size alert, but at that point he might need a starting job in the outfield to prove himself over a larger sample. McPherson Has No Worries About His Curveball Kyle McPherson took the mound today, giving up four runs on two hits in 2.2 innings. The right-hander pitched well in his first two innings of work, then gave up all four of his runs in the third, with three of those runners scoring off Kyle Waldrop. McPherson faced some control problems today, giving up three walks, which is very uncharacteristic for the right-hander. McPherson said that all of his pitches were available for today's game, and that his focus was on angling his pitches and keeping the ball down in the zone. "This early in Spring it's just locating the fastball, getting the two-seamer in the zone, getting a lot of swings on that," McPherson said. The right-hander did throw a few nasty curveballs in the first two innings, which were both very effective. But he's not worried about the curveball as much as his other pitches. "Today it worked very well for me," McPherson said about the curve. "I was able to throw it for strikes, throw it for balls, get check swings on it. At this point in the game I'm pleased with where it's at right now, and I'm not going to focus on that. I'll let the fastball and two-seamer take priority, as well as the changeup, before I worry about that pitch." After the game, Clint Hurdle talked about McPherson's start, and was impressed with how he handled the rough outing. "He's a tough kid that we like, and I just liked the composure that he had throughout the event out there today," Hurdle said. Notes **Russell Martin was out of the lineup today. Clint Hurdle said he was on a throwing program. Hurdle said he threw well today, and will throw again tomorrow. He will DH tomorrow, and Hurdle expects him to catch this week. **Brooks Brown threw two innings today, giving up one run on two hits, with no walks and two strikeouts. Hurdle talked about him after the game: "We signed him for a reason. We liked him in the winter. We were able to bring him in, and he's showing reasons why our guys that saw him liked him. The fastball is down, it's got good life. He throws that breaking ball he's got can be a swing and miss pitch. He showed up very well so far in camp."
Original Story:
http://feedproxy.google.com/~r/Pirate...
THE BACKYARD
BEST OF MAXIM
RELATED ARTICLES
Jameson Taillon throwing to Tony Sanchez in Thursday's start. Jameson Taillon had an up and down year in 2012. He started off the season with seven amazing outings, combining for six earned runs in 36.2 innings, with a 36:7 K/BB ratio. From there, things went steadily down hill for the next two months. The right-hander gave up 45 earned runs in 66.1 innings from May 16th to July...
The Pittsburgh Pirates had their third player drop out of the World Baseball Classic since the provisional rosters were announced. First Ivan De Jesus Jr dropped out so he could concentrate on making the Opening Day roster, then Russell Martin bowed out, saying he wasn't ready to catch nine innings this early in Spring. Martin came up with right shoulder soreness shortly afterwards...
Jose Tabata made strides toward regaining his starting right fielder's job, keying a five-run second inning Sunday with a two-run double and helping the Pittsburgh Pirates build a big lead before holding on for an 8-6 victory over the Houston Astros. Tabata lost his starting job last season when he hit just .243 with three home runs in 103 games. He is competing with Travis...
I love cities with a grid system. It makes driving simple. Bradenton doesn't have a true grid system, but it's to the point where I've been here a week, and I'm already to that point where you drive from home to work without really focusing on where to turn or what street to take. There are some strange things about the layout. For example, you can't just drive down 17th...
Day two of our NL Central preview week rolls along with the Pittsburgh Pirates, who came tantalizingly close to breaking their streak of losing seasons in 2012..but failed. Where will they end up in 2013? Well...we'll take a look today. Yesterday was Cubs day on TOC, and here's your recap. Cubs on TOC End of Season Postmortem Hope for the Hopeless 2013 Season...
Last year I noticed something about Pirate City. When the major league camp is there, every writer is there. When the major league camp heads over to McKechnie Field, the writers follow, and people rarely come back to Pirate City. Usually it's just me in an empty media room, with a cooler stocked full of soda, tempting me to break my ban on drinking soda. The full roster of players...
A.J. Burnett walked in a pair of runs in Philadelphia's four-run second inning Monday as the Phillies beat the Pittsburgh Pirates 5-0 Monday. Burnett lasted just 1 1-3 inning of a scheduled three because of a high pitch count. The Pirates' opening-day starter allowed four runs, four hits and struck out two. Phillies fifth starter John Lannan and four relievers combined...
When thinking about Charlie Morton the first thing that generally comes to mind is "Electric Stuff".  Either that or his other nickname "Ground Chuck".  Very endearing stuff. What often is overlooked is the fact that Charlie Morton's mental toughness has been questioned.  Is he strong enough mentally to do this?  No one really knows for…
The third weekend of the college baseball season has come to a close and we saw some power from one of the top draft-eligible third basemen on Friday and Sunday. Mark Appel showed why he will likely go well before the Pirates make their first selection with the 9th overall pick, and then select again with the 14th pick. The two third baseman we are following closely, Kris Bryant...
Pittsburgh Pirates vs Philadelphia Phillies Time: 1:05 pm McKechnie Field– Bradenton, FL Weather: 59, Clear TV: No TV today. Only MLB Radio. Follow Phillies Nation on Twitter John Lannan gets the start today for the Phils as they match up with the Bucs. Line-Up 1. Revere – CF 2. Young – 3B 3. Utley – 2B 4. Howard – 1B 5. Ruf – LF 6. Brown – RF 7. Mayberry – DH 8...
MLB News

Delivered to your inbox

You'll also receive Yardbarker's daily Top 10, featuring the best sports stories from around the web. Customize your newsletter to get articles on your favorite sports and teams. And the best part? It's free!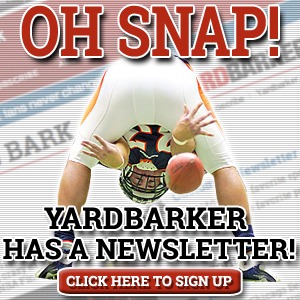 Latest Rumors
Best of Yardbarker

Today's Best Stuff

For Bloggers

Join the Yardbarker Network for more promotion, traffic, and money.

Company Info

Help

What is Yardbarker?

Yardbarker is the largest network of sports blogs and pro athlete blogs on the web. This site is the hub of the Yardbarker Network, where our editors and algorithms curate the best sports content from our network and beyond.