Found September 09, 2012 on Pirates Prospects:
PLAYERS:
Jeff Locke
,
Clint Hurdle
,
Joe Mather
,
Darwin Barney
,
Anthony Rizzo
,
Alfonso Soriano
,
Clint Barmes
,
Josh Vitters
,
Anthony Recker
,
Brock Holt
,
Neal Huntington
,
Bryan Morris
,
Daniel McCutchen
,
Evan Meek
,
Matt Hague
,
Neil Walker
,
Charlie Morton
,
Gustavo Nunez
TEAMS:
Pittsburgh Pirates
,
Chicago Cubs
The Jeff Locke on the mound this September compared to this time last year is a different pitcher. With more experience not only at the Major League level, but also at the Triple-A level as well, Locke is more confident this season.  The left-hander incorporated a new turn in his delivery during spring training, and put together his best season to date  in the minors since being drafted out of High School in 2006 by Atlanta.
Manager Clint Hurdle said that from the conversations he had within the organization, Locke got better as the season progressed. Only in the month of May had Locke posted an ERA above a 3.00 with Triple-A Indianapolis as he finished with a starter-leading 2.48 ERA over 141.2 frames (24 starts).
"The mound presence, the rhythm, stayed consistent and evenly paced," Hurdle said. "The ability to throw strikes just really ramped up from when we saw him at the end of last season. The ability to use his secondary pitches in offensive counts for hitters, to throw his changeup, to throw his breaking ball. The probably two that jump to the forefront for me, from what I've seen — the ability to get the ball in on right-handers, and the development of the changeup. To throw it at anytime. [Those are] the two things that really jump out at me."
"He's confident. He's in a pretty good place mentally."
The other difference for Locke has been the new delivery this year. The turn allows Locke's back to be completely turned, to where you can read his name and number on his jersey, before turning to the plate before he delivers. That, too, Locke said has helped him have success this season.
"That can help him get set up," Hurdle said. "Just for delivery purposes. What that does is actually enter them and establishes them over the mound to hold the position before they go. That definitely could play some benefits for him. I do think more often than not [it's] pitching with conviction. Pitching to contact is one of the things I was concerned about coming out of the Major League season, [he] was going to be gun shy coming back. It was a hard lesson for him last year. There were some hard outings. And not at all. He just realized what he needed to do to improve."
Locke made two outings in relief with Pittsburgh, where he tossed 4.1 scoreless frames, before the Pirates decided to move him into the starting rotation to get a long look at the lefty. His last trip to the mound, Locke allowed five runs over five innings, but pitched better than his box score showed. On Sunday, Locke was very effective against Chicago.
Joe Mather took the first pitch from Locke, and dropped it into shallow right field to start the game. But Locke was able to get Darwin Barney to hit a grounder to short for a double play to clear the bases. Anthony Rizzo hit a single up the right side, but was left stranded after Locke got Alfonso Soriano looking on a 1-2 fastball.
After tossing a scoreless second, Locke worked himself into a jam in the third. The rookie allowed a one-out single to Mather, and Barney followed with an infield single after Clint Barmes attempted a great running grab of a ball hit to the hole to his right. Locke was able to get a fly out for the second out and whiffed Soriano for the second time in as many at-bats to leave both runners stranded.
Locke gave up two runs off the long ball in the fourth frame. Locke retired his first batter, then gave up his first run of the outing after Josh Vitters took a first pitch fastball left over the heart of the plate and launched it to left field for a solo-home run. With two outs, Anthony Recker dished up the second homer of the frame and took 0-1 fastball to straight away center field. Locke notched his fourth strikeout to end the two run inning.
"The home run to Vitters was a first pitch fastball," Locke said. "It was up in the zone, it was something he could turn on and he hit it well. That goes on me. That's just a fastball to try to get ahead there, and he hit it out of the park. The 0-1 just needed to be inside. It wasn't in enough, and he was able to hit it to center."
"You don't get a whole, get out of jail free cards here. You make bad pitchers, and hitters are going to capitalize. That's what happened today, that's what happened last week. They say solo homers are never really going to hurt you, but when you give up multiple ones, they'll add up. Just got to keep attacking the strike zone and keep being efficient."
Locke followed that inning up by tossing a scoreless fifth, which included two whiffs. In the bottom of the fifth, the lefty picked up his first big league hit with a single that bounced down the third base line.
"It's always neat to get a hit," Locke said with a smile. "Especially at this place. It's the big leagues here. You want to try and help the team in any way you can. It's pretty encouraging to get up there and find a way to get on base."
Locke allowed just one base runner in the sixth, who reached on an error by Brock Holt, to finish out his solid second big league start this season.
"At the end of the day, no walks, six punch outs," Hurdle said. "He pitched effectively. A couple balls he tried to get in, didn't quite get in for the solo home runs but that being said, he pitched a good ballgame. He changed speeds well, handled the middle of their order pretty well…Especially in Soriano's case and Castro. A very professional outing for Jeff today."
Overall against Chicago, Locke allowed two runs on seven hits over six frames. He didn't walk a batter and struck out six while throwing 89 pitches, 60 strikes. Over his last two outings, Locke has walked just one, while striking out 12 over 11 innings. Last season in September, Locke walked 10 batters compared to five strikeouts over four starts, but said he hasn't had the same control issues this time of the year.
"I was able to have a few strikeouts today to help break up the outs a little bit," Locke said. "Everything felt pretty good. It's pretty encouraging. Last season I had control issues this time of the year, so it's pretty encouraging to throw the ball over the plate and get outs."
"I think it's just the course of the long season. You start to feel it, you start to know you've thrown a lot. Last year it was almost unexplainable. Maybe it was just nerves, maybe it was just getting my feet wet up here, but this year up here, I've felt like I've had much better command of the strike zone, move the ball in and out, change speeds. It's been like night and day in that aspect."
Reinforcements on the Horizon
Triple-A Indianapolis lost game four in the first round of the playoffs on Saturday to end their 2012 season. With their season ending, several reinforcements will be on their way to join the big league club in Cincinnati on Monday.
"We'll probably add another couple guys here," General Manager Neal Huntington said. "It's a 40-man roster. We want to make sure we give Clint every weapon in the world to try to win the game that day. Whether it's a pinch runner, defender, left-handed pinch hitter, right-handed pinch hitter, a couple length guys out of the bullpen or match up guys. We want to make sure we don't leave any stone unturned and give him as many weapons as we can."
Some notable players that could be considered are relievers Bryan Morris, Daniel McCutchen, Evan Meek, and infielders Chase d'Arnaud and Matt Hague. Along with several players, Huntington also said they will bring up some of the Triple-A coaching staff to help finish out the regular season with Pittsburgh.
"We will probably trade out some of the coaches that are right now," Huntington said. "Let them go home, let them get a couple days before Instructional League, and then we'll bring that Triple-A staff and have them be around for the remainder of the season. They can alternate going in and out of the dugout."
Walker Could Return On Wednesday
Neil Walker said after the game on Sunday that he felt good after taking swings from the left side today. The second baseman said he hopes to hit during Jeff Karstens (hip flexor) sim game on Tuesday in Cincinnati, and if all goes well, hopes to be available to at least pinch hit on Wednesday.
Morton Progressing From Tommy John Surgery
Charlie Morton is on track, Huntington said, from recovering from Tommy John Surgery in June. The right-hander was placed on the disabled list in late May after posting a 4.65 ERA over nine starts with Pittsburgh this season.
"Everything from what I read and what I've seen here is everything is going fine," Huntington said. "Obviously a long, lonely process, especially when it's based in Bradenton. But we've tried to bring Charlie back a couple times to allow him to continue to feel a part of it, because he is. Everything seems to be on track. And everything seems to be moving along just as expected and hoped."
Nunez Finishes Season on 60-day DL
Gustavo Nunez, the Pirates Rule 5 pick in December, finished the 2012 season on the 60-day disabled list. The infielder underwent an ankle surgery, and made a rehab assignment with Double-A Altoona in August, but wasn't able to be fully healthy to join the club at the Major League level.
"Nunez has continued to have soreness in the ankle," Huntington said. "We got him out on a rehab and tried to do everything we could to see if he'd be ready to be activated up here on September 1st, and he just wasn't. He still had discomfort, he still had soreness. He was not ready to come up here to compete, not ready to contribute. He'll finish the season on the 60-day DL."
Original Story:
http://feedproxy.google.com/~r/Pirate...
THE BACKYARD
BEST OF MAXIM
RELATED ARTICLES
The Pittsburgh Pirates today recalled Chase d'Arnaud and Bryan Morris from Triple-A Indianapolis. They also selected the contract of Rick VandenHurk from Triple-A. In order to make room on the 40-man for VandenHurk, Evan Meek was designated for assignment. d'Arnaud posted a .252/.325/.383 line over 98 games at Triple-A this season. d'Arnaud joined the club in late August when...
The Pirates had an interesting situation in the fifth inning today. And by "interesting situation" I mean an extremely frustrating series of managing that has become common for Clint Hurdle. To lead off the inning, Jeff Locke stepped to the plate. He laced a single down the third base line, giving the Pirates a gift runner at first base with the top of the order coming up. The...
During the 1909 season, the Pittsburgh Pirates won their first World Series title, winning 110 games during the regular season, then defeating the Detroit Tigers 4-3 in the seven game postseason series. The star player on that team was Honus Wagner, but his rookie double play partner that year had a helping hand in getting the Pirates to that first title. Born on September 9,1886...
Pittsburgh Pirates Live Game Chat
On a busy date for Pittsburgh Pirates birthdays, we have a Hall of Fame first baseman, one of the best sluggers of the 1950′s and a player from the 1909 World Series champs. John Fredland, in his Jolly Roger Rewind, takes a look back at a game from 1958 that broke a very long losing streak. Before we get into the former players, we have one current player to mention. Second baseman...
Pirates' infielder Brock Holt is batting .400 since being called up from Triple A on September 1. He has eight hits in 20 at bats, with three RBI. PiratesDugout.com's George Von Benko caught up with Holt recently.
We have six former Pittsburgh Pirates players born on this date, including one that played for the first team in franchise history and another who was part of a father-son combo in team history. In his Jolly Roger Rewind, John Fredland recaps a record setting game by Roberto Clemente from the 1958 season. Mike Dyer (1966) Pitcher for the 1994-95 Pirates. He was originally a fourth...
The Pirates' 14-inning loss to the Reds Monday night was easily the most frustrating one of the entire season. The Pirates had a great chance to come up with a feel-good road win in Cincinnati, but instead dropped their fourth in a row and are now within four games of the .500 mark. And again, the way it happened made it feel even worse. Wandy Rodriguez came up big again, and continues...
Charlotte Knights  6,  Indianapolis Indians  4 (Box)   Kris Johnson started but pitched only one inning. The Indianapolis Indians' 2012 season has come to an end, as they lost to the Charlotte Knights at Knights' Stadium tonight.  The Knights won this best-of-five playoff series, 3 games to 1, and they will move on to face the Pawtucket Red Sox in the Governor's Cup series...
I have a few issues with the term "collapse" that is being thrown around a lot lately. The first issue is that the word is being mentioned as if something is final. It's a hyperbolic way of saying the team has been playing poorly the last month. It's not enough to just say the team has been playing bad. You've got to get dramatic about it. The word collapse suggests that...
Downright pathetic weekend if you're a Pittsburgh sports fan.  Steelers played Pirate-like defense and the Pirates played Pirate-like baseball in general. I remember when I buried the Pirates a few weeks ago, they won like two games or something and I had little pang.  Maybe I was wrong.  I was started to get a little [...]
MLB News

Delivered to your inbox

You'll also receive Yardbarker's daily Top 10, featuring the best sports stories from around the web. Customize your newsletter to get articles on your favorite sports and teams. And the best part? It's free!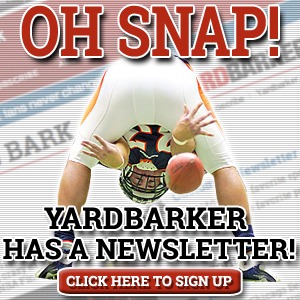 Latest Rumors
Best of Yardbarker

Today's Best Stuff

For Bloggers

Join the Yardbarker Network for more promotion, traffic, and money.

Company Info

Help

What is Yardbarker?

Yardbarker is the largest network of sports blogs and pro athlete blogs on the web. This site is the hub of the Yardbarker Network, where our editors and algorithms curate the best sports content from our network and beyond.