Found March 21, 2013 on Fox Sports:
PLAYERS:
Cole Hamels
,
John Lackey
,
Shane Victorino
,
Michael Stutes
,
John Farrell
,
Pete Orr
,
Jimmy Rollins
,
Michael Young
,
Will Middlebrooks
,
Jonny Gomes
,
Daniel Nava
,
Carlos Ruiz
,
Anthony Carter
,
David Ortiz
,
Stephen Drew
,
Chris Carpenter
,
Terry Doyle
,
Oscar Villarreal
,
Chris Hernandez
,
Roy Halladay
,
Adam Morgan
,
Yuniesky Betancourt
TEAMS:
Boston Red Sox
,
Philadelphia Phillies
,
Toronto Blue Jays
Cole Hamels looked fine facing a Red Sox lineup that seemed ready for opening day. John Lackey did equally well against a Phillies side with a few familiar names. Lackey pitched five sharp innings, Hamels threw six good innings and Boston beat Philadelphia 6-1 Thursday night. Hamels, set to start on opening day, gave up one run and four hits. He struck out five and walked two. ''Now that we're kind of playing more of the big-time guys, guys' swings are obviously a lot better,'' Hamels said. ''I think my body's starting to catch up. You build up the pitch count every five days,'' he said. ''Obviously, as spring goes on, your body starts to kind of get going.'' Hamels struck out former teammate Shane Victorino looking at a curveball to lead off the sixth. ''That's probably one of the best ones I've thrown in a really long time,'' Hamels said. ''Even with last season. So I guess I'll have to hear from him, because I know he's obviously not used to seeing me throw that, even though he was out in center field.'' Victorino's bases-loaded triple off Michael Stutes highlighted Boston's five-run seventh. Lackey allowed one run and four hits, with no walks and one strikeout. He made his first appearance in a Grapefruit League game since March 10 after pitching in a minor league game in his last outing. Lackey recorded 13 groundball outs. ''Felt good with the ball being on the ground a lot, for sure,'' Lackey said. ''It was a good sign for me.'' Red Sox manager John Farrell liked what he saw. ''The one thing he has going in his favor,'' Farrell, ''is because he throws on such a downhill plane, on days when he might not have his best velocity, he still has the ability to put the ball on the ground. We saw it tonight on a number of occasions. I don't think we could have anticipated much more coming into camp for him.'' The Phillies got a run off Lackey in the first when Pete Orr singled, Jimmy Rollins doubled and Michael Young had an RBI groundout. The Red Sox scored in the second when Will Middlebrooks led off with a double, Jonny Gomes singled and Daniel Nava hit a sacrifice fly. NOTES: With two outs in the ninth, Phillies C Carlos Ruiz was hit in the left hand by a pitch from Anthony Carter. His condition was not immediately known after the game. ... Boston DH David Ortiz, who had been shut down for more than a week in an attempt to give his ailing heels some relief, come through well after two days of working out and taking 50 swings off a tee in the batting cage. ... Red Sox SS Stephen Drew was examined by concussion specialist Dr. Michael Collins and cleared to begin baseball activities. Drew has not played in a game since March 7 when he was hit in the helmet by a pitch. The Red Sox said they are likely to limit Drew to minor league games. ... The Red Sox reassigned RHPs Chris Carpenter, Terry Doyle and Oscar Villarreal and LHP Chris Hernandez to minor league camp. ... Phillies RHP Roy Halladay, who had been weakened by a stomach bug, is scheduled to start a minor league game on Saturday. LHP prospect Adam Morgan will start on Friday against the Braves in what would have been Halladay's regularly scheduled day. ... The Phillies are contractually obligated to tell INF Yuniesky Betancourt on Sunday if he made the team. ... Phillies OF Delmon Young, recovering from offseason ankle surgery, took balls in the outfield and ran the bases during workouts in Clearwater. Young will open the season on the disabled list. Team officials have estimated that he could be ready to be activated in mid-to-late April.
Original Story:
http://msn.foxsports.com/mlb/story/Re...
THE BACKYARD
BEST OF MAXIM
RELATED ARTICLES
Every morning, we compile the links of the day and dump them here... highlighting the big storyline. Because there's nothing quite as satisfying as a good morning dump. Against Double-A hitters in a minor league spring training game on Friday, Bard authored the following sequence: single up the middle, stolen base, walk, walk, strikeout, strikeout, run-scoring hit by pitch...
Charlie Manuel is the most successful manager in Philadelphia Phillies history. Manuel has more wins than any skipper in team history and the highest winning percentage of anyone that managed the team for more than 3 years. At 69 years of age, he is in the last year of his contract. Will 2013 be his final season at the helm? Manuel has done it all for the Phillies. He won an unprecedented...
&#a0; (Audio courtesy of WEEI.com) Will Middlebrooks recently joined WEEI's Mut and Merloni show to discuss a variety of topics including his wrist injury, the young phenom Jackie Bradley Jr. and the 2013 Red Sox spring training. Here are some highlights from the near 13 minute interview. Feels comfortable being a vocal leader without being tossed into a trashcan, awesome...
The speculation about whether Darin Ruf would make the Phillies roster this spring can now stop. The Phillies made the decision today to option Ruf to AAA Lehigh Valley. Optioning Ruf was one of three roster moves the Phillies made on Friday.
The jury is still out on whether Darin Ruf will make the Phillies opening day roster, but odds are that at some point this season, he'll be back in Philadelphia. With big power and the ability to hit for average, Ruf could have big potential for the Phillies.
FROM ME TO YOU
Reds second basemen Brandon Phillips and Boston Red Sox outfielder Shane Victorino recently played alongside each other in the World Baseball Classic for Team USA. Apparently, the two have become pretty good pals after Victorino tweeted out the above picture of a pair of red Christian Louboutin sneakers that Phillips gave him as a gift. As you can see, the size 6.5 shoes actually...
It's one of the Boston Red Sox' most-cherished traditions. Each year, the Sox welcome a group of Jimmy Fund patients to escape New England's late-winter chill and head down to sunny Florida to join the team at JetBlue Park. This isn't just some meet and greet, either, as the kids get to show off their hitting and fielding skills with the players while spending quality time...
Photo: Philliedelphia/Frank Klose With only 10 days left until the Phillies open against the Altanta Braves, some roster questions remain. With today's demotion of Darin Ruf and with Delmon Young still expected to open the season on the disabled list, the Phillies have an opening in the outfield. Further, with...
The Boston Red Sox season opener is just 12 days away and with the game against the New York Yankees quickly approaching I thought it could be fun to come up with 5 predictions about the season that are absolutely ridiculous, but in all reality have solid logic behind the thoughts. Now remember these are supposed to be absolutely ridiculous and are just predictions, if they come...
It probably seemed like a genius move in its inception to the Phillies: Instead of having kids — both young men and young women — who might have a decent chance of fielding a ball hit their way man the positions down the foul lines, why not plop some Hooters gals at those spots and see what happens? Of course, the eye candy aspect of having Hooters gals serve as ball girls cannot...
It seems like just yesterday the entire nation was in mourning as result of the horrific events that occured in Newtown, CT. Here we are a few months later and the events that occurred in December are still fresh in the public's mind. In a league wide effort to help support those who were affected by the shooting, MLB commissioner Bud Selig has decided that all 30 teams will...
MLB News

Delivered to your inbox

You'll also receive Yardbarker's daily Top 10, featuring the best sports stories from around the web. Customize your newsletter to get articles on your favorite sports and teams. And the best part? It's free!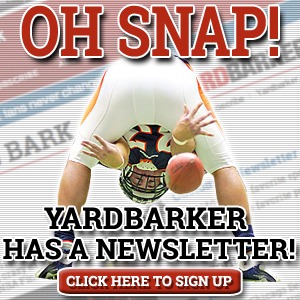 Latest Rumors
The Backyard

Today's Best Stuff

For Bloggers

Join the Yardbarker Network for more promotion, traffic, and money.

Company Info

Help

What is Yardbarker?

Yardbarker is the largest network of sports blogs and pro athlete blogs on the web. This site is the hub of the Yardbarker Network, where our editors and algorithms curate the best sports content from our network and beyond.