Found April 09, 2012 on Sliding Into Home:
<span style="font-family: "Times New Roman","serif"; font-size: 12pt; line-height: 115%;">Jason Giambi has not been a New York Yankee since 2008 & ever since his last appearance; the masses have only been saying one thing about him.  Bust.  That could not be further from the truth.  Did he live up to the contract that was awarded to him based on his previous three seasons in Oakland beforehand?  Definitely not.  The Yankees thought that they were getting a high average offensive threat that was going to hit close to 40 bombs a year. <span style="font-family: "Times New Roman","serif"; font-size: 12pt; line-height: 115%;">That version of Giambi was alive & well during the first year of his contract but that was the only year we would see it.  Having said that, it doesn't make the guy a bust by any stretch of the imagination when you look at his offensive output for the rest of his Yankee career.  In 2004 and 2007, the guy wasn't healthy and the numbers represent that.  <span style="font-family: "Times New Roman","serif"; font-size: 12pt; line-height: 115%;">He was no longer a high average hitter but Batting Average, while important, is not the be all and end all for batting statistics.  Personally, I am more interested in a player's On-Base Percentage.  The lowest OBP that Giambi put up during his healthy Yankee seasons was in 2008, when his was .373.  To go with that, he was sporting an .876 OPS.  Power-wise, that may not be what the Yankees signed up for on December 13, 2001.  However, that is still an immensely effective Major League hitter, and that is in the final year of his contract.  During the course of the contract, he would put up OBP's of .435, .412, .342 (injury shortened year), .440, .413, .356 (injury shortened year), and .373.  Except for a respectable .271 batting average in 2005 and his monster year in 2002, the average was always relatively low.  <span style="font-family: "Times New Roman","serif"; font-size: 12pt; line-height: 115%;">When you look at the On-Base Percentages and his power output throughout his Yankee days, you cannot possibly call him a bust.  The inevitable comparisons have already begun and those are between the Giambino and Mark Teixeira.  Frustrated fans over the past three years have seen Mark go from all-around offensive threat to a more one dimensional homerun hitter.  They have said things like "Great, he's turning into Giambi."  Now, Teixeira has plenty of time to return to his 2009 form but comparing him to Giambi as if that is a bad thing, is an insult to Giambi.  <span style="font-family: "Times New Roman","serif"; font-size: 12pt; line-height: 115%;">In 2009, Tex put up an On-Base Percentage of .383, which is fantastic and pretty much on par with what he has done throughout his career.  But we're not comparing their careers as a whole; we are talking about what they have done as members of the New York Yankees.  Now, thus far .383 is Tex's peak (for now).  By comparison, Giambi's peak OBP with the Yankees is .440.  I mentioned what his lowest OBP was earlier in the article, and that is merely ten points lower than Teixeira's highest.  Yet, people are calling Giambi a bust?  If he's a bust, what does that say about Mark Teixeira?  <span style="font-family: "Times New Roman","serif"; font-size: 12pt; line-height: 115%;">Before you begin with the baseless insults that make absolutely no sense, I am not calling Teixeira (I hate spelling this name) a bust.  I am simply putting out there that if this trend continues, those screaming about Tex "turning into Giambi" offensively would only be so lucky.  Those people that look only at Batting Average need to check the rest of Giambi's baseball card because he was an offensive beast as a Yankee.  Worth the salary?  Nope, but then, who is?  Bust? Not even remotely close…now I want all of you to repeat that until it finally sinks in.
<span style="font-family: "Times New Roman","serif"; font-size: 12pt; line-height: 115%;">Twitter: @trevwolff
Original Story:
http://feedproxy.google.com/~r/Slidin...
THE BACKYARD
BEST OF MAXIM
RELATED ARTICLES
<a href="http://NYYUniverse.com/wp-content/plugins/wordpress-feed-statistics/feed-statistics.php?url=aHR0cDovL05ZWVVuaXZlcnNlLmNvbS9taW5vci1sZWFndWVzL2FuZHktcGV0dGl0dGUtdG8tc3RhcnQtbW9uZGF5LW5pZ2h0LWZvci1jbGFzcy1hLXlhbmtlZXMvYXR0YWNobWVudC9wZXR0aXR0ZS0zLw==" rel=\"attachment wp-att-4267\">Andy Pettitte will be making his first start of the Extended Spring...
<a href="http://NYYUniverse.com/wp-content/plugins/wordpress-feed-statistics/feed-statistics.php?url=aHR0cDovL05ZWVVuaXZlcnNlLmNvbS8/YXR0YWNobWVudF9pZD00Mzc4" rel=\"attachment wp-att-4378\"> New York Yankees 6 — Baltimore Orioles 2   A perfect night at the plate by Derek Jeter and 7 innings from Ivan Nova got the Yankees their first win of the season...
Joe Maddon (Photo credit: Wikipedia) Do you think the New York Yankees are in trouble? Well, the Yankees are off to a horrid start to the 2012 season, as they got out pitched, out hit and out managed by the Tampa Bay Rays who swept the Bombers right out of Tropicana Field this past weekend. Even though it is the beginning of the season, I was embarrassed for the Yankees, as it...
REGULAR SEASON GAME 3 YANKEES @ RAYS First Pitch: 1:40 PM | TV: YES/TBS | Radio: WCBS Here are the lineups: YANKEES (0-2) Derek Jeter SS Curtis Granderson CF Robinson Cano 2B Alex Rodriguez 3B Mark Teixeira 1B Nick Swisher DH Raul Ibanez RF Brett Gardner LF Chris Stewart C RHP Phil Hughes (0-0, -.-- ERA) RAYS (2-0) Desmond Jennings CF Carlos Pena 1B Evan...
The New York Yankees are seeking to avoid their first 0-3 start since 1998, although that season turned out just fine. The Tampa Bay Rays, meanwhile, have started with three wins just once in franchise history. The Rays have won five straight at home against the Yankees for the first time heading into Sunday's finale of this opening series. New York has gotten poor...
The NL West boasts some of the best arms in the game with Clayton Kershaw, Tim Lincecum, Matt Cain and Jhoulys Chacin. Wait, Jhoulys Chacin? The Colorado Rockies' hard-throwing righty who has 20 career wins, one fewer than Kershaw had in his Cy Young Award-winning season a year ago? Yep, that one. Don't chuckle, because Chacin could very well be the next big thing in...
HOUSTON- Nameplates are often last on the checklist in the frenzy of player transactions, thus while Justin Maxwell was sufficiently outfitted for his Astros debut and announced his arrival with a two-run, pinch-hit home run in the eighth inning on Monday night at Minute Maid Park, the space next to the No. 22 above his locker remained blank afterward. That logistical hazard did...
The New York Yankees finally won their first game of the season, using four hits by Derek Jeter and an effective pitching performance by Ivan Nova to defeat the Baltimore Orioles 6-2 Monday night.
I recap some of the fun results from the first weekend of the regular season. Hear my thoughts on the homegrown Mets, Mariano Rivera, the shift, John and Suzyn on the radio, and Bobby Valentine doing a show in New York. Dan Levy of the Bleacher Report, and formerly the Sporting News and Washington Post, will join to give some of his first impressions of the new baseball season...
The New York Yankees (2-3) beat the Baltimore Orioles (3-2) 5-4 in 12 innings, tonight at Camdem Yards. Pitching: Freddy Garcia made his first start of the season and it was tough to watch. He went 4.2 innings, allowed 4 hits, 4 runs (1 HR), walked 3 and struck out 3 batters for 98 pitches. The Bullpen pitched scoreless 7.1 innings pitched, allowed 2 hits, walked 2 and struck...
MLB News

Delivered to your inbox

You'll also receive Yardbarker's daily Top 10, featuring the best sports stories from around the web. Customize your newsletter to get articles on your favorite sports and teams. And the best part? It's free!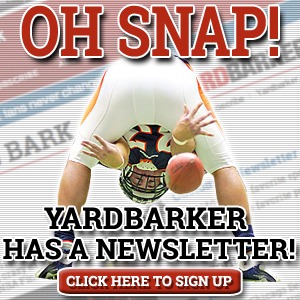 Latest Rumors
The Backyard

Today's Best Stuff

For Bloggers

Join the Yardbarker Network for more promotion, traffic, and money.

Company Info

Help

What is Yardbarker?

Yardbarker is the largest network of sports blogs and pro athlete blogs on the web. This site is the hub of the Yardbarker Network, where our editors and algorithms curate the best sports content from our network and beyond.