Found March 18, 2013 on The Outside Corner:
Via The Outside Corner:
San Francisco Giants starting pitcher Barry Zito was reportedly scammed out of $3 million by a company called dotFIT, started by Zito's friend Michael Clark. Zito invested $3 million into the company, which also counts Madonna and Dr. Oz as investors. He thought he'd be getting a 15 percent stake in the company for his investment, but instead, his money was put toward paying off outstanding debts the company had. Big League Stew has the nitty gritty.
Zito claims Clark used their longtime friendship to entice Barry Zito Enterprises (BZE) into investing $3 million in dotFIT.
He claims Clark told him that dotFIT "was in the midst of a $20 million equity campaign that would allow dotFIT to exploit a valuable software interface (which dotFIT owned) and market it to health clubs worldwide."
"Clark further explained that he had others ready to invest and that if BZE did not act fast, it would lose its investment opportunity. But dotFIT now claims that it never sought to raise $20 million in equity (and never had $20 million in capital)," Zito says in the complaint.
This is some pretty wild stuff, and the ties to Madonna that the company has are even more bizarre, with another third party company involved.
Zito claims that two weeks after Lafayette sold its interest in dotFIT, Lafayette's puppet company NEFC sold 12.5 percent of its interest in dotFIT to pop star Madonna for $625,000. NEFC sold another 12.5 percent of its interest to Go Mav, LLC for the same price a few weeks later, according to the complaint.
Madonna is not a party to the complaint.
As for Dr. Oz, dotFIT was sold to a company in 2011 called ShareCare founded by him and WebMD founder Jeffrey Arnold, neither of whom are being sued by Zito.
This is just another example of people taking advantage of athletes who sign large contracts, and Zito is neither the first nor the last to be involved in a situation like this. Zito signed a seven-year, $126 million contract with the Giants in December 2006 that will be expiring at the end of the 2013 season, and while he may have not been worth all of that contract to the Giants, it's still no excuse for him get to get scammed out of his money by a supposed friend.
Original Story:
http://www.bloguin.com/theoutsidecorn...
THE BACKYARD
BEST OF MAXIM
RELATED ARTICLES
Credit: Steven Robles – SF Giants Rumors Starting pitcher Ryan Vogelsong is back with the San Francisco Giants. He was playing with Team USA in the World Baseball Classic. Vogelsong is expected to get back on the mound for the Giants Wednesday against the Brewers. "It was a great experience, it really was. It was everything I thought it would be, minus winning," said Vogelsong...
Many Giants fans feel that Tim Lincecum is a ticking time bomb. After exploding onto the MLB stage by winning back-to-back Cy Young awards in 2008-09, the Freak imploded last season, going 10-15 with a hefty 5.18 ERA. That has left many of us to ponder the question, "Have we seen the best of Timmy?" Giants execs have been reluctant to sign Lincecum (2 years, $40.5 million) to...
Barry Zito knew it was time to test the curveball. He was right. Zito struck out five in a row in the first and second innings, but Brandon Mauer shut down the Giants and led the Seattle Mariners to a 6-3 victory over San Francisco on Tuesday. ''I definitely wanted to get the curveball in the game,'' he said. ''I just haven't thrown a whole lot through...
San Francisco Giants pithced Barry Zito has filed a lawsuit against friend for $3 million, claiming he was duped into investing in a "fitness software scheme that never materialized." With friends like that, who needs $3 million, or fitness software. Matt Snyder of CBS Sports writes that Zito's friend (or former friend) Michael Clark "used their friendship to gain the trust...
Brett Bochy is a young relief pitcher in the San Francisco Giants organization. Brett Bouchy is also the son of Giants manager Bruce Bochy. And on Friday, the younger Bouchy was one of the 21 players cut by the elder Bouchy.But unlike the other 20 players that were reassigned to the majors, Brett got the heads up on Thursday night when the two Bochy men had dinner together. Something...
Pablo Sandoval's nerve irritation could be the result of bone spurs in his elbow.  He underwent an MRI that ruled out any major structural damage says Andrew Baggarly of CSN Bay Area, but the San Francisco Giants will be cautious with him.  The team is still optimistic about Sandoval's chances at being ready for Opening Day. Sandoval was recently diagnosed with ulnar...
San Francisco Giants third baseman Pablo Sandoval has been diagnosed with an irritated nerve in his right arm, and the slugger will take the next few days off to rest his injury, according to Henry Schulman of The San Francisco Chronicle. Schulman notes that Sandoval will get rest and receive treatment over the next few days, as the Giants hope this will help his...
Hunter Pence had three hits and Cole Gillespie, trying to win a spot on the major league roster, hit a three-run homer in the bottom of the ninth inning that gave the San Francisco Giants a 9-7 victory over the Colorado Rockies on Sunday. San Francisco played without All-Star third baseman and World Series MVP Pablo Sandoval, scratched from the lineup because of right elbow discomfort...
Giants News

Delivered to your inbox

You'll also receive Yardbarker's daily Top 10, featuring the best sports stories from around the web. Customize your newsletter to get articles on your favorite sports and teams. And the best part? It's free!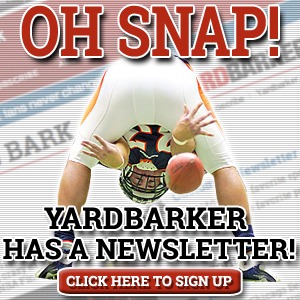 Latest Rumors
Best of Yardbarker

Today's Best Stuff

For Bloggers

Join the Yardbarker Network for more promotion, traffic, and money.

Company Info

Help

What is Yardbarker?

Yardbarker is the largest network of sports blogs and pro athlete blogs on the web. This site is the hub of the Yardbarker Network, where our editors and algorithms curate the best sports content from our network and beyond.