Found July 27, 2012 on Fox Sports Kansas City:
(AP) -- The Seattle Mariners don't have much punch in their lineup following the departure of Ichiro Suzuki, but they could be a little more imposing if just two of their struggling hitters can turn things around. The Mariners will try to make it five wins in six games against the Kansas City Royals this season Friday night at Safeco Field. After losing two of three to New York earlier this week and bidding farewell to Suzuki, Seattle (44-57) opened this four-game series with a 4-1 victory Thursday. Mike Carp had three hits and drove in two runs in his third game off the disabled list with right shoulder inflammation. The first baseman came in batting .146 in 34 games and was 0 for 6 in his first two games back. "I've got two months to prove I'm past the injury and prove last year wasn't a fluke," said Carp, who hit .286 with 12 home runs and 46 RBIs after the All-Star break last year. Dustin Ackley also broke out of his slump, going 2 for 3 with a double and two walks. Ackley was 1 for his previous 29 with nine strikeouts. Seattle hopes both players can continue contributing. The Mariners rank near the bottom of the majors in most offensive categories, averaging 3.9 runs per game with a .229 batting average. Despite winning four of six, they've scored 2.5 runs while hitting .193 during that stretch. Facing the Royals (41-57) could help. Kansas City has lost 11 of 14 away from home, during which its pitching staff has a 6.10 ERA, including a 7.40 mark among the starters. Luis Mendoza gave up four runs, nine hits and three walks Thursday while the Royals managed a season-low two hits - both by Billy Butler - against Jason Vargas and closer Tom Wilhelmsen. Making his second start for Kansas City after being traded from Colorado, Jeremy Guthrie (0-1, 9.00 ERA) looks for a better performance after struggling in his club debut. Guthrie gave up five runs and four hits in five innings of a 7-5 loss to Minnesota on Sunday. "The two-run hits hurt, but honestly I threw the ball the way I wanted to and the hitters hit good pitches," Guthrie said. "I think the biggest mistakes were the walks." The right-hander is winless since May 31 - a stretch of eight starts and four relief appearances. He has a 6.29 ERA in his last five starts. Guthrie has lost his last four decisions against the Mariners. He allowed six runs and seven hits - including three homers - in six innings of a 6-4 loss May 20. Blake Beavan (5-6, 5.54) looks to win his third straight start for the Mariners. Beavan gave up one run and four hits in eight innings of a 2-1 victory over Tampa Bay on Sunday. He had allowed five or more runs in each of his previous four outings. The right-hander beat the Royals on July 17 despite allowing five runs and seven hits over six innings of a 9-6 win. It was his second career win in as many starts against Kansas City.
Original Story:
http://www.foxsportskansascity.com/07...
THE BACKYARD
BEST OF MAXIM
RELATED ARTICLES
From the AP Via the New York Post:In his past visits to Yankee Stadium, Ichiro Suzuki was ready and actually enjoyed the heckling that came from the Bleacher Creatures. He's also ready for a new experience on Friday night when the newest Yankees outfielder makes his debut at home against the Red Sox: the roll call. "I hope the fans do call my name, but I need to get...
Ichiro Suzuki bounced around left field in Yankee Stadium during batting practice, getting a sense of how the ball travels in his new home ballpark and getting a look at the view from what will be his new position. Suzuki was set to make his debut in pinstripes on Friday night when the New York Yankees played the Boston Red Sox for the first time this season in the Bronx. Having...
Ichiro Suzuki has 460 career at-bats against the Red Sox. His next at-bat against the Sox, however, will be something entirely different than the 460 previous. The outfielder was acquired by the Yankees earlier this week, and he'll get his first taste of the Red Sox-Yankees rivalry on Friday night when Boston makes its first trip to New York this season for what will also be...
Earlier this week, the Seattle Mariners traded their aging superstar Ichiro Suzuki to the New York Yankees for a couple of prospects. There had been talk throughout the season about what the Mariners might do with their increasingly expensive and increasingly old future Hall of Famer, but the news of his trade to the Yankees still came as quite a surprise. There wasn't even...
Seattle Mariners fans should feel what, about Ichiro Suzuki being traded? Now I know that he asked to be traded, but this dude was still the adopted hometown hero. You would think there would be some type of outrage toward the Mariners front office, especially since he was traded to a team who they were playing that night at home. However living in Seattle, I don't get that feeling...
By now we all know Hall of Fame OF Ichiro Suzuki was traded to the New York Yankees for a ham sandwich. By all accounts it was a low risk move for the Yankees and Ichiro gets to (most likely) finish his career in New York. He also gets the opportunity (most likely) to get some serious exposure in the post season. We also know that Ichiro is like a God in Japan. The question is;...
Ben Gibbard (or, more recently, Benjamin) is a pretty prolific guy. Beyond the 35-year-old Pacific Northwest native's dayjob as frontman of the highly succesful indie rock outfit Death Cab For Cutie, Gibbard also caught a lot of noterity as the voice of The Postal Service (remember "Such Great Heights?"), released several solo albums under the moniker of ¡All-Time...
Ichiro Suzuki left the Seattle Mariners this week but before that, he still had to play with the Seattle Mariners against the Kansas City Royals and the Tampa Bay Rays on the road. The Mariners were 3-1 against KC and 2-1 against the Rays. Some of the major highlights of the week included scoring 9 runs twice against the Royals, taking Tampa deep into 14 innings, breaking a 2-year...
Editor's note: The temperature gauge is a Bill James-created statistic that measures how hot or cold hitters are. We will spotlight Red Sox and opposing team temperatures on game days. The Red Sox are set for an up-close lesson on how to build a hot streak as they head into New York on Friday night for a series against the Yankees. The Yankees, at 59-39, are tied with the Nationals...
The Seattle Mariners are about to begin the first series at Safeco Field without Ichiro Suzuki on either team's roster since 2000. Jason Vargas may soon follow him out of town. The left-hander has probably boosted his trade value with an impressive stretch of pitching, which means Thursday night's start against the Kansas City Royals could be his last in a Mariners uniform...
Some possibilities...Ichiro Suzuki, Ice Age: Continental DriftBrian Cashman, Abraham Lincoln: Vampire HunterRobinson Cano, Rock of AgesJoba Chamberlain, That's My BoyAlex Rodriguez, Safety Not GuaranteedJoe Girardi, PrometheusRaphael Soriano, The Dark Knight RisesJohn Sterling, Magic Mike Suzyn Waldman, Snow White and the Huntsman
The 2012 MLB Trade Deadline is now just five days away, and many teams have already entered the sweepstakes by landing some marquee players who they will help their new team make a strong push toward the postseason. The New York Yankees acquired Ichiro Suzuki, the Los Angeles Dodgers pried Hanley Ramirez away from an owner who was always his biggest fan, and the Detroit...
MLB News

Delivered to your inbox

You'll also receive Yardbarker's daily Top 10, featuring the best sports stories from around the web. Customize your newsletter to get articles on your favorite sports and teams. And the best part? It's free!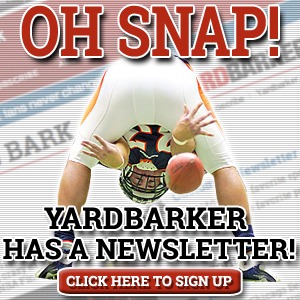 Latest Rumors
The Backyard

Today's Best Stuff

For Bloggers

Join the Yardbarker Network for more promotion, traffic, and money.

Company Info

Help

What is Yardbarker?

Yardbarker is the largest network of sports blogs and pro athlete blogs on the web. This site is the hub of the Yardbarker Network, where our editors and algorithms curate the best sports content from our network and beyond.