Found August 22, 2013 on The Outside Corner:
Finally, Ryan Braun has ended his silence on his PED suspension. Well, sort of. Braun released a lengthy written statement Thursday evening (as opposed to standing in front of the firing squad for a live press conference), admitting his use of a banned substance in 2011, the year he won the National League Most Valuable Player award and helped the Brewers get within two wins of the World Series. The admission from Braun's statement: During the latter part of the 2011 season, I was dealing with a nagging injury and I turned to products for a short period of time that I shouldn't have used. The products were a cream and a lozenge which I was told could help expedite my rehabilitation.  It was a huge mistake for which I am deeply ashamed and I compounded the situation by not admitting my mistakes immediately. Braun suffered a calf strain running out an RBI single in early July of that season, a lingering injury that caused him to miss the All-Star Game. Braun retu...
Original Story:
http://www.bloguin.com/theoutsidecorn...
THE BACKYARD
BEST OF MAXIM
RELATED ARTICLES
'HUGE MISTAKE'
Disgraced Brewers slugger Ryan Braun released a statement on Thursday evening admitting PED use, accepting responsibility and apologizing for his actions.
Ryan Braun put out a 944-word letter of remorse Thursday. He stopped a little short of confessing exactly which substances led to his MLB drug suspension, but otherwise it was a full and satisfying expression of remorse for taking some bad stuff and for the bratty way he acted after he got accused of it. That apology said the right stuff, and I'll go ahead and accept that he...
Brewers players are glad that Ryan Braun has acknowledged he took performance-enhancing substances that resulted in his 65-game suspension by Major League Baseball. His teammates think it's a good step to explain when he used banned substances. Catcher Jonathan Lucroy calls it ''was a good first step on the road to redemption.'' Braun released his statement...
Text of statement by Ryan Braun released Thursday by the Milwaukee Brewers: Now that the initial MLB investigation is over, I want to apologize for my actions and provide a more specific account of what I did and why I deserved to be suspended. I have no one to blame but myself. I know that over the last year and a half I made some serious mistakes, both in the information I failed...
Ryan Braun finally spoke out — well, released a statement — about his 65-game suspension for performance-enhancing drug use on Thursday. Now that the tension has been  alleviated, Braun's Brewers teammates are letting the world know they've got his back. Some of Braun's teammates, namely catcher Jonathan Lucroy and relief pitcher John Axford, as well as Brewers manager...
For those looking for Ryan Braun's apology, he finally released a statement yesterday.  Braun wrote a lengthy statement admitting to using PEDs, explaining why he accepted the suspension, and apologizing to those he hurt.  In the statement, Braun never fully acknowledges seeking out PEDs, but he says he recognized what he was doing.  Here's the statement in full: ...
So...Ryan Braun apologizes. The former N.L MVP is serving a 65 game suspension after Major League Baseball was able to link him to  Biogenesis a Miami area facility that allegedly provided steroids and other performance enhancing drugs to professional athletes. Braun had been suspected for a couple of years. In early 2012, he was able to beat MLB after allegedly failing a...
They are a forgiving lot, these Milwaukee Brewers fans. Even when it comes to Ryan Braun. Shortly before the Cardinals' game Wednesday afternoon in Milwaukee, FOX Sports Midwest reporter Jim Hayes scoured the parking lots and sidewalks around Miller Park to ask Brewers fans what they thought about their disgraced left fielder. Braun, of course, recently accepted a 65-game...
To say Ryan Braun has had a rough go of it since being popped (again) for his involvement with performance enhancing drugs would be fair.  To say its been a rough week?  Well...that would be an understatement.  Consider this. First, it was leaked that he told friends that the guy who collected his urine sample back in 2011 was an anti-Semite and a, get this, Chicago Cubs...
The Little League World Series is now on TV, and besides watching the game, the part that interests me the most is the children telling us who their favorite baseball player is before every game. My favorite player when I was in Little League was Mark Grace. His great fielding skills (he won four Gold Gloves), reliability at the plate and even his batting stance influenced how I...
Milwaukee Brewers slugger Ryan Braun issued a public apology for his PED use Thursday.  He received a 65-game suspension from Major League Baseball for his involvement in the Biogenesis scandal. Braun's statement: Now that the initial MLB investigation is over, I want to 
MLB News

Delivered to your inbox

You'll also receive Yardbarker's daily Top 10, featuring the best sports stories from around the web. Customize your newsletter to get articles on your favorite sports and teams. And the best part? It's free!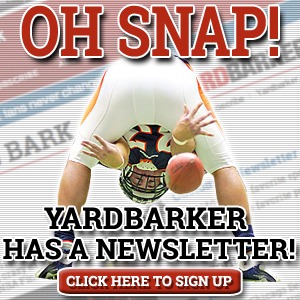 Latest Rumors
Best of Yardbarker

Today's Best Stuff

For Bloggers

Join the Yardbarker Network for more promotion, traffic, and money.

Company Info

Help

What is Yardbarker?

Yardbarker is the largest network of sports blogs and pro athlete blogs on the web. This site is the hub of the Yardbarker Network, where our editors and algorithms curate the best sports content from our network and beyond.