Found February 13, 2012 on The Southpaw:
Or, ya know, not.
As promised, I've compiled the prospect rankings from several high profile professional baseball observers into a "poll" style ranking. This is somewhat modified in that I have 5 lists which go to at least 15 names and two more that i wish to include which only go 10 deep. I ranked them on a 15 points for #1, 14 for #2 and etc system. which means, of course, that its mildly skewed by the two short lists.
What

resulted

, however, was a pretty reliable ranking. There's a clear drop off, between #12 and #13. Ten of those top 12 appear on both the short lists, and there's only two places in the ranking where the most generous assumption would change the ranking. Of the top 12, all of them appear on at least four lists and none of the rest do.
Twenty players in all were mentioned among the seven lists and they may comfortably be considered the consensus top 20, but given the short lists I'll give you a Top 12 list, and 8 honorable

mentions

- the latter not being reliably ranked because they are usually not on the shorter lists.
Afterwards, I'll compare this ranking with my own from early in the off-season.
The "voters" here are John Sickels of Minor League Ball, Nathan Rode of Baseball America, Marc Hulet of Fangraphs, Kevin Goldstien of Baseball Prospectus, Jonathan Mayo of MLB.com, Keith Law of ESPN, and Patrick Ebert of Perfect Game. Total points appear in parenthesis after the name and position.
1. Travis d'Arnaud / C (104) - Out of a possible 105 points, the highly-touted catcher (who Law, for instance, ranks the 6th best prospect in all of baseball) missed a perfect score by a single point.
2. Jake Marisnick / OF (90) - a top 3 prospect on 6 of 7 lists, he's still the #3 position player even on the 7th list.
3. Anthony Gose / CF (87) - Like Jake, Gose was hurt by a lower ranking on one list out of the seven. He was in the top 4 on the rest, and was the only player besides d'Arnaud to be ranked #1 on any list.
4. Drew Hutchison / RHP (74) - the pitching prospect on this list that you are most likely to see in a Blue Jays uniform this year, Hutch was still ranked behind the higher-ceiling

but more distant prospects on some lists.
4. Noah Syndergaard /RHP (74) - the highest total among those young guns went to the big Texas righty who many feel isn't done growing as a man or as a pitcher.
6. Justin Nicolino / LHP (71) - Very close behind the two right handers come two left handers. The four were clustered together all 4 within five slots on 4 of the 7 lists.
6. Daniel Norris / LHP (71) - would have been #4 but for having been left out of Keith Law's Top 10 altogether. He was in the top 5 on 5 of the other 6 lists.
8. Deck McGuire / RHP (55) - fell between 7 and 10 on all seven lists.
9. Aaron Sanchez / RHP (45) - Was in the top 12 on six of the seven lists. He might have been on all seven but he didn't make the top 10 on one of the short lists so who knows?
10. AJ Jiminez / C (31) - In the top 12 on 5 of 7 lists. Including both short lists. The name on this list that surprises me most. I would have guessed the pros would have had him somewhere around 14-15 rather than the top 10.
11. Adonys Cardona / RHP (25) - it's encouraging to see the bonus baby already working his way up to the top of the list.
12. Asher Wojciechowski / RHP (19) - Eight starting pitchers in the Top 12 is most impressive.
Honorable mentions:
Dwight Smith, Jr. / OF (10),
Carlos Perez / C (9), Chris Hawkins / LF (8), Jake Anderson / RF (8), Adeiny Hechevarria / SS (8), Kevin Comer / RHP (7),
Joe Musgrove / RHP (3),
Matt Dean / 3B (5)
It's worth noting that 6 of the top 20 came from the 2011 draft, 12 of the top 20 were drafted in the last two years. Here's my list (adjusted due to the trade of Molina), published before any of these was known to me, from November 24, 2011:
1. d'Arnaud
2. Marisnick
3. Gose
4. Hutchison
(4. Molina)
5. Hechavarria
6. Syndergaard
7. Nicolino
8. Norris
9. Sanchez
10. Perez
11. McGuire
12. Crouse
13. Jimenez
14. Knecht
15. Cardona
16. Dean
17. Comer
18. Osuna
19. Jenkins
20. Wojciechewski
In retrospect, if the experts are to be believed, I'm somewhat too high on Hechavarria, Crouse, and Knecht. This is one of the flaws of basing a big chunk of your opinion on statistical results. Crouse (and to a lesser extent Knecht) kept pace well with Marisnick. If numbers were the primary measure one should assume a similar skill level but the scouts must see something different. I also gave too much credit to Jenkins (I really never had top-20 faith in him, I was simply compensating for what i thought was an

unsupportably

low view on him as a prospect.
Of the four guys I sold short, Hawkins, Anderson, Smith and Musgrove - the first three of those, in order, were the next three on my list after the top 20. At that time, i hadn't heard a ton of praise for Musgrove and figured he was a budget draft but lately I've heard more and obviously the pro-evaluators thing there's something there.
My on-going list has been revised accordingly.
Oh, and just for a little cold shower on your prospect-gasm, read this.
[watch this space for an edit referencing the BP top 101 Prospect list expected to be posted shortly]
Coming soon - an overview of what the minor league rosters project to look like as we count down the final few days before pitchers and catchers report.
Original Story:
http://thesouthpawbaseball.blogspot.c...
THE BACKYARD
BEST OF MAXIM
RELATED ARTICLES
Right-hander Casey Janssen and the Toronto Blue Jays have avoided salary arbitration, agreeing on a $5.9 million, two-year contract. Janssen gets $2 million this year and $2.9 million in 2013. Monday's agreement includes a $4 million team option for 2014. A hearing had been scheduled for Tuesday in St. Petersburg, Fla. Janssen was 6-0 with a 2.26 ERA and two saves in 55 relief...
The Toronto Blue Jays and right-hander Casey Janssen avoided salary arbitration, agreeing to a two-year, $5.9 million deal on Monday. An arbitration hearing had been scheduled for Tuesday. The 30-year-old will earn $2 million this upcoming season and $2.9 million next year. There is also a $4 million team option for 2014. Janssen posted a 6-0 record with a 2.26 ERA and a pair...
TORONTO (AP) -- Right-hander Casey Janssen and the Toronto Blue Jays have avoided salary arbitration, agreeing on a $5.9 million, two-year contract.
Right-hander Casey Janssen and the Toronto Blue Jays have avoided salary arbitration, agreeing on a two-year contract worth at least $5.9 million.
The Blue Jays signed reliever Casey Janssen to a two-year deal worth $5.9 million on Monday, avoiding arbitration with the 30-year-old right-hander.
The Toronto Blue Jays signed pitcher Casey Janssen to a two-year contract on Monday.
Blue Jays News

Delivered to your inbox

You'll also receive Yardbarker's daily Top 10, featuring the best sports stories from around the web. Customize your newsletter to get articles on your favorite sports and teams. And the best part? It's free!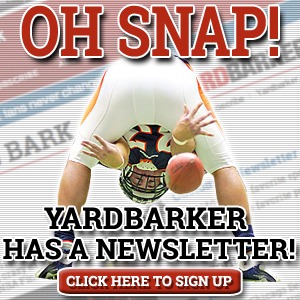 Latest Rumors
The Backyard

Today's Best Stuff

For Bloggers

Join the Yardbarker Network for more promotion, traffic, and money.

Company Info

Help

What is Yardbarker?

Yardbarker is the largest network of sports blogs and pro athlete blogs on the web. This site is the hub of the Yardbarker Network, where our editors and algorithms curate the best sports content from our network and beyond.