Found July 27, 2012 on Obstructed View OLD:
The Cubs and Cardinals resume their rivalry while many St. Louis fans are still holding their brooms from last weekend, and not just the witches, maids, and crack addicts. The Cardinals convincingly and effortlessly swept the mini-Bears in a series in which they outscored the Cubs infinity to negative eight. If you want a meaningful, in depth assessment of both teams, I recommend you look at last weekend's preview submitted by Berselius. I'm just here to make up for the lack of inane nonsense this site has suffered through since my last post. So, let's see how the Cubs will manage to sweep this series while maintaining the Cardinals' league-leading run differential inefficacy.
Team Overviews
The Cubs are bad and the Cardinals are good. But if the Cubs' meager offense can somehow crack through the vaunted Cardinal rotation and into their beleaguered bullpen*, this series could go our way, by the power of Reed Johnson, bless thy gritty name. 
​Batman Preferences
David Freese hates the Dark Knight trilogy because of its woeful exclusion of his favorite villain. Alfonso Soriano likes big bats, but his stats don't lie.** 
Random Team Facts
Matt Garza and Ryan Dempster make Matt Garza and Ryan Dempster a Garza Dempster.
Mike Matheny eats pieces of shit like Ryan Theriot for breakfast.
The Cubs will sweep this series because Wrigley Field.
Go Cubs.
*for alliterative purposes#, bullpens are the only thing in baseball that is allowed to be beleaguered
#for alliterative porpoises, squeak, squawk, squack
**that is the worst thing ever written ever
Original Story:
http://www.obstructedview.net/chicago...
THE BACKYARD
BEST OF MAXIM
RELATED ARTICLES
I'm sure everyone is as tired of the Ryan Dempster Saga as I am, but all along I had been assuming offering him arbitration at the end of the season was a no-brainer for the Cubs. If they can't get at least something decent in return, they could offer arbitration and would receive a supplemental pick in next year's draft if he declined. I had also assumed Dempster would...
Matt Garza has taken a step forward in his recovery as he's thrown on flat ground for the first time.  Cubs pitcher Matt Garza threw on flat ground Saturday, the first time he's done so since he came out of his last start one week ago with cramping in his right triceps. Garza will throw a bullpen session on Monday, but he was not expected to start until late next week....
In a very surprising twist, Commissioner Bud Selig has announced that all of Ryan Dempster's wins, as well as all no-decisions, as a Cub have been vacated.  We have to make a strong statement and by vacating all of his non-loss appearances we believe we have done just that. It's well past the time that a grown man in a baseball uniform be given the option to think for himself...
Chicago Cubs pitcher Matt Garza won't pitch again before Tuesday's trade deadline after an MRI revealed a slight fluid buildup in his right triceps area. Garza left his last start after three innings at St. Louis on Saturday when he experienced cramps. The Cubs decided to give Garza an extra couple of days rest before he underwent the MRI. Cubs manager Dale Sveum said the...
An MRI on Chicago Cubs starting pitcher Matt Garza's elbow revealed no damage, however, there is fluid in the injured area and Garza is not expected to make another start until next week. MLB.com beat writer Carrie Muskat reports that Garza is feeling better, but will not be able to start another game for at least a week. Garza, a seven year veteran that has been speculated in...
Ken Rosenthal is reporting that the Cubs might be getting close to a deal with the Dodgers for [Name Redacted]. Source: #Dodgers, #Cubs "might" be getting closer on Dempster. Teams remain in dialogue. — Ken Rosenthal (@Ken_Rosenthal) July 26, 2012 David Kaplan says they're moving closer to a deal and a it may be a multi-team deal. Cubs moving closer to sending Dempster...
The Chicago Cubs are 40-57, 17.5 games out of first place, and are paying over $25 million to players not even on their roster anymore. With a team that appears to be years away from contending, the Cubs have some players that have gathered interest among many teams. Yet, recent developments are indicating that their deadline might not result in *any* of their trade chips getting...
The Angels of Anaheim have acquired Zack Greinke from the Milwaukee Brewers. This obviously takes him off the table for the Dodgers, not that the Dodgers were all that interested in him anyway.  Matt Garza is expected to remain with the Cubs after news of a MRI revealing  a slight fluid buildup in Garza's triceps area. He is expected to miss his next start for sure and could...
General manager Frank Wren is annoyed that the news of a deal for Cubs right-hander Ryan Dempster got out on Monday, essentially scuttling it. Wren is blaming the internet and social media, when he should be taking aim at the front office executive who confirmed the deal to USA Today writer Bob Nightengale, who would not have been able to publish the news without official confirmation...
The Dodgers and Cubs have been working diligently on a trade for Ryan Dempster. Talks have been going for over a month now, that of course has led to what now is a major impasse. We've heard the dialogue between the two teams has come to almost a complete halt, though both sides still hope they can come to a deal. The Dodgers have talked multiple scenarios with the Cubs, involving...
Nearly every player on the Cubs is a potential trade candidate so talking about each one would be exhaustive and pointless. Luis Valbuena is a trade candidate though why any team would trade for him, I don't know. It's not like there was a line of teams wanting to sign him after he was DFA'd and he's not been very good so it's safe say that he's a candidate...
The odds seem stacked against the Atlanta Braves' wishes of acquiring a top-notch starting pitcher by Tuesday 4 p.m. ET trade deadline. Chicago Cubs right-hander Ryan Dempster prefers to be dealt to the Los Angeles Dodgers, Zack Greinke went to the Los Angeles Angels and the Miami Marlins only seem willing to trade Josh Johnson within the National League East for a steep asking...
MLB News

Delivered to your inbox

You'll also receive Yardbarker's daily Top 10, featuring the best sports stories from around the web. Customize your newsletter to get articles on your favorite sports and teams. And the best part? It's free!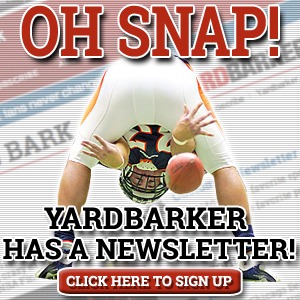 Latest Rumors
The Backyard

Today's Best Stuff

For Bloggers

Join the Yardbarker Network for more promotion, traffic, and money.

Company Info

Help

What is Yardbarker?

Yardbarker is the largest network of sports blogs and pro athlete blogs on the web. This site is the hub of the Yardbarker Network, where our editors and algorithms curate the best sports content from our network and beyond.