Found January 29, 2013 on MetsZilla:
The New York Mets interest in free agent centerfielder Michael Bourn appears to be very real.  In fact, Joel Sherman of the New York Post reported this morning that "general manager Sandy Alderson and assistant GM John Ricco travelled to Houston last week to have dinner with free agent center fielder Michael Bourn and his agent, Scott Boras." There's been a lot of debate as to whether or not the team was serious in it's pursuit of the 30-year-old outfielder, but it's getting harder and harder to argue anything to the contrary.  With that being said, Sherman still calls a union between the two sides a 'long shot', with a couple glaring factors standing in the way, namely contract demands and draft pick compensation.  As Sherman wrote: Photo by Michael G. Baron The Mets do not want to give more than three years to a 30-year-old whose main asset on both sides of the ball is his speed. Also, they wonder if any other team, in late January, is ready to commit more than, say, three years at $36 million-$42 million to Bourn. But that brings us to the tricky matter of what kind of draft pick the Mets would lose in compensation should they sign Bourne. The Post has learned the Mets will not ink Bourn without iron-clad assurances they only would lose a second-round pick to do so. They have vowed not to forfeit the 11th pick in June's draft, no matter how much they could use Bourn to bat leadoff and upgrade what is currently a flimsy outfield assortment. By now we all know the deal surrounding the Mets first round pick in the draft (#11 overall), which should have been a protected top 10 pick had the Pirates not failed to sign Mark Appel last year.  That failure netted the Bucs the #9 overall pick this season as compensation, bumping the Mets down to #11 and leaving the pick unprotected.  It's a heaping helping of bad luck that the Mets fell victim to this situation with their first round pick and I think the league will eventually change the rules so that situations like this are treated differently in the future.  That time, however, isn't likely to happen in time for New York to consider signing Bourn, though Sherman says there are measures the team can still take: Photo by Michael G. Baron If Bourn requests it, the Players Association would file a grievance supporting the Mets' view of how the rule should be interpreted, a union official told The Post. Even if the union got an expedited hearing this late in the offseason, there is no certainty an arbitrator would find in favor of the union and the Mets. Again, the Mets pledge not to sign Bourn on spec, risk the 11th pick and wait for a ruling." If the Mets can get Bourn for less than what the Giants paid Angel Pagan I'd be shocked, but teams are placing such high value on draft picks these days it's no foregone conclusion that the former Brave is going to get near the contract he thought he would entering the offseason.  This could put Sandy in position to swoop in and get Bourn at well below market value, but it would still take a magic wand to make all this draft pick drama go away.   So as Sherman says at the end of his article "it remains a significant possibility the closest the Mets are going to get to the speedster is across a dinner table."
Original Story:
http://www.metszilla.com/2013/01/29/s...
THE BACKYARD
BEST OF MAXIM
RELATED ARTICLES
The debate rages on whether or not the Mets should forfeit their first-round pick, the #11 selection overall, in order to sign free agent Michael Bourn. Those in favor of the move point out that Bourn would address a major need for the Mets while those opposed think the club is unlikely to contend while Bourn would be good and that the club would be better off continuing its youth...
The Dodgers may not be done shopping yet folks. Rumors are starting to surface that the Dodgers have interest in Michael Bourn and Scott Rolen. Jon Heyman writes that at least one prominent Dodgers player contacted Bourn encouraging him to sign in Los Angeles. That move seems a bit puzzling no doubt. The Dodgers have plenty of logjams on their roster, adding Bourn to the mix would...
The New York Mets are continuing negotiations with free agent outfielder Michael Bourn, according to Mike Puma of The New York Post. However, Bourn is still seeking a five-year commitment, an offer the Mets are unwilling to extend at this point. Latest on Michael Bourn negotiations: He wants at least five years, and Mets aren't willing to go there. — Mike Puma (@NYPost_Mets...
Last week, the Texas Rangers indicated they were happy with the current makeup of their team, including their outfield. Following Nelson Cruz's ties to the south Florida performance-enhancing drug scandal and the potential suspension that could result, Buster Olney of ESPN wonders if the Rangers will now pursue free agent center fielder Michael Bourn. TEX determined that...
On Saturday. Richard Justice of MLB.com reported that the Mets will have little to no interest in signing Michael Bourn to a contract if they are unable to protect their first round pick. The New York Mets have no interest in signing free-agent outfielder Michael Bourn if it means surrendering their top 2013 Draft pick, the 11th overall. If you're wondering why a rebuilding team...
The Mets community is having a field day with Michael Bourn these days. I figured I might as well chime in too. First, let's establish the basics: The Mets will (most likely) lose the 11th pick in the 2013 first-year player draft if they sign Bourn. Michael Bourn is a Scott Boras client. If the Mets were to sign Bourn, he's probably going to get a deal in the five-year range...
Surprisingly, these Mets might be a player for a major free agent. That's good news. It speaks to the overall financial health of the organization – as a separate entity from Sterling Equities or SNY – in a favorable light for the first time in four years. That the Mets are in a position to throw substantial money at a player who is at the same time the most prominent name...
When I'm wrong I'm always the first to admit it. It's a habit I picked up while serving my country and learning how some mistakes, no matter how slight, could have significant ramifications on the rest of my company, division, etc. Better to get it out of the way so that we can reassess, readjust and reengage. That said, you always go with whatever your best intel is at the...
BJ Upton will largely replace the speed lost with departure of Michael Bourn in CF Charged with the mission of replacing future Hall of Famer Chipper Jones AND All-Star center-fielder Michael Bourn in this Atlanta lineup, Braves GM Frank Wren had a whale of a task ahead of him this winter. Well, okay… with plenty of trade chips and cash to spend, perhaps a "whale" is overstating...
Mike Puma of the New York Post dishes out the latest on the Michael Bourn situation: "He wants at least five years, and the Mets aren't willing to go there." I think it's safe to say that the dog and pony show has come to an end. I'm pretty certain that the front office will not like those parameters; with or without the chocolate In the end, the Mets never made any offer...
Latest on Michael Bourn negotiations: He wants at least five years, and Mets aren't willing to go there. — Mike Puma (@NYPost_Mets) January 28, 2013 The New York Post is reporting that a meeting took place last week between the Mets front office, Michael Bourn, and Bourn's high-powered representative Scott Boras. While Boras and Bourn are still holding out hope for a five-year...
I seriously doubt the New York Mets front office has the Super Bowl checked off on their calendar as some sort of deadline for having certain issues handled, but for most fans, focus is likely to shift (if it hasn't already) as the weekend approaches.  So as the NFL playoffs come to climax this Sunday and we we scurry to check out the Super Bowl 47 odds before determining our...
MLB News

Delivered to your inbox

You'll also receive Yardbarker's daily Top 10, featuring the best sports stories from around the web. Customize your newsletter to get articles on your favorite sports and teams. And the best part? It's free!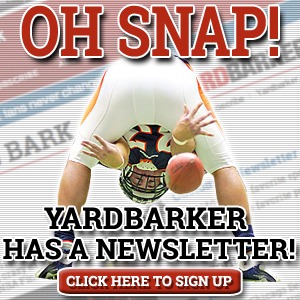 Latest Rumors
Best of Yardbarker

Today's Best Stuff

For Bloggers

Join the Yardbarker Network for more promotion, traffic, and money.

Company Info

Help

What is Yardbarker?

Yardbarker is the largest network of sports blogs and pro athlete blogs on the web. This site is the hub of the Yardbarker Network, where our editors and algorithms curate the best sports content from our network and beyond.