Found May 08, 2013 on World Series Dreaming:
Yesterday Mr. Boylan was kind enough to give us an account of Tom Ricketts' lunch with the Lakeview Chamber of Commerce, where he discussed the Wrigley renovation stuff for the bazillionth time since he took over as owner of the Cubs.  Given the fat packet application and the signs of impending construction that Anno has observed while walking around Wrigley, it seems very apparent that the Ricketts and the Cubs will stay in town. I mean, you can get there by car fine. Wonder how the Metra works out there. That doesn't stop other Chicagoland burbs from trying to steal the Cubs, however.  Enter Cicero, a burb in the Southwest sandwiched between the Ike and the Stevenson Expressways.  The other day, after the Cubs dispatched the Cards, I was watching the WGN news and they showed a segment where the head honcho of Cicero, Larry Dominick, offered land and no restrictions to the Cubs if they moved to the burb.   Dominick, a lifelong Cubs fan who has two tattoos to prove it, said his town can offer something new — a "modern stadium with all the assets to make it one of the country's best baseball parks." I have no idea how much money Cicero generates, but that's quite a hefty sell to make.  Dominick, like many fans I have encountered, thinks that Wrigley Field is what's holding the Cubs back from a championship.  That's not entirely accurate but we'll discuss that another time.  However, the deal is pretty sweet if he can pull the money out of his ass: Just west of Chicago, Dominick said Cicero has around 60 acres of available land that would be a good fit for a ballpark. Also in the offer – 81 night games, parking and lots of advertising space. For their part, the Cubs have no intentions at this time to move out of Wrigley despite Tom Ricketts' recent threat-that-wasn't-a-threat to explore other options in the event that they can't work out signage deals with the neighborhood, particularly the rooftops. "It's great to hear all the other cities and municipalities make sales pitches," Julian Green, Chicago Cubs spokesperson, said. "But this is clear- we made a commitment to be here in Chicago." Most fans agree. "It's wrong. They belong right here in Chicago," Christine Hergenrother, Cubs fan, said. Here's the deal now.  If the Cubs belong in Chicago, they have to be allowed to run their business in a more efficient manner that is agreeable to the owner to dropped a billion (with a B) on the team.  They're committed to dropping another $500MM on the renovations, and even more on player development, player signings, etc.  So something's got to give.  My guess is that the deal pushes through, especially with the looming "threat" of the possibility of the Cubs moving out, however empty people think that threat is.  We'll probably find out more towards the All-Star Break, and also later on this week when the Cubs go on a road trip and the team erects fake signs to show how much of a view the rooftops would lose.
Original Story:
http://worldseriesdreaming.com/2013/0...
THE BACKYARD
BEST OF MAXIM
RELATED ARTICLES
Right-handed pitcher struggled in 2013 with the Chicago Cubs which is why the organization felt compelled to give the 29-year-old his walking papers Monday. Cory Wade struggled over 10 games with their minor league Triple-A Iowa affiliate with an earned run average just below 8.00, it was time to part ways. Wade hops to spark some interest on the open market. The post Chicago Cubs...
Maureen Oleskiewicz, 28, a teacher and huge Chicago sports fan, died after choking on a hot dog on Sunday at Wrigley Field. The Chicago Sun-Times reports Oleskiewicz and her brother were eating before the game when she suddenly fell. "They're sitting there eating lunch before the game, looking at the field and the next thing she's on the floor," Maureen's...
With the summer trade deadline on the horizon, one arm to keep an eye on is Chicago Cubs right-handed starting pitcher Scott Feldman, according to Buster Olney of ESPN. With the Cubs clearly still rebuilding, Feldman is likely to become a trade chip if his impressive start continues. The Cubs signed several veteran arms -- including Feldman, Edwin Jackson and Scott Baker -...
Matthew Carasiti threw five shutout innings and combined with three relievers to throw a four-hitter, and Raimel Tapia and Dillon Thomas drilled RBI singles, as the Rockies edged the Cubs 2-1 in Cactus League Extended Spring Training action this morning at Dust Storm Field at Salt River Fields at Talking Stick Resort, east of Scottsdale, AZ.  Jeffrey Baez belted a solo HR to account...
So yay, the Cubs won!  Woohoo!  And just as in every other sport, performances in one game, whether it's in a 16-game, 82-game or 162-game season, is enough to make broad sweeping statements about players.  Take this, for example:   Sveum called Wood the best pitcher in baseball which stunned Wood to hear — Jesse Rogers (@ESPNChiCubs) May 8, 2013   Wow!  That is some epic...
Cubs fan and friend of WSD Anthony Boylan wrote a press release for the Lakeview Chamber of Commerce today and wanted to share it with us so we could share it with you: Tom Ricketts laid out his vision for the Cubs Tuesday saying the plan aims to rack up wins for the team and the fans, as well as for the city and the neighborhood. "Wrigley is a beautiful park, but it comes with...
Travis Wood pitched impressively into the seventh inning to outduel Lance Lynn, Nate Schierholtz hit a two-run homer and the Chicago Cubs snapped the St. Louis Cardinals' six-game winning streak with a 2-1 victory Tuesday night. The Cardinals' streak was their longest since an eight-game run July 11-21, 2010. Wood (2-3) allowed one run and five hits while striking out eight...
John Andreoli, pictured, led the Florida State League in walks last year and is near the top of FSL leader board in on-base percentage this season. And while the Chicago Cubs continue to struggle in those two categories at Wrigley, progress is being made at the minor league level.
Serena Dai published an article this evening about the Cubs inching closer to getting more night games. The gist of the article is that Mayor Rahm Emanuel introduced an amendment to allow the Cubs to schedule more night games. Here are some of the important snippets of the article. Emanuel's ordinance allows for 35 scheduled night games and five more in case of MLB asks. Any additional...
You always hate to hear about things like this and WOTG's thoughts and prayers are with Maureen Oleskiewicz's family. A 28-year-old teacher has died after choking on a hot dog while attending a Chicago Cubs game Sunday. Officials tell WLS-TV in Chicago that Maureen Oleskiewicz of Orland Park was sitting in the bleachers Sunday around 12:55 p.m. when [...]
– CM Punk is still attending professional sporting events during his time off from WWE. His most recent was the Chicago Cubs game against the Texas Rangers last night. Punk tweeted a photo from the game which you can find here. – Maria Kanellis posted the following link, which is a preview of a new photo shoot. You can check that out here. – Dolph Ziggler posted the following...
Cubs News

Delivered to your inbox

You'll also receive Yardbarker's daily Top 10, featuring the best sports stories from around the web. Customize your newsletter to get articles on your favorite sports and teams. And the best part? It's free!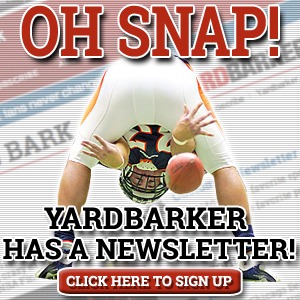 Latest Rumors
Best of Yardbarker

Today's Best Stuff

For Bloggers

Join the Yardbarker Network for more promotion, traffic, and money.

Company Info

Help

What is Yardbarker?

Yardbarker is the largest network of sports blogs and pro athlete blogs on the web. This site is the hub of the Yardbarker Network, where our editors and algorithms curate the best sports content from our network and beyond.